Once again high yield bonds are in the cross hairs of analysts who are certain that this asset class is about to crash. It seems like every couple of months several articles on Seeking Alpha and elsewhere come out at the same time bashing high yield (see here, here, here, here and here). Despite high yield's superior performance to stocks over the last 10, 15 and 25 years (data shown below), it still carries the moniker "junk bonds," which makes it seem riskier than stocks even though the actual risk is far less. Like most risk asset classes, high yield has recovered strongly since its February lows; with this run up in mind, is high yield poised to plunge or should high yield bond investors relax?
The answer partially depends on your point of view. If you are a trader, moving in and out of investments and asset classes, then high yield may be due for a short-term dip as part of the normal ebb and flow of investing. So short high yield for a quick return, right? It's probably a bad move, in fact, profiting from shorting high yield is quite difficult. Remember, high yield pays about a 6% yield (the iShares iBoxx $ High Yield Corporate Bond ETF (NYSEARCA:HYG) is listed at 5.7%, the SPDR Barclays High Yield Bond ETF (NYSEARCA:JNK) at 6.3%), so this means just to break even on a short, high yield bond prices have to drop at a 6% annual rate since short sellers are responsible for paying the dividend (after factoring in the cost of borrowing the shares, the breakeven hurdle is even higher). The interest income generated by high yield bonds is "relentless," accruing daily, which is why high yield has only experienced five negative years out of the last 36 years and never in two consecutive years. Short sellers are thus at a big disadvantage shorting high yield. Better to short stocks if you think the market is about enter a so-called "risk off" period.
So is high yield a buy? Again, it depends on your strategy. If you have a short-term perspective or are a trader, the answer is probably also no. In the next few weeks, high yield may certainly experience a pullback. These ups and downs are perfectly natural, and experienced bond investors view pullbacks as buying opportunities. The point is that fundamentally, high yield should not be viewed as a short-term play. It's well known that dealer inventories of high yield bonds have declined, meaning there is less liquidity. This means even more so that high yield should not be considered for short-term investors. For investors with a longer-term perspective, who are willing to lock in their capital for 5 to 10 years and earn and compound a steady stream of interest income, the short-term gyrations and sentiment of the market are irrelevant. With this perspective in mind, high yield, with a current spread of 6% over treasuries, should certainly be considered, and for those with existing high yield portfolios, should simply be held.
So is high yield going to keep going up or about to go down in the near term? Of course no one knows. But the data shows that high yield does not appear to be overvalued. One popular statistic that many analysts cite are inflows and outflows from mutual funds and ETFs. But the available statistics are generally meaningless. A few billion dollars plus or minus does not tell us much relative to the $1.8 trillion market for dollar-denominated high yield. The statistics that really matter, which are institutional moves, are not typically publicly available. Let's look at some statistics that do matter.
First, total returns for the asset class. After all, a bubble is typically created only after a large run-up in prices. Have high yield bonds experienced this run up? Sure, since February 11th, high yield is up 16% - but that followed a panic-driven 10% decline in the three months prior. Going back to the beginning of 2015, high yield is only up 5.2%, or 3.4% per annum. In fact, high yield has not even earned its yield, which means the average price of a high yield bond has dropped over the past 18 months. Hardly seems like "bubble" territory.

What about spreads, a key statistic that measures the relative prices of high yield bonds versus treasuries? The chart below shows the high yield spread since 2012. The lower the spread, the more high yield bonds are being bid up, which may mean prices are too high and a bubble is forming. The higher the spread, the more likely high yield bonds have room to rise, as the elevated spread attracts investors who bid up the prices of the bonds. As of July 7th, the spread was 6.02%, which is above the long-term average spread of 5.8% (which is true for the last 20- and 30-year periods), and except for the recent spike, at levels not seen since 2012. We have a hard time calling high yield "overvalued" when spreads are above their historical average.

Yes, but high yield bonds are still "junk" right? Let's look at actual returns for high yield bonds versus stocks, which can be eye opening in the chart that I maintain. The chart below compares high yield returns (BOA Merrill Lynch Index) versus the S&P 500 since the beginning of 2000, 16 ½ years of data: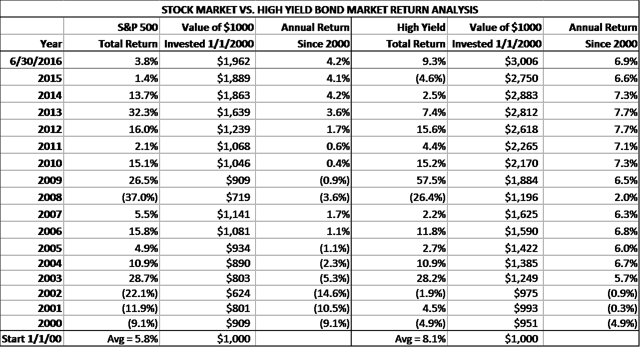 As can be seen, in the past 16 ½ years, high yield has returned 6.9% per annum, significantly higher than stocks at 4.2%. The lower risk is obvious - in the 2000-2002 crash stocks fell 38%, while high yield fell 2.5%; in 2008, stocks fell 37% but high yield only 26%. The rebound in high yield was also much stronger, up 58% in 2009. In fact, it took stocks until 2012 to recover to pre-crash levels while high yield powered ahead with a 16% gain in the two years 2008 and 2009 - quite a difference compared to stocks. In the nearly 10-year period from 2007 through June 30, 2016, high yield has also outperformed stocks (85% gain versus 72% over this entire period), so through the crash, rebound, oil crash and everything else that has happened, high yield has been a better investment.
Does this mean high yield will continue to outperform? No one can say. But how much more evidence is needed to convince investors to increase their allocation to high yield and to stop classifying this asset class as somehow too risky, while stocks are seen as the best "risk" investment? The 25-year data is also instructive, as seen in the chart below from Credit Suisse data. Going back to the bull market of the 1990s, stocks have slightly outperformed bonds, but with nearly double the risk. Once again, high yield looks like the better choice long term. Does this mean stocks should be abandoned for high yield? Our answer is no, since we can't know what the future will hold and diversification among asset classes is important. But in my view high yield is a good way for investors to reduce portfolio risk, as a substitute for stocks. Sure, government and high grade bonds are less risky, but we are finding it difficult to see a path towards building wealth and retirement savings with such low yields.

What are the current risks to high yield and how can an investor deal with these risks?
Oil Prices. The correlation between high yield and oil prices in the past 18 months is obvious. What if oil prices plunge again? It's a good question because we believe oil will have a difficult time breaking $50 and may go back into the $30s. It seems that there is a natural ceiling for oil prices since once it reaches $50, the shale fracking probably ramps up. However, the risk to high yield is far lower than in 2014 and 2015. After all, the damage is mostly done. Investors already took the "hit" from $10 billion of Linn Energy (NASDAQ:LINEQ) bonds and dozens of other issuers, as well as the coal companies like Peabody Energy (OTCPK:BTUUQ). Here is the best way to avoid this risk today: avoid the high yield bonds of the oil & gas producers. If you own index funds or managed funds, consider if the allocation to energy is acceptable.
Interest Rates. At the end of 2013, 97% of experts polled by Bloomberg predicted that rates (10-year Treasury) would be higher by June 2014 - no real reason was given, it seemed the sentiment was that they simply "had to" go up. Instead, they dropped from 3.02% to 2.52%; today they are at record lows in the 1.4% range. The chart below is a couple of weeks old, but shows why U.S. rates are likely to stay below 3%, and probably below 2%, for quite some time - compared to the rest of the world, U.S. bonds are a bargain. Despite all of the above, we remain cautious about rising rates and refuse to invest in high yield bonds with a greater than 8-year maturity, with a portfolio that averages about 5-6 years. With a hold-to-maturity strategy and reinvestment of income, interest rate risk can be greatly reduced.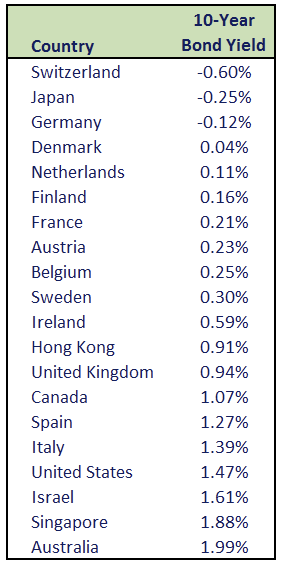 Defaults. Default rates have risen to 4.7% by mid-June, according to Fitch, and may be headed to 6% by year-end. However, more than 4% of this 6% is related to energy, while under 2% is everything else, including mining. These numbers are not a surprise; we all know energy is still hurting. The 6% default rate may seem scary, but again, the "hit" to high yield portfolios has already been taken. The bond prices of companies at high risk of default have already plunged. We can be sure that many of the companies with bonds trading in the 30s-70s will be part of this 6% defaulting, even though they have not defaulted yet. The way to avoid this risk is the same as above: avoid the oil & gas producers and do not dabble in distressed bonds. By performing solid credit analysis and avoiding CCC and other risky sectors, an investor can greatly reduce default risk. The indexes by definition must include all these segments and index funds will be exposed to the full extent of the default rate. The default rate for everything outside of energy held steady and there is no data showing rising defaults. There is also no issue with "contagion." Reduced cash flows in the oil sector will not impact the ability of other independent businesses from servicing their debt.
Liquidity. As discussed, liquidity in the high yield market is down. This only presents a problem if you need to sell. Our advice is not to invest in this asset class unless you can commit to at least a 5- to 10-year investment horizon. Then liquidity is not an issue. In fact, we advise not to invest in any "risk" asset unless you have a 5- to 10-year time horizon.
Stock Market Crash. Who knows if and when this might or might not happen. If the market crashes high yield is certain to decline as well, as will just about everything else (gold does not appear to be a safe haven either). However, the experience of the last two crashes has shown that the high yield bond decline will probably be lower and the rebound faster. The only solution is to maintain the hold position with the 5- to 10-year investment horizon in mind. By holding individual bonds, an investor can even better ignore the market decline by "waiting it out" until the maturity date.
Our final comment and recommendation on high yield bonds refers to a great article that proves a point that our advisory firm has been stating for a long time: managed high yield bond portfolios are far superior to high yield index funds. While in any given year 80% of stock pickers fail to beat the indexes (and well over 90% in the long run according to research), the opposite is true when it comes to high yield bonds. In fact, according to data discussed in the article, since 2008 more than 90% of active high yield managers have beaten the indexes. This makes perfect sense to us since we believe that performing our own credit analysis, avoiding the riskiest segments of the market, and purchasing bonds with a buy-and-hold to maturity strategy is the best way to invest in this asset class.
Going back to the title of our article. Relax. The more an investor listens to the day-to-day pundits and prognosticators, the more likely they are to make a mistake. Market timing any asset class rarely works.
Please consider Downtown Investment Advisory's subscription service through Seeking Alpha, The High Yield Bond Investor. The newsletter offers deep analysis of three recommendations per month, focused on yields in the 6%-8% range for the buy-and-hold investor, as well as regular exclusive insights on this asset class. We seek to uncover undervalued and "off the radar" opportunities. Please see our profile page for important disclaimers.
Disclosure: I/we have no positions in any stocks mentioned, and no plans to initiate any positions within the next 72 hours.
I wrote this article myself, and it expresses my own opinions. I am not receiving compensation for it (other than from Seeking Alpha). I have no business relationship with any company whose stock is mentioned in this article.