"They say two thousand zero zero party over,
Oops out of time
So tonight I'm gonna party like it's 1999"
--1999, Prince, 1982
The U.S. stock market has finally done it. After nearly fourteen months, the S&P 500 Index (NYSEARCA:SPY) has come all of the way back to set new all-time highs on both an intraday and closing basis. And it is continuing its winning ways into a second trading day on Tuesday in tacking on healthy gains to its increasingly strong breakout. So how much longer can we expect the party to go from here? If past precedent is any guide, this breakout could run for some time. But some distinct differences exist today versus the last time we saw the stock market stage a similar breakout to the upside.
Party Like It's 1995
It has been 287 trading days since the U.S. stock market as measured by the S&P 500 Index last recorded new intraday and closing highs on May 20-21, 2015, a duration of time that lasted nearly fourteen months through July 11, 2016 when the breakout finally took place. These facts are distinctive for the following reason - it marks the longest stretch as measured by both time and trading days between all-time highs on the S&P 500 Index without a bear market taking place in between. Truly remarkable and unprecedented.
In fact, only one other time in history have we seen stocks go nearly as long between all-time highs without a bear market breaking out along the way. It was the stretch from February 2, 1994 to February 15, 1995 when the stock market spent 262 trading days between highs without an intervening bear market along the way.
Upon closer inspection, what is even more remarkable is that we appear to be following almost the same identical path today in 2015-16 that the market followed back in 1994-95.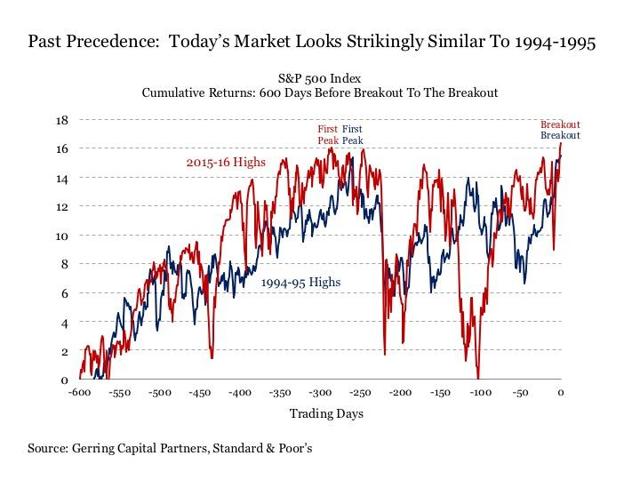 Click to enlarge
Extraordinary to say the least. While one past example certainly does not imply a trend, it does raise a worthwhile question to consider. If we are indeed now partying like it was 1995, what happened after the breakout then and can we reasonably expect a similar outcome this time around?
To begin with, if stocks could even come close to repeating the performance over the next 200 trading days, it would be a remarkably positive feat. Stocks went on to explode to the upside in a virtually uninterrupted advance, gaining +25% from February to November in 1995. Relating that to today's market, it would imply the S&P 500 Index trading at 2687 by May 2017. Even the most bullish investors among us would find such an advance utterly breathtaking.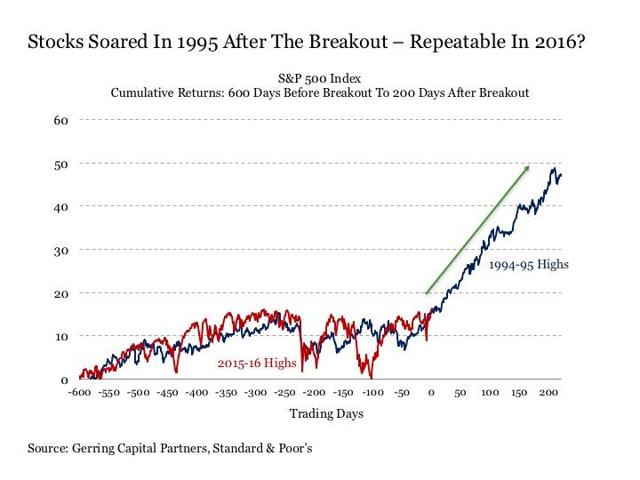 Click to enlarge
But is such a repeat performance conceivable in 2016?
War Is All Around Us In 2016
"But life is just a party, and parties weren't meant 2 last
War is all around us, my mind says prepare 2 fight"
--1999, Prince, 1982
The good news for the bulls is that such a repeat performance by the S&P 500 Index is certainly very possible. For as long as central banks remain determined to do 'whatever it takes' to support the global financial system, anything is possible. After all, if one plugs our currently negative interest rates into stock valuation models, just about anything is possible.
But several factors suggest that it will likely be much more difficult for stocks to achieve anywhere close to the same outcome in 2016 that they were able to pull off in 1995.
First, we do not appear to be on the brink of a revolutionary technological change in today's economy. Back in 1995, we were standing at the dawn of the Internet age (NYSEARCA:XLK), which sparked a transformative growth wave through the remainder of the decade that eventually spiraled out of control by the turn of the millennium. Perhaps the next wheel, railroad, automobile or Internet is just around the corner, but with today's corporations still hesitant to dive with conviction into new capital projects coupled with a regulatory environment that if anything is currently less accommodative to innovation, very little that is equally revolutionary is looming on the near-term horizon.
Second, back in 1994-1995, corporate earnings were rising robustly throughout the entire episode. Overall, annualized as reported earnings per share growth on the S&P 500 Index was consistently rising at a double-digit rate through 1994. By the start of 1995, it was rising at a better than +40% rate. These were not forecasts but actual reality.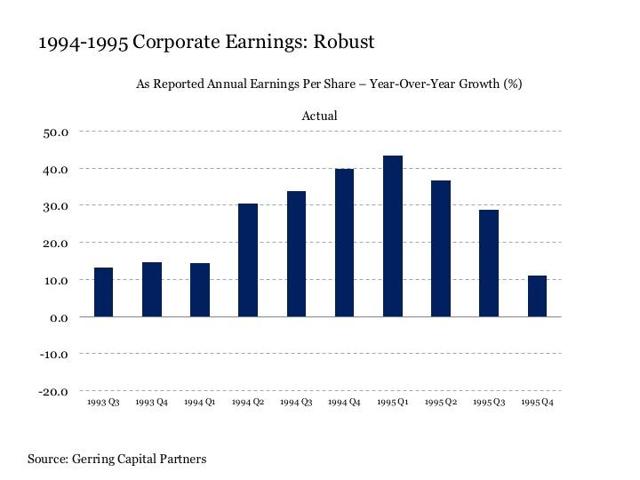 Click to enlarge
Compare this earnings backdrop to that of today. Corporate earnings growth has been fading for some time on an annualized as reported earnings per share basis. And this includes five consecutive quarters of earnings growth declines along with projections for a sixth that is about to go into the books over the coming weeks. Quite a contrast.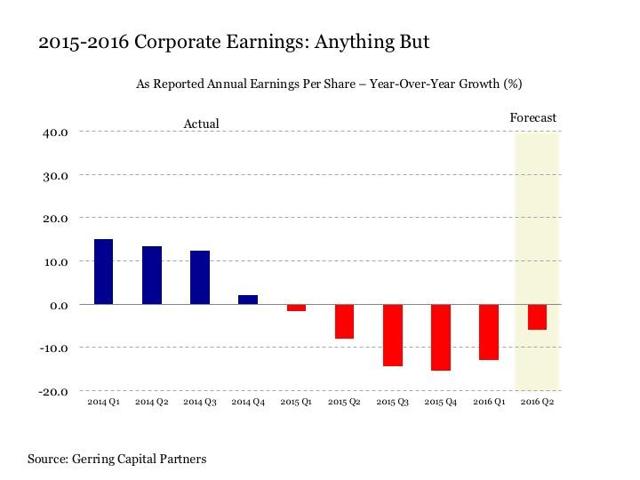 Click to enlarge
Third, stocks are much more expensive today than they were back in 1994-95. During the past episode, stocks were trading as low as 15 times trailing twelve month as reported earnings by the time they began to break out to new highs in early 1995. Today, they are trading at more than 24 times earnings, which ranks among the highest stock multiples in market history. Now suppose we are modestly optimistic and say that corporate earnings will stop declining but instead just stabilize where they are now. If stocks surged to 2687 between now and next May, the S&P 500 Index would be trading at more than 30 times earnings. As the tech bubble back in the late 1990s taught us, such multiples are not impossible, but they are difficult to sustain for long without some nasty after shocks.
Lastly, the U.S. Federal Reserve had a lot more monetary flexibility then versus what they have today. After completing their interest rate tightening cycle by raising interest rates by three percentage points from 3% to 6% from February 1994 to February 1995 (which explains in large part why the S&P 500 was struggling over this time period), the Fed began easing policy by lowering interest rates starting in July 1995 and adding two more rate cuts in December 1995 and January 1996. While the Fed has one rate cut to give, could also turn to more QE or could even delve into the ridiculous such as negative interest rates or 'helicopter money', their capacity to aggressively ease monetary policy is not what it was back in the mid 1990s.
The Bottom Line
The U.S. stock market has pulled it off again in breaking out to new all-time highs. The bulls have good reason to rejoice, and we should not be surprised to see stocks advance firmly to the upside in the short-term to intermediate-term if the pace of the current breakout sustains itself over the coming trading days.
But while we have seen such similar episodes in the past, stocks are not loaded today with the fuel that helped propel them to such remarkable and sustained breakout rallies in the past. This does not mean that the S&P 500 couldn't advance beyond 2600 over the coming year, as anything is possible in our monetary policy intoxicated markets of 2016. But if underlying fundamentals have anything to say about it, we are likely to come nowhere close this time around to partying again like it was 1995.
Disclosure: This article is for information purposes only. There are risks involved with investing including loss of principal. Gerring Capital Partners makes no explicit or implicit guarantee with respect to performance or the outcome of any investment or projections made. There is no guarantee that the goals of the strategies discussed by Gerring Capital Partners will be met.
Disclosure: I/we have no positions in any stocks mentioned, and no plans to initiate any positions within the next 72 hours.
I wrote this article myself, and it expresses my own opinions. I am not receiving compensation for it (other than from Seeking Alpha). I have no business relationship with any company whose stock is mentioned in this article.