Top News
The big news overnight was clearly the announcement of an international tribunal that China had no claim to the South China Seas. It is too early to know what fall over this will be. However, it is certainly worth mentioning and watching; I have the feeling this dispute is not over yet.
With all the talks about Italian Bank and their need for capital, I went on a search yesterday to find some answers. Answers, I have found. The chart below is from the World Bank.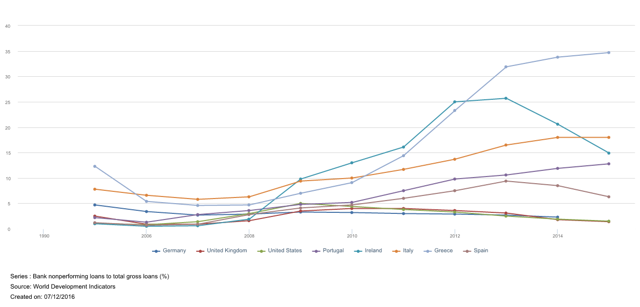 Click to enlarge
Italy, the orange line, has had non-performing loans at 18% since 2014, yet it is only a concern now? What about Portugal, at nearly 13%, and trending in the wrong direction? Greece is still getting worse, at nearly 35%!
The point of this is that Italian banks non-performing loans haven't gotten significantly worse in the last two year. They haven't improved, and negative rates are crushing all European banks' ability to generate earnings.
The CDS market has seemed to settle down for now.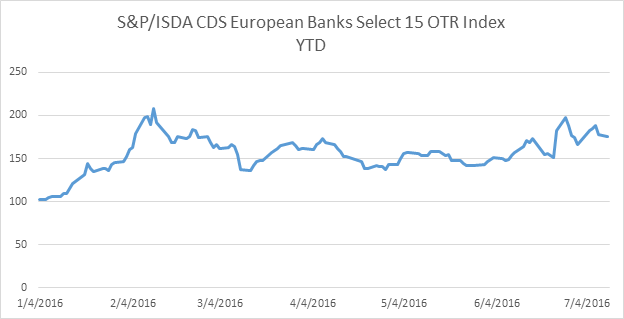 The equity market seems to have settled as well, with the EUFN trading off its lows of $14.30 on July 6th, up to $15.85 today as of 11 am.

Click to enlarge
Bottom line lets continue to watch these develop over time and see how much the market continues to pay attention to them. As the World Bank chart above shows, it seems like there has been little attention over the last two years.
Equity Market
The S&P 500 reached a new record high again today, trading above 2150. I'm not exactly sure what this latest push in the equity market is. Is it clarity around Brexit? I think if anything things seem just as cloudy as they did last week. Is it a hunt for yield, yes that could be very possible. With the current move higher in the S&P 500, the yield on the index has dropped to 2.04%, while the 10-Year Yield has risen to 1.5%, closing the spread to 55 bps. If this is truly a hunt for yield, then the S&P 500 could have a lot more room to run higher, especially if rates remain at current levels or move lower.
Over the shorter-term, I'm not particularly thrilled with the current setup in the S&P 500 again. You can see on the hourly chart below. The rising wedge, once again.

Click to enlarge
The last time this happened was the pre-Brexit vote. A reversal could be in store for the next few days. We will see, my accuracy has been off more recently.
Sector Spotlight
The XLE is leading the markets higher again this morning, up nearly 2% as of 11 am. Yesterday, we spoke about it being an inflection point and today it has apparently broken through to the upside.

Click to enlarge
Also, take a quick look at the IBB. It too now sits at inflection point. A break above this 272 area sends to 290. If not, we are looking again at 240.

Click to enlarge
Currencies
We have a continued weakening today of the yen, with trading up another 1.75 to 104.52 vs. the dollar. The market has finally woken up the fact that something will be coming from Japan in either the form of stimulus or monetary policy.

Click to enlarge
I added a new trend line in as well, seems we may already be at the next resistance level on the yen.
The pound is trading higher to 1.3190, up nearly two handles vs. the dollar. Now, that is clear who the next PM of the UK will be, and the change is to happening tomorrow, the market is feeling better it would seem. Is the market beginning to now price in the expectation that the new PM calls for new elections? I know the new PM said there would not be a new election. However, if the PM does call for a new election than perhaps, Brexit doesn't happen if enough of the "remain" camp gets elected. The possibility, although remote is there, and we are talking about politics here. Anything is possible.

Click to enlarge
Commodities
Gold is lower once again today, now trading at 1344. I wrote a few days ago; I thought Gold could retreat to that 1250 area. Let's see, lower has been the trend.

Click to enlarge
Yield
As we mentioned above, yields are higher today, trading around 1.49% on the Ten-Year. Again, if the global policy continues to be easy and still easier money, globally, then I can't help but think the Ten-year yields will continue to head lower still over time.
Election 2016
This morning it was announced that Bernie Sanders would endorse Hillary Clinton for President. I'm not sure how much this helps her, if at all. Perhaps marginally, I just don't see this as shifting anything substantially. Clinton has only a mere 4 point lead based on the RCP average. The latest NBC poll showed Clinton with a 3 point lead over Trump, which is to in my view is a statistical tie, as most polls have about 3 point margin of error. This is before even the debates have started. This will be a very close race.
Have a great rest of the day!
Disclosure: I/we have no positions in any stocks mentioned, and no plans to initiate any positions within the next 72 hours.
I wrote this article myself, and it expresses my own opinions. I am not receiving compensation for it (other than from Seeking Alpha). I have no business relationship with any company whose stock is mentioned in this article.
Additional disclosure: Mott Capital Management, LLC is a registered investment adviser. Information presented is for educational purposes only and does not intend to make an offer or solicitation for the sale or purchase of any specific securities, investments, or investment strategies. Investments involve risk and unless otherwise stated, are not guaranteed. Be sure to first consult with a qualified financial adviser and/or tax professional before implementing any strategy discussed herein. Past performance is not indicative of future performance.