In the consumer staples sector, it is a safe assumption that most investors defer to Procter & Gamble (NYSE:PG) as the clear industry leader. There is good reason for this; after all, P&G is one of the biggest companies in the world, is highly profitable, and has paid dividends to shareholders for more than a century. P&G has a huge portfolio of brands, including 21 that each generate at least $1 billion in annual sales.
There is little doubt that P&G is a great company. However, a great company does not always automatically equate to a great stock. Even a great company like P&G can be an under-performing investment if investors pay too high a price for the company's future earnings growth. However, the problem with investing in P&G right now is that the company is in a difficult transition period.
P&G is a profitable company, but it isn't growing. Revenue is essentially where it was a decade ago.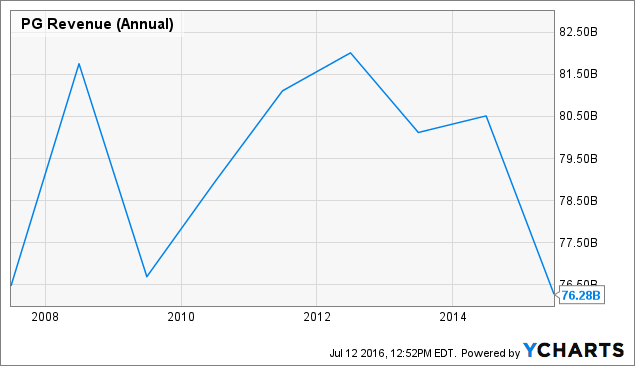 Its huge brand portfolio has turned into an anchor on the company that has slowed it down. The company has made progress in focusing its brand portfolio and becoming more efficient, but there is still a long way to go. That is why, for investors looking at the consumer staples sector for dividends, I believe Unilever plc (NYSE:UL) is a much better buy today.
Go for Growth
P&G has built a reputation as a dividend stalwart and a blue-chip company, which it certainly is. But for investors interested in growth as well, P&G definitely falls short. For the past few years, P&G's sales and earnings have declined considerably as the company has become weighed down by poorly-performing brands. Net sales in 2015 were lower than in 2011. Furthermore, P&G's earnings totaled $2.44 per share last fiscal year; the company earned $3.93 per share in 2011. P&G simply became too bloated.
In response, the company embarked on an aggressive divestment and cost-cutting program, and has made significant progress in that regard. P&G sold the Duracell battery brand, to Berkshire Hathaway (NYSE:BRK.A) (NYSE:BRK.B), for $4.7 billion. Then, P&G divested more than 40 beauty brands to Coty (NYSE:COTY) for $12.5 billion. P&G management expects to divest as many as 100 brands in all. The other key part of P&G's turnaround is cost cuts, which it will achieve primarily through job cuts. P&G intends to reduce costs by $10 billion over the next five years.
These actions will help stem the decline in P&G's earnings, as the company will use the bulk of the proceeds raised from divestments and cost-cutting to buy back stock. However, this will not do much to achieve revenue growth. If P&G were a cheap stock, there could still be a case for buying based on the value proposition. The stock did fall down to $68 per share last year, but it has come back significantly since then to $86, and now trades just a few percent from an all-time high.
For these reasons, I would suggest income investors take a look at Unilever instead, because Unilever stock offers a similar dividend yield and valuation as P&G, but with much stronger growth. For example, P&G's organic revenue increased 1% last quarter but core earnings per share were flat year over year. By comparison, Unilever grew organic revenue by 4.7% last quarter, due to 2% higher pricing and 2.6% growth in volumes. Looking back further reveals a similar disparity-Unilever grew total revenue and earnings per share by 10% and 14% last year, respectively.
The Secret to Unilever's Success
The reason why Unilever has so strongly outperformed P&G over the past few years, and why I expect this trend to continue well into the future, is because of Unilever's dominant position in the emerging markets. Unilever has invested heavily in building its business in under-developed markets around the world, and this effort is paying off with above-average growth rates. Approximately 58% of Unilever's annual revenue now comes from the emerging markets.
Last quarter, Unilever generated 8% revenue growth from emerging markets including 18% revenue growth in Latin America and 5% revenue growth in Asia, Africa, and the Middle East. Last fiscal year, Unilever grew emerging market revenue by 7%.
These growth rates should continue for the foreseeable future, because the emerging markets are expected to grow their economies at much faster rates than more mature economic regions of the world. Unilever forecasts India to grow its GDP by 7.4% this year, and China is expected to expand its economy by 6.2% in 2016. With a dominant position in these markets, Unilever's revenue and earnings growth should continue to lead its peer group.
Unilever: The Better Pick
Naturally, higher revenue and earnings growth should lead to higher dividend growth as well. While P&G's current dividend yield is slightly higher than Unilever's, P&G's dividend growth has ground to a halt in recent years. P&G passed along just a 1% dividend increase this year, and a 3% dividend increase last year. Dividend growth may stay weak over the coming years, as the company continues to allocate significant investment toward restructuring its business. Meanwhile, Unilever recently increased its dividend by 6%.
The key takeaway is that even income investors should be concerned with a company's underlying growth, because deteriorating growth will eventually result in weak dividend growth as well. Unilever has obtained a significant advantage because of its growth potential in the emerging markets, which is why I expect Unilever to outperform P&G going forward.
Disclaimer: This article represents the opinion of the author, who is not a licensed financial advisor. This article is intended for informational and educational purposes only, and should not be construed as investment advice to any particular individual. Readers should perform their own due diligence before making any investment decisions.
Disclosure: I/we have no positions in any stocks mentioned, and no plans to initiate any positions within the next 72 hours.
I wrote this article myself, and it expresses my own opinions. I am not receiving compensation for it (other than from Seeking Alpha). I have no business relationship with any company whose stock is mentioned in this article.