Sometimes the time comes to sell an income vehicle even though it throws off a good dividend. And that time, I believe, has come for shareholders of real estate investment trust Digital Realty Trust, Inc. (NYSE:DLR), which has had an amazing run over the last year or so.
Like most real estate investment trusts, Digital Realty Trust's shares went through the roof as yield-starved investors jumped on 'relatively safe' income vehicles for their dividends. Over the last year, the Digital Realty Trust's shares have surged a whopping ~61 percent, leaving even star performers like Realty Income Corp. (NYSE:O) in the dust (Realty Income shareholders booked a ~53 percent capital gain over the last year).
Though I do like REITs as income vehicles (in fact, I think they are the best income vehicles investors can get their hands on), valuations are becoming a concern, and there is a very real risk of a REIT valuation bubble.
Realty Income, for instance, a premier commercial REIT with an excellent dividend growth record, sells for more than 24x this year's expected funds from operations, and the REIT's dividend yield has contracted to the low 3 percent range.
Digital Realty Trust? No big difference here - the REIT has become quite expensive, too.
When Digital Realty Trust released first-quarter earnings in April, the company raised its core funds from operations guidance for 2016 from $5.45-$5.60/share to $5.55-$5.65/share. Based on Digital Realty Trust's revised core FFO guidance, the REIT's shares are changing hands for ~19.6x 2016e FFO.
Digital Realty Trust has had a good start to the year, with core funds from operations beating consensus by a respectable margin.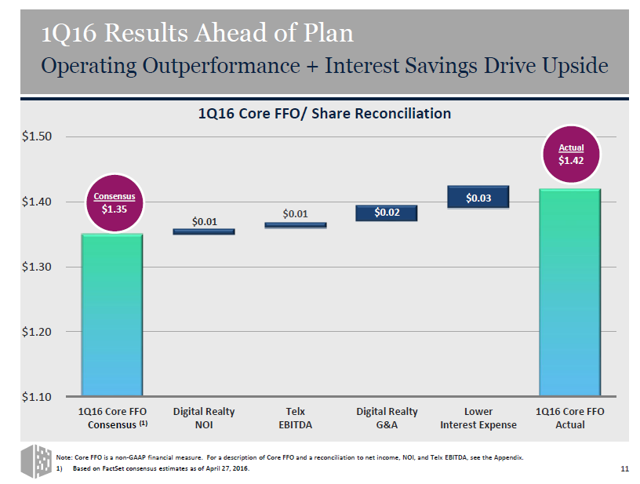 Click to enlarge
Source: Digital Realty Trust Investor Presentation
Digital Realty Trust pulled in $1.42/share in core FFO, up ~12 percent from $1.27/share a year ago. Since Digital Realty Trust's shares are selling for $109.81 at the time of writing, the REIT is valued at ~19.3x Q1-16 run-rate core FFO.
Time To Sell?
Taking into account that Digital Realty Trust has delighted income investors with a phenomenal price return in excess of 60 percent over the last year, and that the shares have become rather expensive, too, investors may want to think about taking some chips off the table. I am all for letting profits run, but REIT valuations are without a doubt seriously stretched, and they will come down to earth at some point. Locking in some profits with stop-loss orders at this point is the prudent thing to do.
Your Takeaway
REITs have been big winners this year. In a yield-starved investment world, and with the Fed's reluctance to hike rates fast, investors love nothing more than real estate investment trusts that pay stable dividends.
That said, investors must also take the REIT's valuation into consideration, and Digital Realty Trust is without a doubt expensive at ~20x this year's estimated core FFO. As far as I am concerned, it can't hurt to take some chips off the table after this surge in valuation and play it safe.
Disclosure: I am/we are long O.
I wrote this article myself, and it expresses my own opinions. I am not receiving compensation for it (other than from Seeking Alpha). I have no business relationship with any company whose stock is mentioned in this article.