Click to enlarge
Background
Audentes (Pending:BOLD) is a biotechnology company founded in November 2012 that is commercializing gene therapy products for patients suffering from rare and severe single gene defect-caused diseases.
Audentes' ambition is to become a fully integrated biotechnology company. Its CEO, Matthew Patterson, co-founded the company and has 20 years experience in commercializing rare disease treatments at such companies as Amicus Therapeutics, BioMarin Pharmaceutical and Genzyme Corporation.
The company believes that the "rarity and severity of the diseases we target may provide advantages for drug development, including the potential for expedited development and regulatory review, and market exclusivity. We maintain full global rights to all of our product candidates."
Its venture capital and private equity investor syndicate includes the following top-tier life science investors:
OrbiMed
5AM Ventures
Versant Ventures
Sofinnova Ventures
Deerfield Management
Technology
Audentes is utilizing an AAV gene therapy approach. AAV employs the use of an adeno-associated virus to function as a delivery vehicle to introduce a healthy copy of a malfunctioning gene.
The company's lead candidates are in pre-clinical development stage: either IND-Enabling stage or Lead Optimization stage:
AT132 for the treatment of X-Linked Myotubular Myopathy in newborns
AT342 for the treatment of Crigler-Najjar Syndrome
AT982 for the treatment of Pompe disease
AT307 for the treatment of CASQ2-CPVT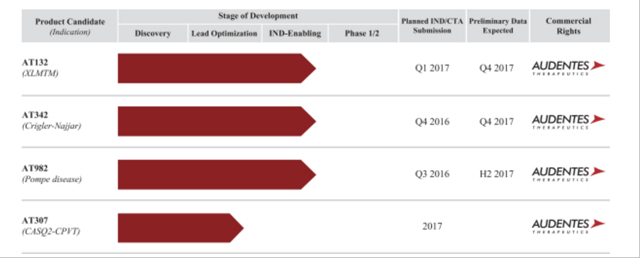 Click to enlarge
(Source: Audentes Therapeutics S-1/A Filing)
None of the company's drug candidates have yet entered clinical trials.
Also, the US FDA has not approved a single gene therapy product yet, so there is significant "pioneering technology" risk for companies such as Audentes.
Company management indicates that it intends to continue to expand its pipeline of single gene therapy candidates for severe and rare diseases.
With respect to the company's lead candidate, AT132, Audentes recently announced favorable 3-year trial results in dogs. However, the company has noted that "safety signals have been observed at the highest dose in mouse disease model studies" that it has conducted. As a result, the FDA wants the company to first study the product candidate in adults before trials in affected newborns.
Audentes likely intends to justify its position that it does not need to first dose adults. Either way, the process could delay its clinical development program for AT132.
(Source: YouTube Myotubulare Myopathie)
Market Size
For the company's lead candidate AT132, it expects the incidence of the condition as approximately 1 in 50,000 male births, or around 44 incidences per year in the United States, with an estimated 50% mortality rate by 18 months of age.
For its AT342 candidate, the disease affects approximately one in 1 million newborns, or approximately 2 incidences per year in the US.
For AT982, the disease affects one in 40,000 people, for a US incidence of 7,750 per year.
For its AT307 candidate, the company estimates a prevalence of approximately "6,000 affected people in North America, Europe and other addressable markets."
So the combined annual estimated number of patients requiring the four proposed drug candidates totals 13,796. The company did not provide any pricing guidance for treatments and noted that pricing pressures have increased with the passage of the Affordable Care Act.
Since gene therapies have yet to be approved by the US FDA, pricing assumptions are difficult if not impossible to determine. It is likely however that depending on the drug candidate's efficacy and life-saving outcome, pricing could be in the tens of thousands of dollars for each patient.
As an example, if the average price for a single-gene therapy treatment is $30,000, then the market size for all four diseases would be approximately $420 million.
Financials
Audentes has had no revenues in its operating history through Q1 2016, and approximately $47 million in net losses as a result of its research and development activities.
The company has raised at least $137.5 million in venture capital investment and had $80 million remaining in cash on hand as of March 31, 2016 (unaudited).
The majority of the company's internal and external development costs to-date have been associated with its AT132 lead candidate.
IPO Discussion
Audentes plans to offer 5 million shares at a targeted price of $15 per share, with an over-allotment of 750,000 shares granted to the underwriters, for a total gross proceeds of $86.25 million and a resultant valuation of $315 million.
The company says it will use the net proceeds to advance its AT132 and AT342 treatments into clinical trials and continue preclinical development of its AT982 and AT307 candidates. It will also use funds to operate and expand its internal manufacturing facility.
Audentes' strategy of focusing development on rare and severe "single-gene" diseases that it can treat is intriguing. This approach promises to reduce the difficulty, risk and development time for important, high-value treatments.
However, based on the initial push-back from the FDA regarding the company's lead candidate AT132 as well as the absence of any other previously-approved gene therapy by the FDA, Audentes still has a very high risk profile.
As is typical for early stage biotechs, the company also admits it will need to raise "substantial additional capital to complete the development and commercialization" of its candidates.
It's still very early days for Audentes. My recommendation is to avoid the IPO stock until the company can provide clearer visibility into its AT132 clinical trial process.
Disclosure: I/we have no positions in any stocks mentioned, and no plans to initiate any positions within the next 72 hours.
I wrote this article myself, and it expresses my own opinions. I am not receiving compensation for it (other than from Seeking Alpha). I have no business relationship with any company whose stock is mentioned in this article.