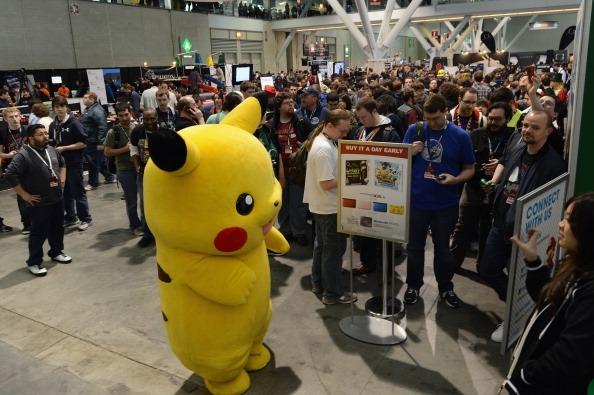 Everybody seems to be going after this one, look at that crowd foaming at the mouth
Over the last week, Nintendo (OTCPK:NTDOY) has been on a massive roll, rising from ~$17.50 per share to $28 as I write this. This made for a near $10 billion gain in value in just a few days' trading.
What made for this huge jump? Pokémon Go. Pokémon Go is an ongoing huge mobile app success, available both on iOS and Android. The game was launched on July 6 in the United States, Australia and New Zealand. Within just 5 days it captured the public's imagination, quickly topping sales charts for both iTunes and Google Play.
This sales success, while large, is bound to continue as the game infects both more players in the existing markets and expands to new markets. Moreover, the game will then require regular in-App purchases, which also look to be a success. Also importantly, the game isn't easy to replicate quickly since it uses real-world movements and augmented reality, which aren't as easy to quickly master as existing franchises. Thus, it wouldn't be surprising if the Pokémon Go franchise meets even Candy Crush Saga in its success (Candy Crush got to a point where it was installed in nearly 80% of mobiles).
This entire story seems very enticing. It's billed as if this is Nintendo's game, so Nintendo is shooting to the sky. But that's the problem…
The Problem
The problem with Pokémon Go is that it really isn't Nintendo's game. It takes a bit of explaining, but here's how it goes:
The game was developed and published by Niantic.
Niantic is an independent game developer and publisher that started out as an internal Google (NASDAQ:GOOG) (NASDAQ:GOOGL) startup and was then spun out in October 2015. Google, Nintendo, The Pokémon Company and other investors entered Niantic later, through financing 2 rounds. The size of Nintendo's stake in Niantic isn't clear and isn't likely to be large (~20% would be my upper bet).
Pokémon Go was co-developed with The Pokémon Company. It had to be - the Pokémon Company holds all rights to the use of the Pokémon franchise. The Pokémon Company is set to get 30% of the resulting revenues.
The Pokémon Company was established back in 1998 to hold the Pokémon rights. Nintendo holds 33% of this company, with Game Freak and Creatures (both privately held) holding the remaining 67%

.

Apple (NASDAQ:AAPL), of course, takes a 30% cut on iTunes sales. Google also takes a 30% cut on Google Play sales.
Put it all together and what you get is:
Apple/Google take 30% of Pokémon Go sales.
Niantic takes 40% of Pokémon Go sales. Arguably Nintendo would accrue up to 20% of this, so 20% x 40% = 8%.
The Pokémon Company takes 30% of Pokémon Go sales. Arguably Nintendo would accrue 33% of this, so 33% x 30% = 9.9%.
Summing it all up, Nintendo can accrue (not even gain, directly, as both gains would be on other companies Nintendo doesn't control) around 17.9% of the Pokémon Go craze. This, in turn, means that for Nintendo to actually be worth $10 billion more, the Pokémon Go craze would have to be worth $55.9 billion. Arguably, if sales are evenly split between Android and iOS, then both Apple and Google would get nearly as much value from Pokémon Go (~15% each), as Nintendo!
Is $55.9 billion realistic? It doesn't seem so. As a comparison, King Digital Entertainment (BATS:KING), which owned the Candy Crush Saga franchise that ended up being installed in nearly 80% of smartphones, was sold for $5.9 billion.
Other Considerations
There are a few more things that ought to be considered:
Pokémon Go might have more monetization potential than other smartphone apps, given that it could conceivably sell local ads to attract people to some specific locations - this has value for many retailers.
As I said above, Nintendo accrues an economic interest on the success of Pokémon Go both at the Niantic level and at The Pokémon Company level. However, to have an earnings impact, Nintendo would have to see these entities distribute profits from the franchise. It's possible that the direct earnings impact will be minimal.
Nintendo does have one route open to make money directly. It's hard to quantify now, but Nintendo will be selling the Pokémon Go Plus, a Bluetooth device that will allow players to play without having to pay attention to their smartphone. This device will retail for $34.99, and depending on whether it's also a massive success, it can add to Nintendo's profitability directly. However, Nintendo is now a $27 billion company. 40 million lifetime sales of such devices at an optimistic 20% net profit margin to Nintendo would just deliver $280 million in total profits. They wouldn't move the needle (they'd amount to little more than 1% of the entire market capitalization). Even multiples of 40 million device sales wouldn't move the needle much.
Conclusion
It's easy to see that it's nearly impossible for Nintendo to actually gain enough value from the Pokémon Go success to be worth the market cap it gained during the last 5 sessions. As such, "buyer beware," as Nintendo is likely to give back the gains.
However, we're just 6 days removed from Pokémon Go's launch. This story should have a lot further to go when it comes to hype. Pokémon Go will still launch in many important markets (the whole of Europe, Japan, possibly China) so it should take a lot of time for the craze to cool down. I have no doubt this will be a success the world over. Given this, the timing to sell Nintendo - even if it's obvious that the game can't justify the market cap jump - might not yet be upon us.
Disclosure: I/we have no positions in any stocks mentioned, and no plans to initiate any positions within the next 72 hours.
I wrote this article myself, and it expresses my own opinions. I am not receiving compensation for it (other than from Seeking Alpha). I have no business relationship with any company whose stock is mentioned in this article.
Editor's Note: This article discusses one or more securities that do not trade on a major U.S. exchange. Please be aware of the risks associated with these stocks.