For those of you unfamiliar with this series of articles, it's basically an approximate five-year profit and loss review of a number of exchange-traded funds (ETFs) and closed-end funds (CEFs) that primarily invest in and hopefully profit from dividends earned from their investments in preferred securities, which they then distribute to shareholders. This link will provide you the information necessary to fully appreciate and understand the following article, the differences inherent in CEFs and ETFs, and the remaining articles of this series. It will also serve to eliminate lots of reading redundancy for my regular readers.
This report concerns the Flaherty & Crumrine Preferred Income Opportunity Fund (NYSE:PFO), hence the following description and chart: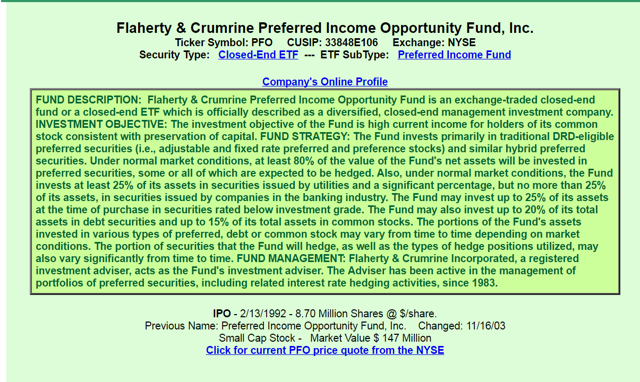 Click to enlarge
The above affords us a view of the fund that pretty much explains what we need to know about it as an investment; consequently, as I dig into the fund's database.
According to Morningstar, PFO is a three-star investment.
This fund is leveraged by 33.53%.

Click to enlarge
A three-star rating from Morningstar places this fund squarely in the center of this group of funds. Not the best- and certainly not the worst-run fund. Its current NAV is $11.38, and premium priced currently at $12.41.
Personally, I don't like the amount of leverage this fund employs, which might act as a double-edged sword. By using this leverage, this fund is able to distribute a steady stream of income; however, in the event of an interest rate rise of any consequence, or some event that disrupts the banking, financial service, or insurance sectors of the economy, this amount of leverage can cause serious problems.
Personally, I don't like buying retail; currently, expect to buy this fund above retail. Consequently, it will be easier to suffer price depreciation. By buying low, your chances of price appreciation are improved simply because you have reduced the size of the hill you want to climb. Allow me to explain. When I am buying individual preferreds, I rarely if ever buy them above their par value for several reasons:
It reduces their coupon yield rate, meaning their effective yield is less than what the company was willing to pay. And because I am primarily a high-yield investor, I accept risk to gain those high yields. Consequently, although the yield is reduced, the risk remains, which I am not willing to accept.
With funds I am not as certain of their value, however, buying them at a premium, as far as I'm concerned, allows for the increased possibility of eventual loss. By buying below NAV, you are at least guaranteed a cushion against loss, at least by the amount of the discount you received.
As with preferreds, the lower the price paid, the higher the effective dividend yield, which is always a plus.
Hedging a portfolio is specifically instituted to moderate losses, but it does cut down on the profits by its very nature. I'm a bit greedy and, consequently, I'm not overly fond of hedging, it's like betting against oneself. When you are winning, you are also losing, which moderates your gains as well as your potential losses. Not that it's bad, it's just not my cup of Tetley's. And because this fund employs hedges, it might be less risky, but I believe my yield likewise will be negatively impacted.
This fund's portfolio is comprised of primarily financial services including banks and insurance companies with a small portion of utility preferreds as displayed below: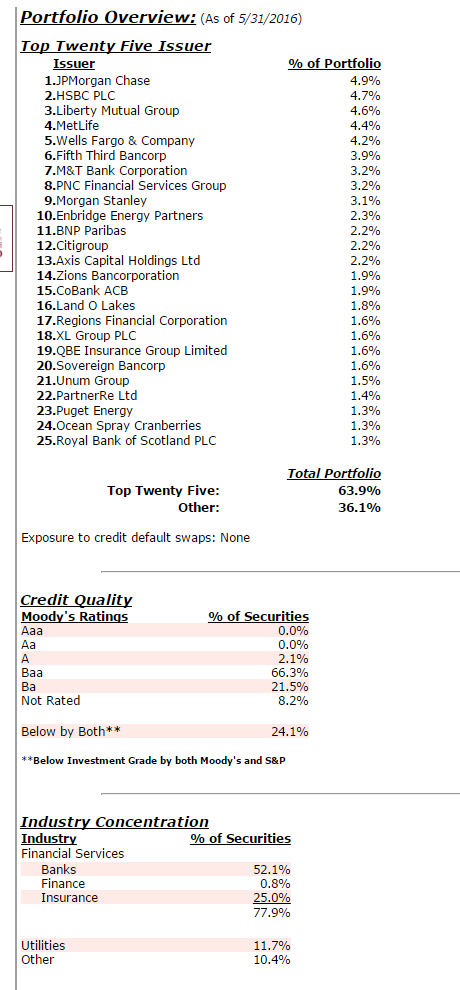 According to Moody's Baa rating, 66.3% of this fund is rated as lower investment grade while 21.5% is rated Ba or non-investment grade speculative. Financial services make up 77.9% of its portfolio, of which banks are over 50% of this sector, followed by insurance. Utilities make up approximately 12% of the remainder of this portfolio, which appears to be the basis for F&C's funds.
Now for that five-year performance chart, even though this fund IPO'd under another name on 2/13/92, which was then changed to its present PFO on 11/16/03: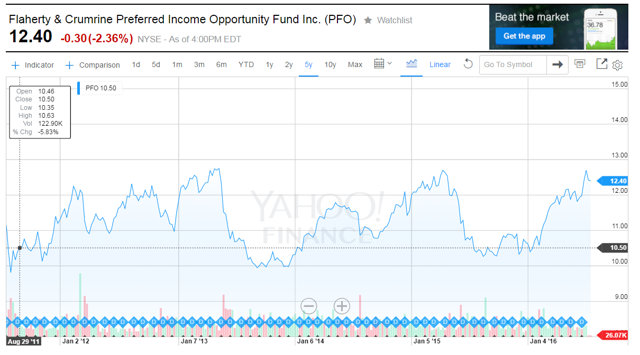 Click to enlarge
It displays PFO's performance over the past five years. This fund's performance, although choppy, has performed well. During this time, this fund has gained value from $11.15 on 7/18/11 to its current $12.40, a $1.25 increase.
PFO has distributed $4.5815* for each share invested at an approximate price of $11.15 on 7/18/13.
*I got the dividend distribution figures from DividendInvestor.com.
(4.5815 + 1.25)/11.15 = 52.30% yield over five years.
52.30/5 = 10.46% per year yield.
Therefore, if my math is correct, the investor would have profited by a yearly dividend yield of 10.46% over the past five years.
However, had one utilized DRIP, beginning on 7/16/11, $10,000 would have appreciated to 16,918.48 on 7/9/16, an 11.12% yield per year for the past five years. In my opinion, a worthy investment.
A very impressive profit over the past five years; however, at the price of additional risk as a result of its utilization of leverage.
In conclusion, if my calculations are correct (please review them carefully to determine if any were made in error, and the wrong conclusion was consequently arrived at), this has been an impressive investment.
I like this fund's performance over the past five years that I have reviewed; however, it has performed well in an extremely low interest rate environment, which might change in the future as the world economy improves. On the other hand, rates might stay low for the foreseeable future because it seems that any time the Fed is poised to move rates higher, some market dislocating event seems to pop up. Brexit forestalled this latest rise. The Chinese slowdown slowed down another raise. The EU is not performing up to par, and for that reason, Draghi has kept European Central Bank's interest rate at historically low levels.
Bottom line: This fund as compared has performed well simply because it has taken on more risk, possibly more appetizing to me than a more conservative investor. Most intelligent investors know their appetite for risk and invest accordingly. You should do the same. I'm simply the messenger, certainly not an advisor.
Now let's compare PFO to its sister funds, FLC, DFP, and FFC: All are basically the same, utilizing hedging designed to increase their income in the event of a significant increase in long-term interest rates, and to be somewhat resistant to the effects of further interest rate reduction. All are primarily invested in the preferreds of the banking, insurance and utilities sectors. As far as I can tell, I believe all funds share a similar risk profile; consequently, your decision to favor one above the other should be determined by share price at the time of purchase or sale, which might lead to a more attractive yield and potentially greater price appreciation. To help you decide should you want to invest in one or more of these funds, I have provided the NAVs and closing prices of each:
F&C Fund Comps
| | | |
| --- | --- | --- |
| Symbol | NAV | Price |
| DFP | 24.93 | 24.41 |
| FFC | 19.29 | 21.56 |
| FLC | 20.59 | 22.36 |
| PFO | 11.38 | 12.41 |
The following is the list of funds I have and will investigate to give you a clear picture how each has performed over the past five years. Initially, I had decided to judge each over the entire life of the fund, but was dissuaded by a number of followers who advised that the results would be unfairly skewed by the recessionary contraction of 2008-2009. Here's that list of funds, which has grown considerably as a result of additions you requested: iShares U.S. Preferred Stock ETF (PFF), PowerShares Preferred Portfolio ETF (PGX), Global X SuperIncome Preferred ETF (NYSEARCA:SPFF), PowerShares Financial Preferred Portfolio ETF (PGF), VanEck Vectors Preferred Securities ex Financials ETF (PFXF), SPDR Wells Fargo Preferred Stock ETF (PSK), PowerShares Variable Rate Preferred Portfolio ETF (VRP), iShares International Preferred Stock ETF (IPFF), John Hancock Preferred Income Fund II (NYSE:HPF), First Trust Preferred Securities and Income ETF (NYSEARCA:FPE), Flaherty & Crumrine/Claymore Total Return Fund, Flaherty & Crumrine/Claymore Preferred Securities Income Fund, Flaherty & Crumrine Dynamic Preferred and Income Fund, Inc. and Flaherty & Crumrine Preferred Income Opportunity Fund, Clough Global Opportunities Fund (GLO), First Trust Strategic High Income Fund II (FHY), First Trust High Income Long/Short Fund (FSD), Prudential Global Short Duration High Yield Fund (GHY), ProShares UltraShort S&P 500 ETF (SDS), First Trust Intermediate Duration Preferred & Income Fund (NYSE:FPF), Cohen & Steers Select Preferred and Income Fund, Inc. (NYSE:PSF), Virtus Global Multi-Sector Income Fund (NYSE:VGI), DNP Select Income Fund (NYSE:DNP), John Hancock Premium Dividend Fund (NYSE:PDT), Flaherty & Crumrine Preferred Income Fund (NYSE:PFD).
Below is a screenshot taken from my IB platform I populated to keep you apprised of the order of my reviews, and as a bonus, the funds' current prices as I write 7/12/16. Furthermore, as requested, I have added the column line headings, which should be of further help.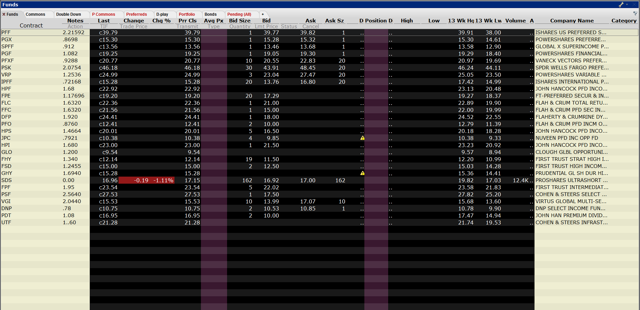 Click to enlarge
Notice the 2015 dividends are placed just to the right of the fund symbols. To the right of that are the last trade prices as I write. Of further interest, at the far right of the screen are the prices of the 13-week highs and lows of each fund.
Disclosure: I/we have no positions in any stocks mentioned, and no plans to initiate any positions within the next 72 hours.
I wrote this article myself, and it expresses my own opinions. I am not receiving compensation for it (other than from Seeking Alpha). I have no business relationship with any company whose stock is mentioned in this article.
Additional disclosure: Because this is a series of fund performance studies, although each is an entirely different study, the method I utilize to arrive at each conclusion is quite similar, and more effective because by using the same parameters, I am comparing apple to apples, not apples to pears.