Back in September, I covered Gap Inc. (NYSE:GPS) stock as part of my "Iconic Brands on Sale" series here on Seeking Alpha. With the stock then trading at $16.20 per share, I argued that its excellent cash flow, strong balance sheet, and focus on returning profits to shareholders made the stock a low-risk turnaround play.
But after well-received fourth quarter earnings, and the company's decision to raise its dividend and renew its share repurchase authorization, GPS has taken off. The stock is up 23% over the past month and trades as of this writing at $23.35, its highest level in nearly two years.
Despite the run-up in the stock, little has changed at Gap Inc. since I covered the company nearly six months ago. For 2011, the company performed well, if not spectacularly. Earnings for fiscal 2011 (ending January 2012) were $1.56 per share, putting its trailing P/E right at 15. Free cash flow was $815 million, 7.4% of the company's enterprise value of $11 billion. Total revenue dropped 1%, as a small amount of expansion overcome a 4% decrease in comparable sales. The company also spent $2.1 billion to repurchase 111 million shares, putting the average price per share in the $19 range, a solid discount to its current level.
What has changed, obviously, is the stock's valuation -- GPS has risen 44% since the middle of September. And at this point, Gap Inc. stock looks like a clear candidate for profit-taking, and possibly even a short sale. For one, the "turnaround" meme has taken hold on Wall Street. Barron's started it with a late-December cover story on the stock; Reuters followed suit in its analysis of fourth quarter earnings last week.
Of course, the idea of a "turnaround" at The Gap is nothing new. A quick Google News archive search finds articles from as far back as 1987, each touting Gap Inc.'s latest re-branding, management change, or emphasis on updated, trendy styles. None of the turnaround efforts has truly taken hold, as the stock has been range-bound for over a decade now: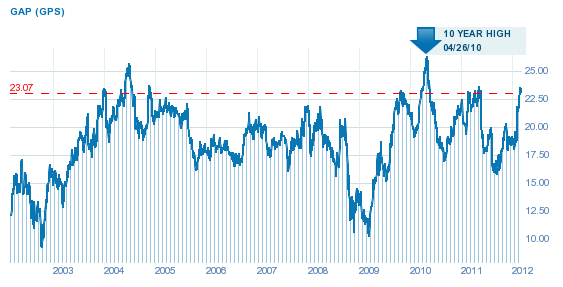 Click to enlarge
10-year chart of GPS courtesy thestreet.com.
As the stock gets within shouting distance of its 10-year high of $26.21, set in April 2010, investors should be wondering: Why now? Why is this the time for GPS stock to break out of such a long-term range? Yes, the company continues to expand its international presence, yet international same-store sales fell 7% in 2011. Yes, the company issued guidance for 2012 of $1.75-$1.80 per share, a 13.5% year-over-year rise at the midpoint. But 2011 guidance was initially set [pdf] at $1.88-$1.93 per share, before being cut sharply after a weak first quarter. And yes, analysts are seeing "improvement in the Gap brand merchandise." But they've seen improvement every year for over a decade now, and the stock has not been able to take off in response.
In fact, the only real growth created at the Gap has been through its share repurchase programs. Shares outstanding have dropped from 860 million in February 2002 to just 488 million currently. Some 43% of outstanding shares have been bought out over the past decade. This has improved earnings on a per share basis, but total net income has remained relatively flat. Despite the constant calls for -- and premature claims of -- a turnaround at the Gap, its results have been relatively consistent, both on the bottom line and in the stock market.
That consistency does have some value -- and, indeed, I argued passionately for a long position in the stock back in September. But at its new, higher valuation, the market seems to be anticipating strength at the Gap that the company has not been able to sustain in over a decade. Yes, a forward P/E of 15 is reasonable, and the 2.16% yield is nice. But it's no longer compelling, and it seems too stiff a price for a company that has shown so little improvement as of late.
Gap Inc. reports February sales on Thursday March 1, and the recent optimism surrounding the stock may have set expectations a bit too high. Traders could look to short the stock ahead of the report, figuring that strong results are already priced in. For longer-term investors, GPS has simply gone too far, too fast. Gap Inc. is a solid company, and the stock still offers some positives for investors. But, given its history, the stock's recent bull run should price out value investors.
Disclosure: I have no positions in any stocks mentioned, and no plans to initiate any positions within the next 72 hours.