REITs have been a dominant sector in 2016, returning nearly 16% YTD and beating the broader market by more than 8%.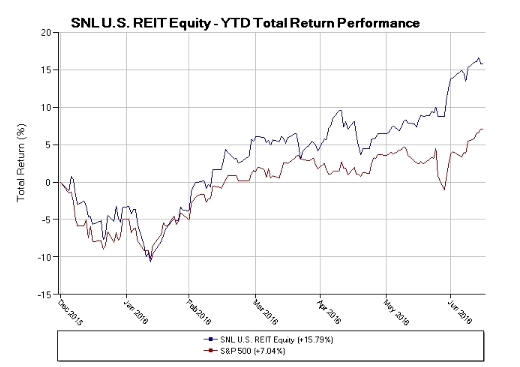 This article will explore where REITs stand today. Is there still room to run or are REITs getting frothy?
Before we get to valuation, let us first go over how REITs are performing fundamentally in this environment.
Macro Environment
I believe it would be fair to characterize the macro-economic environment as:
Slow growth
Above average uncertainty
Low interest rates
These 3 characteristics seem to be the general consensus, so I will only spend a few sentences justifying this characterization of the world. US GDP appears to be hovering around 2% growth YoY with Europe just over 0% and China at roughly 6%. This is slower than normal, but still positive so it is not recessionary. Uncertainty is brought about by geopolitical conflict and fairly extreme instability in the Middle East. Elections are typically contentious and the Middle East has been unstable for most of history, but it seems fair to say these factors are more contentious and more unstable than normal. Sub 2% yields on the 10-year in the US and basically 0% in Germany are unequivocally low yields.
So, now that we have covered the basic macro environment, what does it mean for REITs?
REIT Fundamentals
Oddly enough, this is an excellent environment for REIT fundamentals with each characteristic benefiting the performance of REITs relative to the broader market.
Since REITs have somewhat contractual revenues, there is limited upside for REITs in a wildly bullish economy. REITs would continue to grow at their usual pace of 5%-10% while the broader market could leave them in the dust. In a slow growth economy, however, REITs can still grow at a medium pace while the S&P has had virtually no earnings growth over the past couple of years. This superior bottom line growth has kept REITs reasonably cheap despite the strong YTD returns. Shown below is the Price/FFO multiple of REITs over 10 years.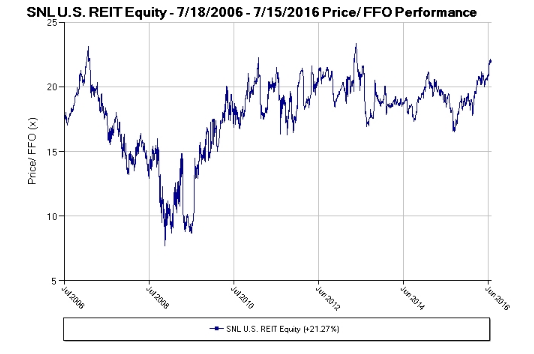 Aside from getting really cheap during the financial crisis, REITs have consistently traded in a band between 16X and 23X. Presently, REITs are at about 22X, placing them at the high end, but still well within normal.
Uncertainty also benefits REITs relative to the S&P. REITs tend to be 1 step removed from turmoil as their contracts and fungibility of tenants protect cash flows from a surprisingly large percentage of problems. Time and time again, we have witnessed REIT tenants fail with minimal damage to the REIT.
Agree Realty (NYSE:ADC) survived the failure of a major tenant (Borders) and ADC has since become one of the best performers.
CorEnergy (NYSE:CORR) had 70% of its tenants bankrupt and has thus far maintained its cash flow.
Ventas (NYSE:VTR) successfully renegotiated leases with Kindred and/or re-tenanted the space during Kindred's operational struggles.
These may be cherry picked examples of REIT resilience, but it has been true on a broader scale as well. Retail REITs have generally been more stable than retail, energy REITs have been more fundamentally stable than energy operators and healthcare REITs have been more consistent than healthcare operators. In fact, REITs as a whole only lost a small portion of their bottom line during the financial crisis while S&P earnings plummeted.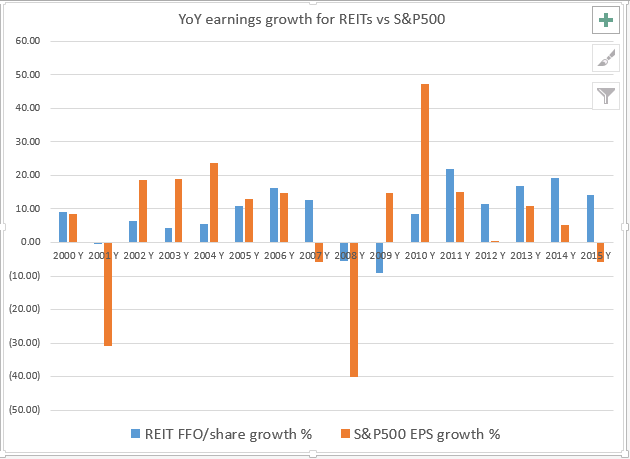 Source: SNL Financial and Damodaran
If the rampant uncertainty of the current macro environment actually manifests into harm, history suggests that one would much rather be in REITs than in the S&P.
Finally, low interest rates should benefit REITs as REITs will often trade as a replacement to bonds for investors seeking higher yields. As a bond replacement, REITs are more desirable now than historically because the yield spread has blown out.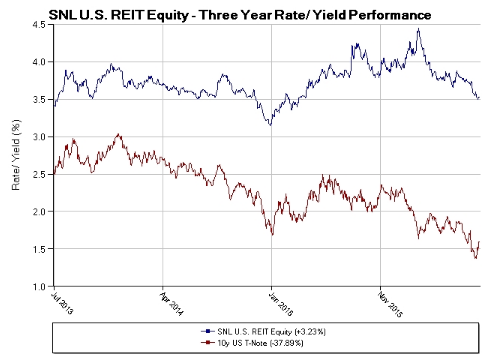 Shown above, the yield spread between REITs and the 10-year Treasury note was only 1% 3 years ago, but now it is nearly 2%. REITs still trade at a reasonably high 3.5% yield while everything else with a decent dividend has been bid to dangerously high levels.
How to play it
While I am not particularly fond of passive investing, I believe the Vanguard REIT ETF (NYSEARCA:VNQ) could prove to be a very successful investment for those who prefer to buy and hold a passive index fund. To the extent that REITs continue to outperform the broader market, which I think they will, VNQ will capture this outperformance.
More time more effort but maybe more outperformance
For those with an appetite for doing the research, there are pockets of the REIT market, which are positioned to perform even better. While REITs as a whole yield 3.5%, small cap REITs yield as much as 5%-5.5%.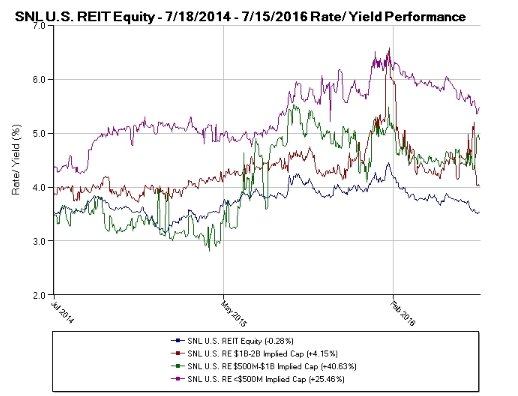 Note that this extra yield is fully supported by cash flows as the smaller REITs also trade at a far cheaper valuation as shown below.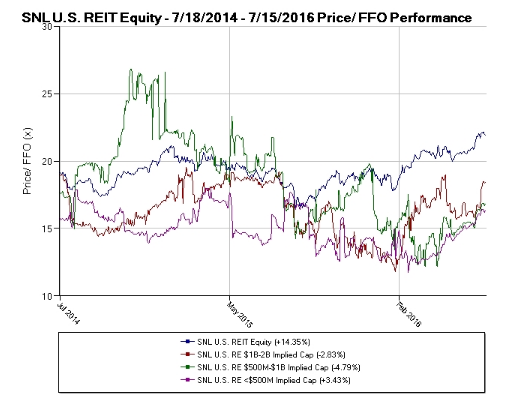 Taking it a step further, the careful analyst can select individual REITs within the small cap universe for superior quality, value and yield.
The Bottom Line
In the current macroeconomic environment, REITs present a solid set of opportunities for both active and passive investors. Give some thought to trading out S&P ETFs for the VNQ or perhaps digging deeper and selecting individual REITs.
Disclosure: 2nd Market Capital and its affiliated accounts are long CORR. I am personally long CORR. This article is for informational purposes only. It is not a recommendation to buy or sell any security and is strictly the opinion of the writer.
Disclosure: I am/we are long CORR.
I wrote this article myself, and it expresses my own opinions. I am not receiving compensation for it (other than from Seeking Alpha). I have no business relationship with any company whose stock is mentioned in this article.