We've never been thrilled with the economy's slow-growth performance, we'll happily take the record breakouts the markets gave us last week. Who wouldn't?
The Dow Jones Industrials completed the last business week up 2 percent at a record 18,471. The S&P 500 finished at 2,161, up 1.5 percent. This week, investors figure to be focused on corporate earnings (look for lots of declines) and fallout from the failed coup attempt against the Turkish government.
It's hard to get excited, though, about long-term prospects in the uninspiring world of low interest rates, and now, negative rates. The rate picture has been a long-term concern for Alexander Alternative Capital and investors worldwide.
Consider this from Bank America Merrill Lynch: The face amount of bonds on the worldwide market bearing negative yields is now an outrageous $13 trillion. Just two years ago, the landscape was devoid of these freebies for borrowers.
In the Eurozone, Germany auctioned 10-year bonds with negative yields. Today, the yield stood at 0.003 percent. Across the Pacific, Japan's 10-year government bond stood at a negative 0.226 percent. Last week, the British government sold 10-year debt.
Here at home, the 10-year U.S. Treasury yield stood at a miraculous 1.556 percent, which represents an actual uptick from last week.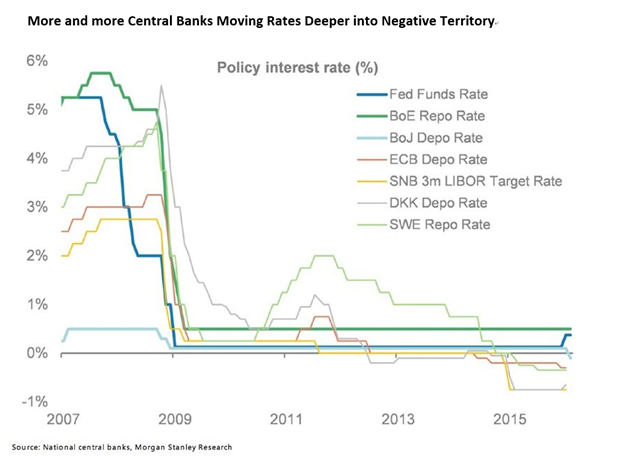 The absurdly low levels, obviously, are good for governments looking to borrow on the cheap. But they're hardly a comfort for individual investors seeking good yields, or for pension fund managers trying to achieve targeted annual returns of 7 to 8 percent.
The Federal Reserve meets July 26 and 27, but no one expects any action on rate hikes in the wake of the sparkling jobs report for June. If the jobs picture continues to be rosy for the summer, a September hike could be in the cards.
In the meantime, where does one go for yield? Potentially, real estate investment trusts, which are owners of shopping malls, warehouses and multi-family rental housing. REITS throw off dividends that make bond yields pale by comparison. In a tourism and transportation-driven economy like Florida's, which is the land of commercial real estate growth, REITs are an alternative worth exploring.
Corporate Earnings
On the heels of lofty job reports and record stock index levels, investors are turning their attention this week to some 90 S&P 500 companies that are expected to report earnings. In the aggregate, the reports are expected to portray a profits picture that shows growth declines for the fourth consecutive quarter.
A widely reported survey of S&P Index companies by Thomson Reuters forecasts adjusted earnings per share for the second quarter were off by 4.7 percent.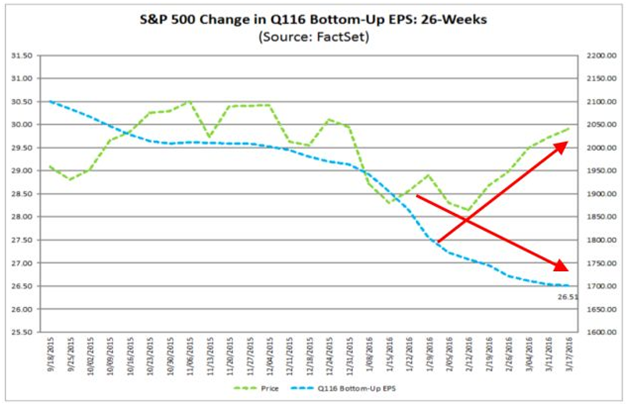 One has to wonder where growth will come from for the remainder of the year and beyond with no fiscal policy out of Washington, a downward adjustment in economic growth by the Office of Management and Budget and as spike in the federal deficit to $600 billion in the current fiscal year.
Last week, the Obama administration reduced its growth outlook from its 2.7 percent forecast in February to 2.2 percent. Inflation s expected to increase by 1.1 percent versus the 1.4 percent forecast last winter.
EIA: U.S. Oil Output to Remain Flat Through 2017
With oil languishing in the mid-40s, the outlook for oil production is more of the same in 2017 and considerably below last year.
According to the U.S. Energy Information Administration, production will average 8.6 million barrels per day this year and 8.2 million barrels in 2017. "EIA estimates that crude oil production for June 2016 averaged 8.6 million b/d, which is 0.2 million b/d below the May 2016 level, and almost 1.1 million b/d below the 9.7 million b/d level reached in April 2015," the administration said in its most recent report. In 2015, U.S. crude oil production averaged 9.4 million barrels per day in 2015.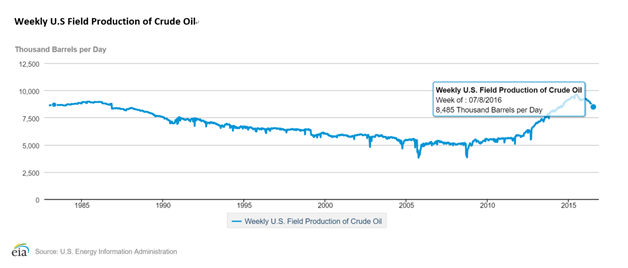 As of July 1, natural gas working inventories were 3,179 billion cubic feet (Bcf), which is 20% higher than a year earlier, "and 23% higher than the previous five-year (2011-15) average for that week," the EIA reported.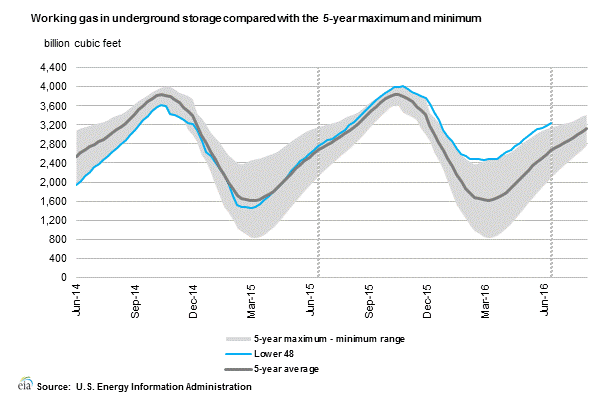 U.S. regular gasoline retail prices this summer are forecast to average $2.25/gallon (GAL), 2 cents/gal lower than forecast in last month's STEO and 39 cents/gal lower than last summer, measured as April through September. U.S. regular gasoline retail prices are forecast to average $2.12/gal in 2016 and $2.28/gal in 2017.
Our Watch List this week:
Tuesday:
--Housing starts are reported.
--Goldman Sachs, Discover Financial and Microsoft report earnings.
Wednesday:
--American Express, Morgan Stanley report earnings.
Thursday:
--Initial jobless claims are reported.
--Donald Trump address GOP presidential nominating convention.
Friday:
-- Synchrony Financial and SunTrust report earnings.
-- Manufacturing is reported.
Disclosure: I/we have no positions in any stocks mentioned, and no plans to initiate any positions within the next 72 hours.
I wrote this article myself, and it expresses my own opinions. I am not receiving compensation for it. I have no business relationship with any company whose stock is mentioned in this article.