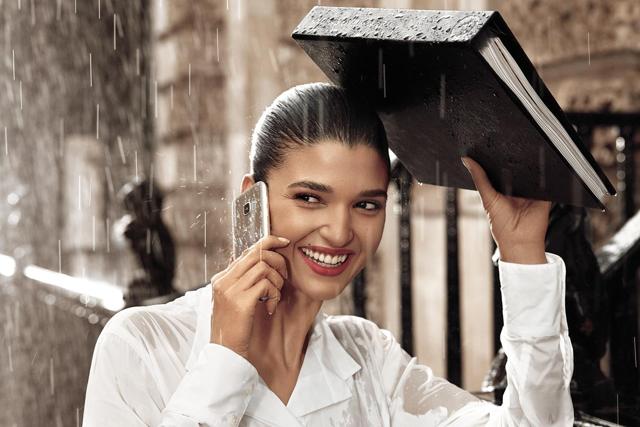 Click to enlarge
The Samsung S7 doesn't just handle rain well, it also makes it rain on Apple's parade.
I have already explained why I expect Apple (NASDAQ:AAPL) to be challenged in the near-term, and how it might then enjoy a brief moment of outperformance. The near-term underperformance has to do with the continued iPhone 6s disappointing sales, and the sliver of outperformance will have to do with the anticipation of the iPhone 7 launch, which should take place during mid-September.
Lately, the market has been treating Apple as if things have already normalized. They haven't. There's still one month to go until we can expect iPhone 7 anticipation to kick in, and during that month we have Apple reporting its Q3 FY2016 earnings, as well as guiding for Q4 FY2016 earnings.
Q3 FY2016 Earnings
I believe both instances will still be quite troubled. Q3 FY2016 numbers seem easier to hit, because they were deeply slashed. Present consensus sits at $1.38 per share, right between my model's $1.31-$1.44 output.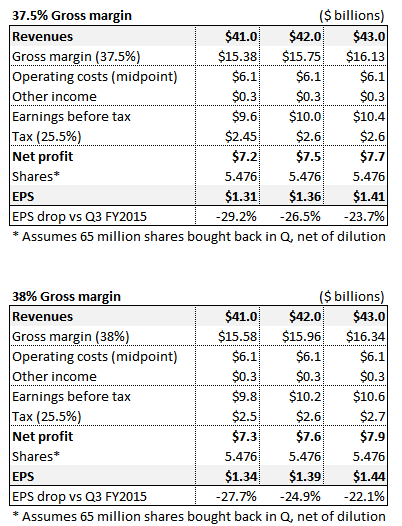 However, as the quarter went by there were troubling developments. The main one was just reported by Lauren Guenveur, Mobile Analyst at Kantar Worldpanel ComTech. Lauren put Samsung's (OTC:SSNLF) share of the US smartphone market at 37%, versus Apple's 29%. This alone is already a problem because when it comes to subscribers (installed base), Apple is still ahead of Samsung, but such a ongoing sales discrepancy is going to quickly narrow down Apple's installed base advantage.
More worrying stuff was to follow. Lauren also estimated that the Samsung S7/S7 Edge sold more than the iPhone 6s/6s Plus. This is tremendous news, while Apple has long conceded general market share, it had never conceded leadership in the very highest segments. The Samsung phones which achieved this feat, the S7 and S7 Edge, are also flagship phones, as expensive as the iPhone 6s/6s Plus. Losing this market position can have tremendous consequences for Apple. It might directly imply that Apple's brand equity is quickly eroding in the face of better/more beautiful handsets. The iPhone 7 won't help in this regard.
I still expect the iPhone 8 to bring Apple's best to the market, and to again regain the high-end from other competitors (Samsung included). But the iPhone 8 is more than one year away. In the meantime, Apple will have tremendous difficulty competing.
I should also add that both Q3 FY2016 and Q4 FY2016 will now have the Apple Watch (launched in April 2015) in their base comparison periods. This means showing year-on-year growth is now more difficult than before (and showing shrinkage, easier). In light of this, and the fact that consensus already expects a quick recovery for Q4 FY2016, it seems likely that Q4 FY2016 will require further cuts to revenue growth guidance.
The only two redeeming factors are:
This period (Q3 FQ2016) includes the Samsung S7 launch, whereas the iPhone 6s launch took place 6-9 months ago. Yet what we see is that not only Samsung took away Apple's brand leader ship, but it actually managed to sell a high end device in Apple's home market in higher numbers than Apple.
Apple has launched the iPhone SE, which will provide a positive impact for both Q3 FY2016 and Q4 FY2016.
Implications For Apple's Stock Going Forward
I am updating my "underperformance/outperformance" prediction chart for Apple, since some time has passed since I last published it. As we can see, we're now much closer to a possible outperfornance period. However, the next earnings report still falls under this underperformance period.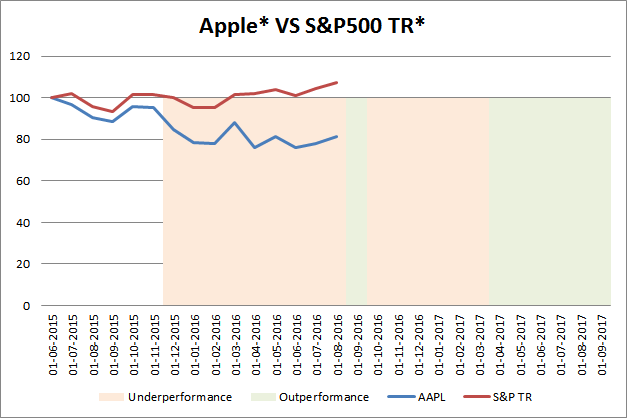 * As of July 19.
As we can see, not long after earnings (due on July 26), Apple will be entering into the period of "iPhone 7 hype". This effect should start being seen from mid-August or so. Still, between today and mid-August, it wouldn't be surprising to see the stock take yet another round of punishment.
Conclusion
The recent developments call into question one of the main rationales for holding Apple. The rationale is that Apple does not concern itself if the lower end of the market, leaving it for competitors to battle for it at no margin at all. At the same time, Apple is thought to completely dominate the higher end of the market, and reap tremendous margins from doing so.
This has worked for a very long time. However, when we see reports that Samsung's own high end device, the Galaxy S7 and S7 Edge, are able to out-sell the iPhone 6s/6s Plus on its own home market, the narrative takes a very large hit.
As such, this development warrants caution right into Apple's Q3 FY2016 earnings report, which is further impacted by the presence of the Apple Watch launch in its comparative base (Q3 FY2015), as well as by aggressive current estimates for Q4 FY2016, which might need further trimming.
Disclosure: I/we have no positions in any stocks mentioned, and no plans to initiate any positions within the next 72 hours.
I wrote this article myself, and it expresses my own opinions. I am not receiving compensation for it (other than from Seeking Alpha). I have no business relationship with any company whose stock is mentioned in this article.
Additional disclosure: I have OTM puts on Apple which go through Apple's earnings. They're just a cheap way to hedge for any large Apple impact on the market as a whole. If they expire worthless, they've done their job anyway.
Editor's Note: This article discusses one or more securities that do not trade on a major U.S. exchange. Please be aware of the risks associated with these stocks.