They would come to him and ask for a safe six per cent security. He would reply 'You can't combine high interest with safety--it isn't to be done'; and in the end, they would say 'How would it be if I invested most of my money at four per cent, and play about with an odd hundred?'
- E.M. Forster, Maurice (written 1912-13)
While 6% hasn't seemed like much in recent decades, it was a highly desired return a century ago, before the era of growth stocks took hold. In today's slower-moving economy, it again seems attractive.
The last few weeks in the market have resembled a game of Pokémon Go, except instead of tossing electronic balls at cartoon characters, investors are out chasing elusive yields, driving them down.
One preferred that still yields better than 6% - in fact, better than 7% - and appears relatively safe is Capstead Mortgage (NYSE:CMO) series E (Quantum description). I've owned it since shortly after it was issued in 2013. The $25-par preferred issued by the mortgage real estate investment trust pays 7.5%, or $1.875 annually. It is cumulative, and not eligible for preferential tax treatment.
As the chart shows, its price has risen to slightly over par in recent months.

Click to enlarge
Source: NYSE
CMO-E is callable in May 2018. Even if it were called the first day of eligibility, however, the yield-to-worst is still over 7%.
That compares favorably with the preferreds of another mortgage REIT, Annaly Capital Management (NYSE:NLY). These yield more at current prices but carry far more call risk because they are selling further above par and have earlier call dates.
CMO-E vs. NLY preferreds
| | | | | |
| --- | --- | --- | --- | --- |
| Security | CMO-E | NLY-A | NLY-C | NLY-D |
| Price | 25.20 | 26.06 | 25.75 | 25.84 |
| Coupon | 7.5% | 7.88% | 7.63% | 7.5% |
| Current yield | 7.44% | 7.56% | 7.4% | 7.26% |
| Yield-to-worst | 7.06% | -4.24% | 3.88% | 4.7% |
Sources: Quantum Online, Dividend Yield Hunter
As you can see, one Annaly preferred, series A, actually has a negative yield-to-worst, as it is selling considerably over par and is callable immediately. This appears to be a mispricing by retail investors who don't understand call risk.
NLY-C, with an earliest call date in May 2017, and NLY-D, callable in September 2017, are better, but still could wind up producing returns of less than 5%.
Investors who don't think NLY-A will be called could be in for a surprise. Capstead's series A and B preferreds were selling around $27 in 2013. Some investors had a rude shock when they were called at $25 that year. The company largely replaced the capital by issuing the lower-yielding series E.
Capstead specializes in acquiring adjustable rate mortages of short duration (typically one year), which quickly reset to market rates, reducing duration risk.
Like most mortgage REITs, its common stock has been weak the last few years, with low rates depressing net interest income and causing prepayments.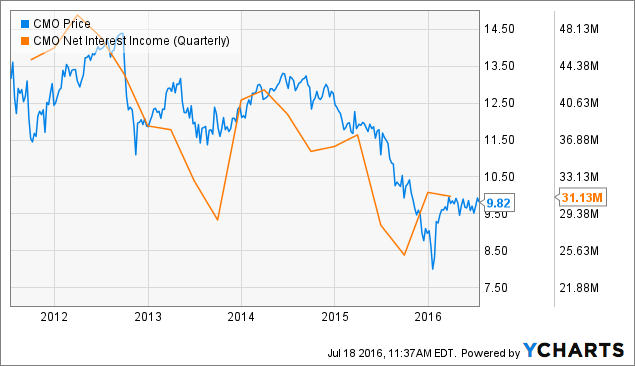 Capstead's common dividend was reduced in June. The forward dividend rate of the common stands at 9.3%, indicating unease that it can be continued. Of course, the fixed preferred dividends must be paid before any common dividend, giving preferred investors a margin of safety.
Conclusion: CMO-E is still attractive to dividend investors at the current price. Investors who own NLY-A should sell despite the high yield. Investors in NLY-C and NLY-D, including myself, may want to sell before their call dates.
Disclosure: I am/we are long CMO-E, NLY-C, NLY-D.
I wrote this article myself, and it expresses my own opinions. I am not receiving compensation for it (other than from Seeking Alpha). I have no business relationship with any company whose stock is mentioned in this article.