Arena's (NASDAQ:ARNA) Belviq got a bit of a face-lift earlier today when the company confirmed the FDA approval of Belviq XR, and extended release version of Belviq that allows for 1 pill once per day rather than two pills a day. For some investors the news is a big positive for the company, but the reality is that the anti-obesity sector is in decline, and Belviq seems to be seeing the lions share of that downward action.
This past week Belviq scripts came in at about 7,300. Sales were impacted by the 4th of July holiday, so the number is lower than what would be typically delivered in a standard week. What is a bit scary is the fact that sales have not been this low (inclusive of holiday dips) since Christmas week of 2015, and even then, the Christmas week was slightly higher. Ironically, despite poor Belviq sales, the drug will have put $11 million in the coffers of the company with a $1 million milestone for approval in Mexico, and a $10 million milestone for the XR version getting FDA approval.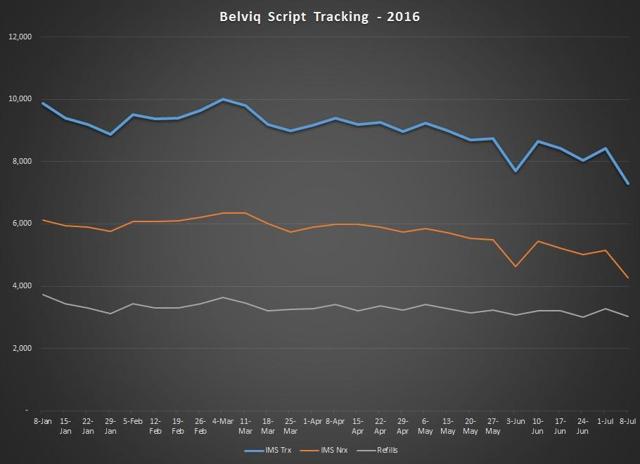 Click to enlarge
Chart Source - Spencer Osborne
On a quarter over quarter basis, Belviq sales are not starting off very well. Sales have started Q3 down 22.35% from the pace in week one of Q2. There is a holiday impact, but that does not answer for the entirety of the quarter over quarter decline. I would anticipate for an overall decline of 17% to 22% in Q3 of 2016. That would mean that the scripts for the quarter could drop below 100,000. You can see in the quarter over quarter chart that the declines have been systemic for quite some time now.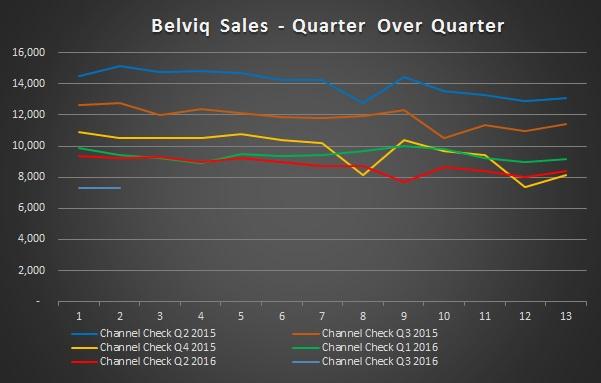 Chart Source - Spencer Osborne
On a year over year basis we have an even bigger decline in the making. Sales at this point in Q3 of 2016 are 42.38% lower than the sales of nearly 12,700 scripts a year ago. What will save Q3 looking terrible in comparison when the financials are reported is $11 million in milestone revenue. This is a polar opposite to the impact that $15 million of additional cost which is likely to make Q2 look bad.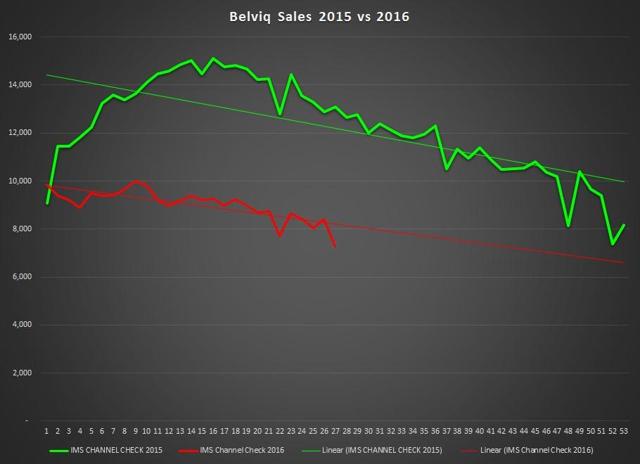 Click to enlarge
Chart Source - Spencer Osborne
From a market share perspective Belviq is hanging in there with a bias to decline. Simply stated, Belviq is now benefiting from an implosion of sorts that Contrave from Orexigen (NASDAQ:OREX) is suffering. Belviq currently has a market share of 23.88%. This is not the lowest share that Belviq has ever had, but it is not much higher than the low water mark. At this stage, the only branded anti-obesity drug that has a positive market share trajectory is Saxenda from Novo Nordisk (NYSE:NVO).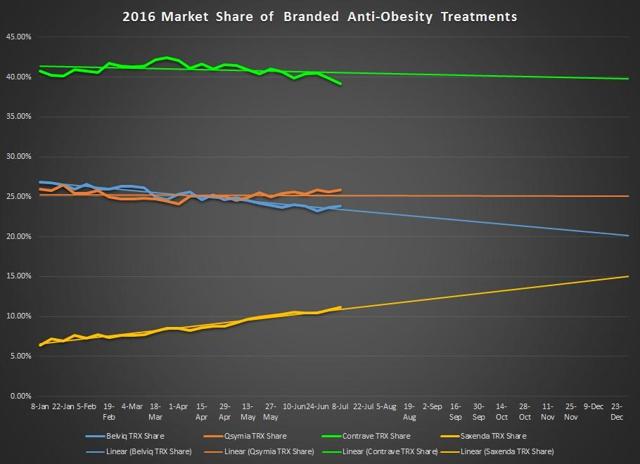 Click to enlarge
Chart Source - Spencer Osborne
The overall branded anti-obesity sector is actually poised for a decline in 2016. Last week the sector actually crossed into negative territory on a cumulative basis, and with this weeks number, year over year sales are now down 1%. The yearly chart is not looking positive, and sales in 2016 could be off by double digits as we enter Q4.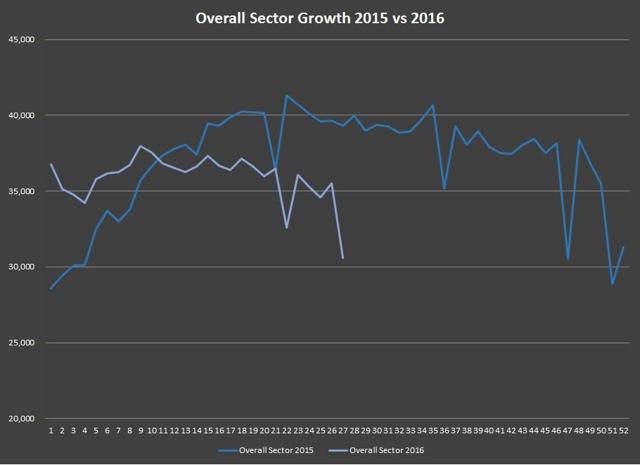 Click to enlarge
Chart Source - Spencer Osborne
The bottom line is that Belviq sales are nowhere near where they need to be to drive this equity. A launch in Mexico may help a bit, but as yet we do not have a date for an anticipated launch. Arena has not made an announcement on the roll-out of the extended release formulation, so we need to consider that sales will continue in decline. Arena is a speculative play for the pipeline, which should see two phase 2 clinical trials garner results in the first half of 2017. With Belviq being the biggest source of income, it remains prudent to track this aspect of the company at least until we get to the pipeline results. Stay Tuned!
Disclosure: I am/we are long ARNA, NVO.
I wrote this article myself, and it expresses my own opinions. I am not receiving compensation for it (other than from Seeking Alpha). I have no business relationship with any company whose stock is mentioned in this article.
Additional disclosure: I have no position in Eisai, or Orexigen
Editor's Note: This article covers one or more stocks trading at less than $1 per share and/or with less than a $100 million market cap. Please be aware of the risks associated with these stocks.