Top News
What is the effect of Brexit you ask? Take a look at the German economic sentiment indicator the ZEW. It declined from a positive reading of 19.2 in June to a negative 6.8 in July.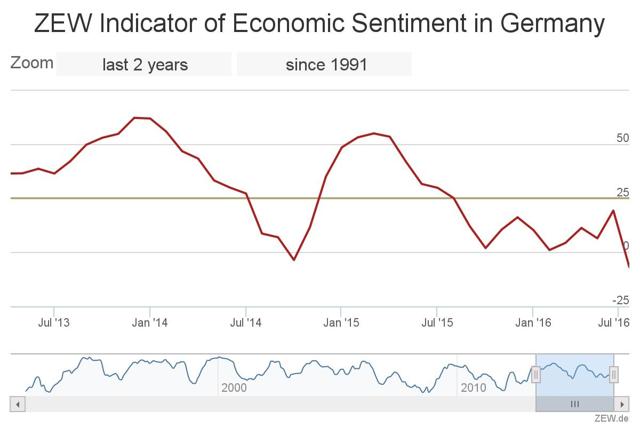 Click to enlarge
Here is the chart going back further in time.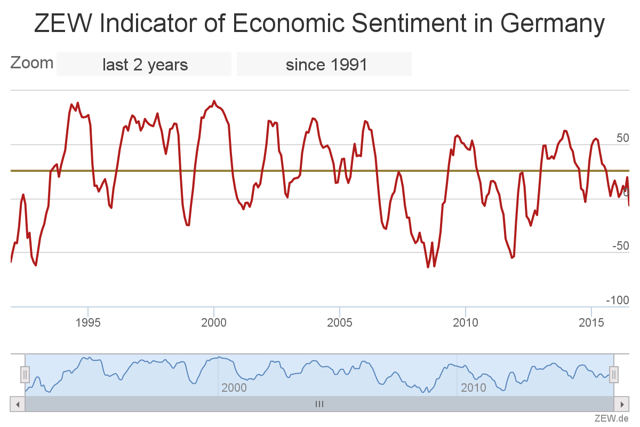 Click to enlarge
Brexit clearly is weighing on the sentiment of business going forward. I have a feeling this will not be the last chart we see like this either.
Also, it was reported an EU court backed EU guidelines to prevent a taxpayer bailout for troubled Banks. Could this spell trouble for some banks in Italy? The iShares MSCI Europe Financial ETF (NASDAQ:EUFN) is down about 1% today at of 10:30 am.
Equity Market
The S&P 500 (SPX) & SPDR S&P 500 Trust ETF (NYSEARCA:SPY) has struggled the last two days push higher after exiting the rising wedge formation. I decided to draw a new resistance level in at the 2167 level.

Click to enlarge
Is the chart beginning to turn? Perhaps. It does appear we have a bit of double top formation in the SPX.
Sector Spotlight
Let's go for a 6th straight day of highlighting the Nasdaq Biotech ETF (NASDAQ:IBB). It is just amazing how it can't push through the Bear trend line. It is just amazing. The machines are working hard to keep this trend line intact. There is no doubt there are algorithms in control of this ETF. It traces that trendline to perfectly be anything else at work.

Click to enlarge

Click to enlarge
Is that not incredible? After getting so incredibly close yesterday to finally breaking through, it is failing once again today. The IBB is currently down $2.55 to $270.94.

Click to enlarge
The only ETF sector up as of 10:30 am is the Industrial Select Sector SPDR (NYSEARCA:XLI), and that is only by $0.01 to $58.65. Everything else is in the red today. The Energy Select Sector SPDR (NYSEARCA:XLE) is leading everything lower by 50bps.
Currencies
The British Pound (GBP) is the biggest mover today, falling 123 to 1.3133 vs. the Dollar.

Click to enlarge
I must say though, I'm surprised by today's action. There were reports little earlier today that legal challenges could delay the triggering of article 50 until 2017. My expectation would be any delays would cause the GBP to strengthen. In my opinion the longer it takes for the Article 50 to be triggered the less likely it is ever to be triggered.
Commodities
Yesterday we focused on wheat, last week it was corn. Both have been crushed in price recently. Today, I will show you sugar, the opposite end of the spectrum.

Click to enlarge

Click to enlarge
As you can see not all commoidities are suffering. Sugar has turned higher since fall of 2015. Is it topping here, not sure? Something to watch though.
Yield
The Ten-year is boring once again today, with yields down about 2bps to 1.56%
Election 2016
The Republican Nation Convention kicked-off last night, with a slew of speakers. It is interesting that John Kasich the Governor of Ohio has so far been a no-show at the convention hosted in his state. Not sure if that is showing unity within the party. The lastest poll LA Time/USC poll show Trump with a 1 point lead over Clinton 43-42, the sample size was 1907. The Real Clear politics avgerage now shows Clinton leading Trump by only 2.7 points 43.8 to 41.1. This week will be all about Trump with Clinton to get her turn soon enough. Things are just getting going.
Have a great rest of the day!
Mike
Disclosure: I/we have no positions in any stocks mentioned, and no plans to initiate any positions within the next 72 hours.
I wrote this article myself, and it expresses my own opinions. I am not receiving compensation for it (other than from Seeking Alpha). I have no business relationship with any company whose stock is mentioned in this article.
Additional disclosure: Mott Capital Management, LLC is a registered investment adviser. Information presented is for educational purposes only and does not intend to make an offer or solicitation for the sale or purchase of any specific securities, investments, or investment strategies. Investments involve risk and unless otherwise stated, are not guaranteed. Be sure to first consult with a qualified financial adviser and/or tax professional before implementing any strategy discussed herein. Past performance is not indicative of future performance.