Target (NYSE:TGT) is a dividend champion on the clearance rack. Since their disappointing first-quarter performance, the stock was hit with a massive selloff. The rapid decline in share price suggests that it was primarily institutional selling rather than a wave of retail investors selling off. Institutional investors can respond quicker and about 90% of the market capitalization of Target was held by institutional investors.
My View
The retail investors are right to stay put with a dividend champion near record low valuations. Of course, investors seeing the way share prices climbed over the last couple decades may think that sounds crazy. However, if Target is valued by some conventional financial metrics such as EV (Enterprise Value) to EBITDA (Earnings Before Interest, Taxes, Depreciation and Amortization), it becomes clear.
The following chart starts in the summer of 1995: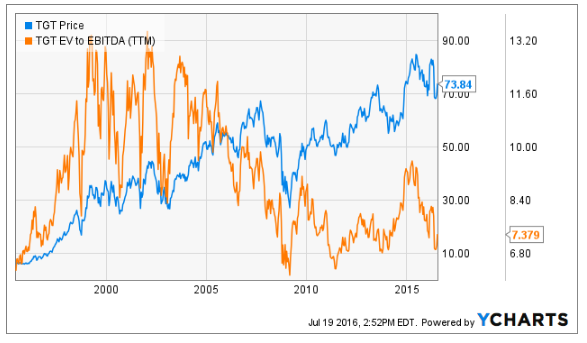 While the share price on Target has risen dramatically over that time period, the EV/EBITDA ratio is near its lowest levels. The value came in at mere 7.379. The previous times when shares dipped below this point were followed by substantial price gains. Since the Enterprise Value is the combination of the value of debt plus the market capitalization, it shouldn't be surprising that when EV/EBITDA is recovering the share price is also moving higher.
The fundamental picture for investors to recognize here is that the total valuation of the company (including debt) is fairly cheap when compared to the EBITDA the company is generating.
Importance of the Long-Term View
The share price can be fairly volatile, but investors planning on the long term picture should be looking at what they are getting for an investment. The dividend yield is solid, so cash is already flowing back to shareholders. Management has an aggressive plan in place to buy back shares which is further increasing the fractional ownership of each shareholder. For an investor that is reinvesting their dividends, the combined impact of their reinvesting and management buying back shares is a fair growth in the amount of the company they own.
Buyback More
This is one scenario where I'd love to see the company take on some additional debt to buy back shares. The cost of interest for a retail giant with strong credit quality should be lower than the dividend yield. A recent example of a company doing this was McDonald's (NYSE:MCD) and it worked out very well for their share price. If investors are looking at the P/E ratios, the growth in EPS from funding operations with more low cost debt would shove share prices higher.
The current P/E ratio (as shown on Seeking Alpha) is 13.66. The result is an earnings yield of 7.32%. If Target can buy back shares with debt running 2% to 3%, the result is an immediate increase in EPS assuming that EBIT (earnings before interest and taxes) is not influenced by other factors. Of course, there will be other factors. Target is raising wages for their lowest paid employees and that will put a strain on margins. They are also growing same-store sales, so there should be some increases in revenues. The most likely result is a slightly lower level of total earnings, but share buybacks would be a great way to fight against that metric in earnings per share.
A Slower Dividend Growth Rate
Don't be too surprised if a strategy like that results in slowing the dividend growth rate. Remember that the company has over 40 years of consecutive dividend increases. That kind of streak requires intelligent capital planning, so they would need to ensure that the corporation could keep a large enough share of their operating cash flows to both pay off the loans and pay dividends. Of course, the debt obligation ranks senior to the dividend, but management is unlikely to take any action that would jeopardize that streak of dividend increases. Debt could also be refinanced as it matures, but intelligent capital planning means that the company proactively avoids ever going to the bargaining table in a situation where they need cash.
Conclusion
Target remains very attractively valued. The ratio of EV to EBITDA is at the kind of low levels only seen three times since the middle of the 90s. This would be a reasonable time for the company to even look at taking on some debt to buy back more shares while their valuation is so cheap. Because of the low valuation and strong cash flows, the company could be a solid investment even with mediocre growth in sales. The current dividend plus capital used to repurchase shares creates a strong tailwind for growing earnings.
Bullish and long on TGT. This was one of the easiest calls to make all year.
Disclosure: I am/we are long TGT.
I wrote this article myself, and it expresses my own opinions. I am not receiving compensation for it (other than from Seeking Alpha). I have no business relationship with any company whose stock is mentioned in this article.
Additional disclosure: Information in this article represents the opinion of the analyst. All statements are represented as opinions, rather than facts, and should not be construed as advice to buy or sell a security. This article is prepared solely for publication on Seeking Alpha and any reproduction of it on other sites is unauthorized. Ratings of "outperform" and "underperform" reflect the analyst's estimation of a divergence between the market value for a security and the price that would be appropriate given the potential for risks and returns relative to other securities. The analyst does not know your particular objectives for returns or constraints upon investing. All investors are encouraged to do their own research before making any investment decision. Information is regularly obtained from Yahoo Finance, Google Finance, and SEC Database. If Yahoo, Google, or the SEC database contained faulty or old information it could be incorporated into my analysis.