Click to enlarge
Earlier this week, Callon Petroleum (NYSE:CPE) bought assets from Big Star Oil and Gas in the Central Permian Basin and nearly doubled its total acreage in the region. The majority of the purchase is located in Howard County, which has been an increasingly popular growth area. This is the sixth acquisition in the last year-and-a-half in Howard County, with major purchases from Diamondback (NASDAQ:FANG), Encana (NYSE:ECA), and Moss Creek among others. The neighboring counties of the Midland Basin (Martin, Glasscock, Andrews, and Midland) have historically been more active, but encouraging results in Howard County have caused many to call this a possible new "core" area for development. Analysis on the recent well characteristics tells part of the story for this recent interest.
Over the past three years, the 30-day maximum IP rates have more than doubled in Howard County, reaching levels competitive with the very active Midland County acreage and attracting significant amounts of capital investment, even in the current low oil price environment.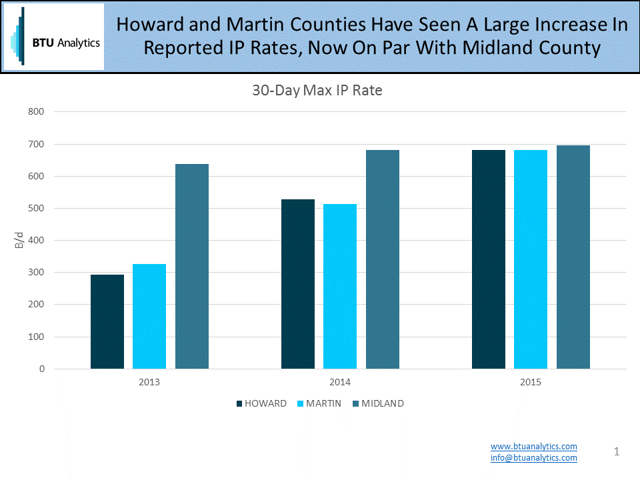 Click to enlarge
The average type curves for Howard County show significant improvement from 2013 to 2015, to results that are on par with those in Midland County. For Callon, acquiring additional nearby acreage with great horizontal drilling potential to complement its current activity in Midland County will provide it with a solid base to develop going forward.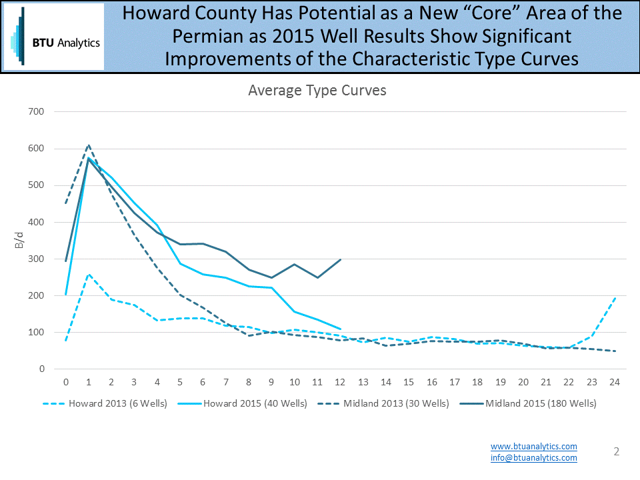 Click to enlarge
Taking a closer look at the Big Star wells currently in operation, we can get an idea of how Callon's newest acquisition compares to the county averages. Below is an economic analysis of wellhead breakeven pricing for Howard County, using BTU Analytics' in-house economics model and individual well-based data. A gas price assumption of $2.50/MMbtu was used in this analysis. The Big Star wells fall in acreage that is very favorable and breaks even below $30-$35 per barrel. In addition, the most recent Callon investor presentation shows that the active Big Star wells average 30-day IP rates of over 1,000 Boe/d, with well costs of $6 MM for 9,000 laterals. These numbers put the Big Star wells toward the top of list of current operators.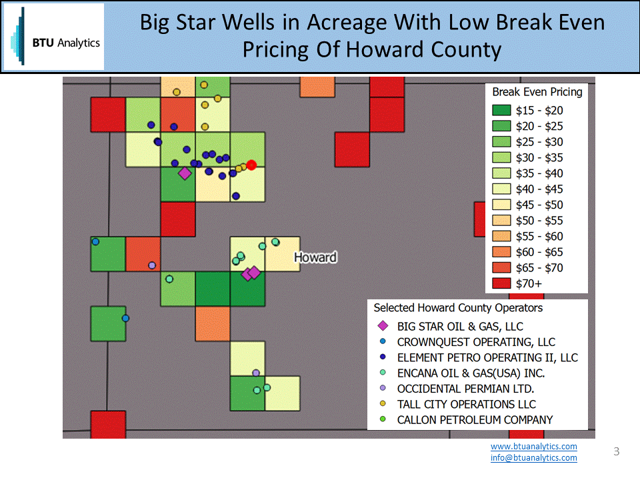 Click to enlarge
Callon's acquisition comes at a time when CapEx is low and development has been scaled back to only the best and most essential assets. Even with the promising results of Howard County, increased drilling and investment are strongly limited by the timing of an oil price recovery. But just as price recovery dictates the pace of development, the quality of acreage determines which areas can potentially rebound fastest. References that Howard County could be a new "core" area of the Midland Basin are not implausible when considering the recent well results being achieved. BTU forecasts the Permian as one of the first areas for falling production to level out and begin growing again, and as this happens, expect activity in Howard County to be prominent in future growth of the Midland Basin.
Disclosure: I/we have no positions in any stocks mentioned, and no plans to initiate any positions within the next 72 hours.
I wrote this article myself, and it expresses my own opinions. I am not receiving compensation for it. I have no business relationship with any company whose stock is mentioned in this article.