Rio Tinto (NYSE:RIO), the London-based miner that has significant operations in Australia, has recently released its production results for the second quarter which shows the company continues to grow output.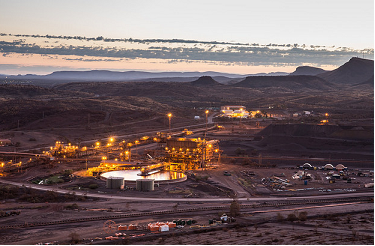 Stockyard Paraburdoo, Pilbara, Australia. Image: Rio Tinto
In the second quarter, Rio Tinto managed to increase output for most commodities on a year-over-year and sequential basis. Rio Tinto, however, relies heavily on iron ore. The company is the world's second largest producer of the red metal which makes the biggest contribution to the miner's revenues and earnings. In the second quarter, iron ore production from the Pilbara region, on a 100% basis, climbed 8% from the same quarter last year and 1% from the first quarter of this year to 80.9 million tonnes. Shipments, on the other hand, climbed 6% from last year and 7% sequentially to 82.2 million tonnes. Production from the smaller Canadian iron ore division, on a 100% basis, was flat on a year-over-year basis but increased 6% sequentially to 4.4 million tonnes. The increase in second quarter production was driven by operational improvements and project ramp-ups across the Pilbara region.

The higher level of shipments as compared to production shows that the company is drawing down on its inventories. Interestingly, Rio Tinto does not have significant quantities of stockpiles. The company ran out of inventories last year, but in the first quarter, it started restocking by producing 3.2 million tonnes of iron ore in excess of shipments (which is in contrast to what it did in Q2) despite adverse weather conditions. The company may have used up a large chunk of that excess production in the second quarter.
The bad news is Rio Tinto's production is not growing fast enough, considering analysts' estimates and the company's annual production target. In the second quarter, Rio Tinto missed analysts' iron ore production estimates by 2.7 million tonnes. The company's share of production was 68.9 million tonnes, which was 2.1 million tonnes short of what analysts were looking for. This comes after the company produced a total of 84 million tonnes of iron ore in the first quarter, which was marginally above analysts' consensus estimate of 83.9 million tonnes.
So far, in the first six months of this year, Rio Tinto has produced 160.8 million tonnes of iron ore from Pilbara and 8.5 million tonnes from Canada. If it continues to go at this rate, then it will produce 338.6 million tonnes of iron ore in 2016. This means the company needs to improve its mining operations, otherwise it could end up missing the current year's production target of 350 million tonnes by around 11.4 million tonnes.
The good news, however, is that Rio Tinto is positioned to benefit from the uptake in iron ore production and prices. The slump in commodity prices, which came largely due to weakness in China, hit Rio Tinto's annual income (adjusted) by $7.69 billion in 2015. Iron ore was one of the hardest hit commodities whose price plunged to less than $40 per tonne by the end of 2015, a far cry from more than $100 per tonne seen a year earlier. The average iron ore price (Platts's 62% IODEX price) for 2015 was down 43% from 2014.
Consequently, in 2015, Rio Tinto's sales fell by 27% to $34.8 billion, cash flows dropped by 34% to $9.38 billion, underlying earnings fell 51% to $4.54 billion while its financial health worsened as net debt climbed 10% to $13.78 billion and gearing ratio climbed from 19% to 24%. The tough business environment forced Rio Tinto to end its progressive dividend policy as it linked future payouts with profitability.
However, iron ore prices have improved substantially in 2016. The red metal was priced at less than $43 per tonne at the start of this year, but averaged $48.3 in the first quarter and is currently near $58, showing a rise of almost 37% on a year-to-date basis. The steelmaking commodity has benefited from resurgence in demand from China which has witnessed an uptake in construction activity. Besides, the central banks of the world's major economies, such as the China, UK and Japan, could provide additional monetary stimulus in the near future which will likely bolster commodities demand. This could push iron ore to more than $60 per tonne.
The increase in iron ore price, coupled with the fact that Rio Tinto increased its iron ore sales by 8% in H1-2016 compared to a year earlier, will have a positive impact on the company's financial results. Rio Tinto will release its results for the first half of 2015 on August 3.
Disclosure: I/we have no positions in any stocks mentioned, and no plans to initiate any positions within the next 72 hours.
I wrote this article myself, and it expresses my own opinions. I am not receiving compensation for it (other than from Seeking Alpha). I have no business relationship with any company whose stock is mentioned in this article.