Pretium Resources (NYSE:PVG) is up by 130% year-to-date. The share price got into the double-digit territory for the first time since early 2013. Back on March 31, when Pretium traded at the $5.5 per share level and gold price stood at $1,200/toz, I came with a price target of $10.74 per share. My price target was reached much sooner than I expected as I assumed that the $10 level should be crossed by the end of 2017. As a result, a new question has arisen: Has Pretium share price increased too much, too fast? The answer is: Maybe not.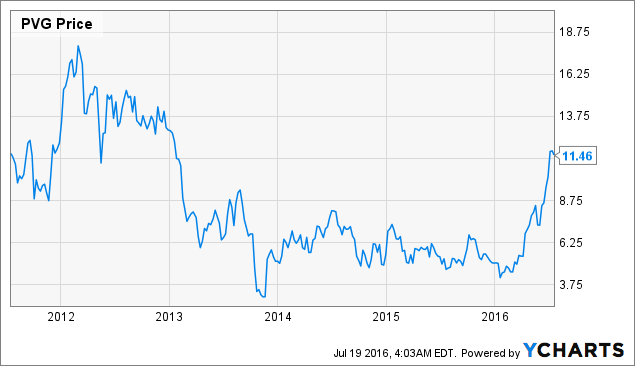 My March valuation was based on gold price of $1,200/toz:
At a gold price of $1,200/toz, Pretium should record revenues of $572.5 million (including payments of $400/toz for gold delivered under the gold and silver stream). Conservatively, assuming AISC of $500/toz (12.1% over the projected AISC), the expenses should climb to $252 million. The $350 million senior secured loan facility bears an interest rate of 7.5%. The loan matures on December 31, 2018 (there is also an option to prolong it to December 31, 2019). In late 2018, the mine should be in full production for almost a year and it is possible that Pretium will be able to refinance it at better terms.

Conservatively, assuming that Pretium will refinance the whole debt at the same terms, the annual interest payments will equal $26.25 million. Subtracting the interest payments and the above-mentioned expenses from the expected revenues, we can get to a gross profit of $294 million. As a result, earnings of approximately $200 million can be expected. Using a conservative P/E ratio of 10, we can get to a price target of $10.74 per share, which is 98% above the current share price.
At gold price of $1,350/toz, we can get to revenues of $642 million, EPS of $1.366 and price target of $13.66, assuming that all of the other variables remain unchanged.
As the price target based on the average anticipated results of the first eight years of full production is $13.66 and the Brucejack mine is still something more than a year from completion, the current share price of $11.46 can really look quite expensive. A lot of things can still go wrong during the construction as well as during the ramp-up process. But there are several other factors that must be taken into account. The infill-drilling program continues well. The recently published results (1, 2, 3, 4) keep on confirming the geological model. Multiple drill holes intersected intervals of mineralization grading over 1,000 g/t gold and drill hole VU-722 intersected 0.5 meters grading 37,117 g/t gold. All of the drilling supports the confidence into the geological model that has been questioned in the past. But what is more important, at gold price over $1,300 and growing, Pretium's second, less known Snowfield project starts to be attractive again. All in all, Pretium Resources as an acquisition target becomes more and more attractive.
The Snowfield Project
The Snowfield project is located only a couple of kilometers to the north of Brucejack. It is 100% owned by Pretium Resources and it contains measured, indicated and inferred resources of 34.9 million toz gold, 126.8 million toz silver, 4.08 billion lb copper, 386 million lb molybdenum and 34 million toz rhenium. At metals prices of $1,333/toz gold, $20/toz silver, $2.24/lb copper, $6.92/lb molybdenum and $42/toz rhenium, the deposit contains measured, indicated and inferred resources of 46.734 million toz of gold equivalent.

Click to enlarge
Source: Pretium Resources
Although the Snowfield Project contains much bigger resources compared to Brucejack, it also has much lower grades. At current metals prices, the 189.8 million tonnes of mineralised material included in the measured category grades only 1.0 g of gold equivalent per tonne. The indicated resources grade 0.74 g/t and inferred resources grade only 0.47 g/t. While Brucejack is a high-grade low-tonnage project, Snowfield is a low-grade high-tonnage project. To make the economics work, Snowfield needs a significantly higher gold price compared to Brucejack. Also the capex will be much higher. This is why the value of Snowfield was relatively low at a gold price near $1,100/toz but it starts to grow quite rapidly with a gold price above $1,300/toz and expected to grow.

Click to enlarge
Source: own calculations
Although Pretium focuses on the Brucejack project right now, Snowfield can easily become an ace in its sleeve. Pretium claims that it doesn't have to spend further funds on Snowfield until 2022. It means that it can just sit and wait. If the gold price keeps on growing and the Brucejack mine is up and running, Pretium can be able to finance the Snowfield development on its own. Other options are to sell the project or to develop it together with a partner. Especially the latter option is quite probable.
The 2010 PEA estimated that the Snowfield mine should produce 607,000 toz gold, 57.8 million lb copper and 4.5 million lb molybdenum per year over the 23-year mine life. The capex was estimated at $3.4 billion. It was the huge CAPEX in conjunction with falling metals prices that forced Pretium to lay Snowfield aside.
The Snowfield project lies next to Seabridge Gold's (NYSE:SA) KSM project. The KSM project contains measured, indicated and inferred resources of 94 million toz gold, 456 million toz silver, 30 billion lb copper and 484 million lb molybdenum, including proven and probable reserves of 44.7 million toz gold, 9.888 billion lb copper, 191 million toz silver and 213 million lb molybdenum. The grades are similar to Snowfield. According to the 2012 updated pre-feasibility study, the KSM mine should produce 508,000 toz gold, 2.2 million toz silver, 147 million lb copper and 1.1 million lb molybdenum per year over the projected 55-year mine life. The problem is that the initial CAPEX is estimated at $5.3 billion.
The huge capital requirements forced Pretium and Seabridge to try to find a common solution. They signed agreements on cooperation that resulted into a study examining the economics of combining Snowfied and KSM. The study was completed in Q1 2012 but its detailed results haven't been released yet. Only Pretium's webpage states:
The internal engineering study was finalized during the first quarter of 2012 and indicates that developing the KSM and Snowfield deposits together could produce better economics than developing KSM as a stand-alone project, although no property acquisition costs or allocation of initial KSM capital have been considered.
Although the statement is vague, any future collaboration cannot be excluded, especially as economics of both of the projects keep on improving due to the growing gold price.
Conclusion
Pretium Resources isn't cheap anymore. The market capitalization of the company climbed over the $2 billion mark and production is still more than a year away. On the other hand, Brucejack is an amazing, large and high-grade project that will be highly profitable if everything goes well. Moreover the Snowfield project must be taken into account as the growing gold price puts it back on the radar. If the gold price keeps on growing, Pretium share price will grow as well. And as the mine construction completion nears, Pretium will become a red-hot acquisition target.
Disclosure: I/we have no positions in any stocks mentioned, but may initiate a long position in PVG over the next 72 hours.
I wrote this article myself, and it expresses my own opinions. I am not receiving compensation for it (other than from Seeking Alpha). I have no business relationship with any company whose stock is mentioned in this article.