It's a record hot summer, but it's not too early to start thinking about winter. Remember less than six months ago when crude inventories were building up and oil-related stocks sold off? Well, that might just happen again.
Crude oil and refined product inventories provide a view into the supply and demand imbalances. Inventories build when supply exceeds demand and decrease when demand exceeds supply. There is an interplay between this balancing act and the price of crude oil, as we all saw those few short months ago.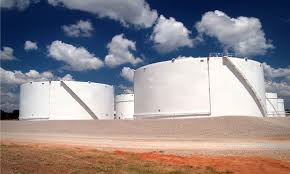 Source: Stock photo.
Usually supply and demand are closely balanced but sometimes events occur that throw this situation out of whack. This happened recently with U.S. fracking, and many times in the past with geopolitical supply disruptions. Weekly total inventory change reports, which include crude oil, gasoline and distillates, provide a glimpse into this supply-and-demand balancing act.
While individual weekly inventory changes are essentially meaningless by themselves, as they fluctuate greatly, their longer-term averages do provide useful information. For example, the average crude oil drawdown this summer is, so far, just average. Thus, crude inventories are not changing much on a seasonally adjusted basis.
I like to look at total crude and product inventories from EIA data to see what's happening in the big picture over longer time frames. Here is the rolling three-month average inventory change over the course of several years. A roughly year-long cycle appears.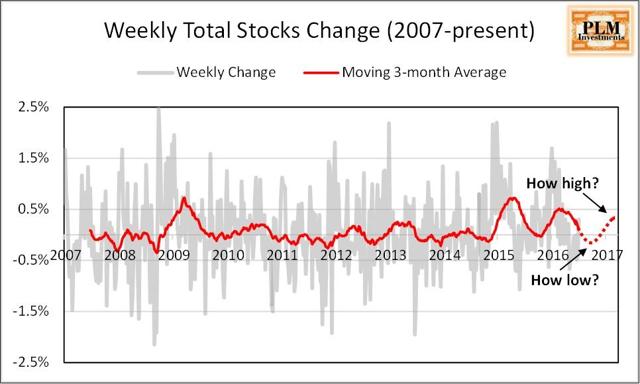 Click to enlarge
Note that prior to 2015, these cycles mostly balanced out across the zero-change line, rising above then sinking below it. The big exception is the great recession peak in 2009. Over the last year and a half, however, the cycle has remained above the zero line. This is indicative of a net inventory buildup over that time period.
Furthermore, the year-long cycle, if it plays out as expected, will produce another inventory increase this winter as the cyclical buildup occurs. The future increases on top of already high inventories will likely affect the price of oil this coming winter as well, potentially leading to another sell off like the one we saw in February 2016.
The big questions determining the magnitude of the consequences are how low the net drawdown will go and just how high will the peak buildup become. Only time will tell, but summer so far isn't looking good for a significant drawdown. On the other hand, I expect the peak buildup to be less than last year's owing to lower U.S. production and more demand.
Nevertheless, the resulting inventory build-up this winter will make headlines and strike fear in crude oil traders. This raises the potential for a sell-off, and investors should be prepared to take advantage. For example, there may another good time to invest in the oil majors, especially Exxon Mobil (NYSE:XOM), early next year as this cycle plays out.
That's something to look forward to this winter.
Disclosure: I/we have no positions in any stocks mentioned, and no plans to initiate any positions within the next 72 hours.
I wrote this article myself, and it expresses my own opinions. I am not receiving compensation for it (other than from Seeking Alpha). I have no business relationship with any company whose stock is mentioned in this article.