Trucking Peers Facing Tough Market Conditions
JB Hunt Transport Services (NASDAQ:JBHT) was greeted with a 4 percent stock decline after earnings were announced on Monday, sending the price to $81.27/share. Revenue came in in-line, but the company missed estimated earnings by 5 percent. If investors go back to revisit the preliminary earnings updates from Werner Enterprises (NASDAQ:WERN) and Covenant Transportation Group (NASDAQ:CVTI), JB Hunt's performance during the second quarter may end up being one of the stronger performances in the trucking industry.
In late June Werner and Covenant pre-announced revised diluted EPS guidance. Both companies drastically reduced their second quarter expectations. At the midpoint, Werner reduced estimated earnings by 43 percent and Covenant reduced estimated earnings by 34 percent. But compared to the June 2015 quarter, Werner's revised midpoint would place the company to witness performance of negative 48 percent. Covenant's revised midpoint would place the company to witness performance of negative 67 percent.
Both companies referenced a challenging freight market including difficult freight rate negotiations and weak spot market rates, increased costs for driver pay, lower miles per truck and increased empty miles and a soft used truck market. In Werner's case, the company stated that it would not plan to grow its truck fleet until such time as its freight and rate markets show meaningful improvement.
According to the National Dry Van Spot Rate Average, DAT-Weekly, rates per container were down substantially during April and May, nearly 15 percent year-over-year, YOY. Rates per container have since recovered from these lows by 10 percent, but are still down by around 6 percent from last year. The comparable during the second half of 2016 will get a little lower from 2015 with a spike towards the end of December being the only outlier.
JB Hunt mentioned similar challenges as Werner and Covenant within their second quarter slide decks. In particular, both the intermodal, JBI and truck, JBT segments have struggled to offset operating costs including rail purchased transportation and driver retention, which led to margin erosion. This is a result of softer pricing and less ability to pass-on costs to customers. But the company was still able to grow diluted EPS by 4 percent YOY. This was strongly tied to volume growth and increased tractor and trailer equipment, combined with sustained utilization rates.
Despite a challenging market, JB Hunt's scale and exposure through JBI and dedicated contracted services, DCS and growing integrated capacity solutions, ICS have diversified the company into some of the strongest trucking industry growth categories.
Volume & Revenue Equipment Growth Sustained
Volume growth through the first half of the year has been impressive for JB Hunt. The company has benefited from its relationships with large shippers as well as its contractual arrangements with Class I rail operators.

Click to enlargeSource: Company financials and personal database
The table above provides JB Hunt's year-to-date, YTD loads and revenue per load for JBI and ICS, and revenue per truck per week for DCS and truck, JBT operating segments. Both the second quarter YOY and YTD percentage performance are displayed.

Click to enlargeSource: Company financials and personal database - *Note: ICS includes approximate number of third-party carriers and employee count respectively in the table.
The table above provides JB Hunt's YTD average tractors and average trailing equipment usage. Both of these tables are necessary to display how JB Hunt generates revenue and the relationships between volume and tractor growth as revenue drivers, versus revenue per load and revenue per truck per week as revenue reducers in today's environment.
For JBI, loads multiplied by average revenue per load led to 4.6 percent revenue growth YTD.
For DCS, average trucks multiplied by revenue per truck per week and then multiplied by 13 weeks led to 4.1 percent revenue growth YTD.
For ICS, loads multiplied by average revenue per load led to 14.8 percent revenue growth YTD.
For JBT, average trucks multiplied by revenue per truck per week and then multiplied by 13 weeks led to 3.0 percent revenue growth YTD.
JB Hunt's ability to grow volumes and revenue equipment has helped the company outperform most of its peers during the first quarter and will likely do the same during the second quarter. The company's bottom-line has not been impacted as much because the operating ratio, OR only declined by 10 basis points YTD to 89.1 percent.
Despite weakening operating income for JBI and JBT of negative 6.3 and 0.9 percent respectively, DCS and ICS witnessed substantial robust performance YTD of 24.7 and 88.1 percent respectively. ICS operating income has now eclipsed JBT over the past four consecutive quarters generating $46 million against JBT's $40 million. DCS generated $182 million while JBI generated $463 million.
Reduced Guidance Still Offers Upside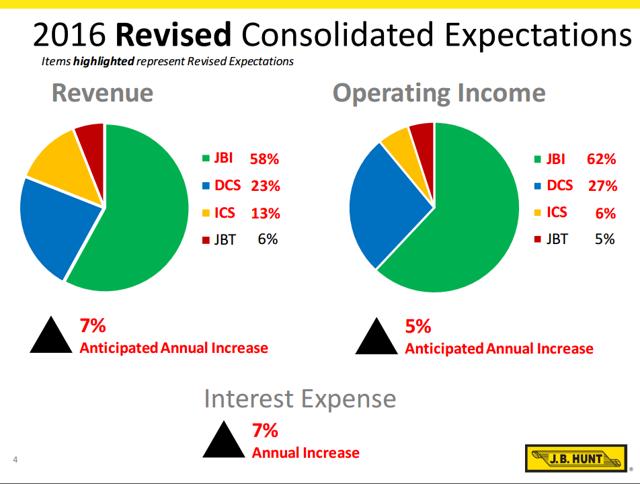 Click to enlarge
As part of Monday's results, JB Hunt issued revised guidance reducing both the anticipated increase in revenue and operating income significantly. Previous guidance was close to double-digits for both categories.
However, investors should realize that JB Hunt's revenue and operating income performance was up 5.5 and 4.5 percent YTD. JB Hunt's 2016 first half diluted EPS performance was up 7.6 percent. Even with reduced guidance, JB Hunt may be able to get diluted EPS performance closer towards 10 percent growth by year-end.
There is still the possibility that freight rates may increase during the holiday season in late summer and early fall. Inventory levels remain high, so the burden for increased freight demand will likely fall on consumers. But it may not take as much as one would think to increase freight rates as the past couple months of softer demand has allowed shippers to use leverage to drive rates lower. The same phenomenon could occur if reduced revenue equipment and consumer demand increases tip the scale the other way.
Monday's sell-off was understandable, but 2017 average target prices in the low $90s should not be adjusted much further down than around the $88/share level. JB Hunt is still a premium trucking company, this will become more apparent as other peers report earnings.
Investor Perspectives
JB Hunt's results were disappointing as they did not meet expectations. But the company's ability to continue to grow volumes and revenue equipment leading to sustained diluted EPS growth, while some peers have reduced guidance to woeful levels, speaks highly of management's execution and proactive approaches.
JB Hunt's dominant position in intermodal once again will most likely lead the company to outperforming Class I rail operators. The company continues to compete with organic growth against top competitors including Schneider Transportation.
DCS and ICS continue to provide strong diversification which has balanced operating income performance, despite higher rail purchased transportation costs and driver-related expenses for JBI. The DCS segment benefits from large scale customers who also can take advantage of JB Hunt's diversity for their supply chain needs.
JB Hunt will continue to command a premium P/E multiple valuation despite the industry's current challenges. The decline to $81.27/share is not a screaming buy, investors could expect to potentially get an over 9 percent return including dividend payments over the next 12 months if things play out with reduced guidance. Any further weakness below $80/share would offer a stronger entry point level.
Investors may wish to be more patient and review more public companies reporting in the trucking industry over the next month. But as they do, it is my belief that the results will only establish JB Hunt's strengths even more clearly. The P/E multiple valuation should remain close to 20 times earnings for the foreseeable future.
Disclosure: I am/we are long JBHT.
I wrote this article myself, and it expresses my own opinions. I am not receiving compensation for it (other than from Seeking Alpha). I have no business relationship with any company whose stock is mentioned in this article.