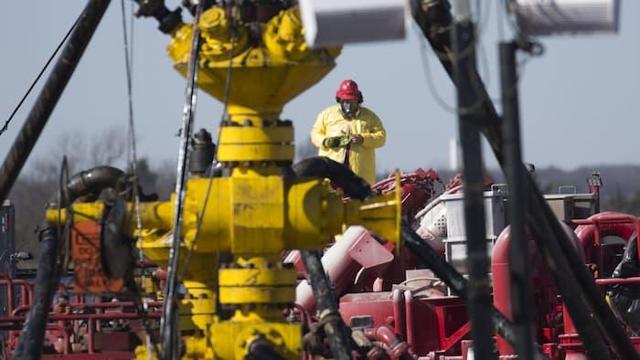 Click to enlarge
Source: Getty Images
Halliburton Company (NYSE:HAL) reports Q2 earnings on Wednesday. Analysts expect revenue of $3.76 billion and loss per share of $0.19. The revenue estimate is off 10% versus the $4.2 billion revenue the company reported in Q1. Below are two key items investors should focus on:
Waning Liquidity
Oil prices are 50% higher compared to their January lows of nearly $30. This has emboldened buyers of HAL and other oilfield services stocks. However, higher oil prices may not equate to higher E&P. Oil companies have focused on cutting costs and repairing their balance sheets. To stave off the contraction in equipment spending, oil services companies need to squirrel away as much capital as possible.
With $9.6 billion in cash at the end of Q1 (down from $10.1 billion in Q4 2015), Halliburton was well-positioned to continue to survive the oil patch in spite of price concessions in certain markets. After its failed merger with Baker Hughes (NYSE:BHI), which included a $3.5 billion break-up fee, the company's liquidity now poses a cause for concern. The after-tax amount of the break-up fee (about $2.6 billion) and an expected redemption of $2.5 billion in senior notes could cause Halliburton's cash to fall below $5 billion this quarter. Such a sharp decline in liquidity with no near-term increase in E&P could create negative sentiment for HAL.
Diminution Of Latin American Operations
Over the past 18 months, North America (42% of total revenue) has been a thorn in Halliburton's side. The company has been required to offer price concessions to shale oil plays punished by low oil prices.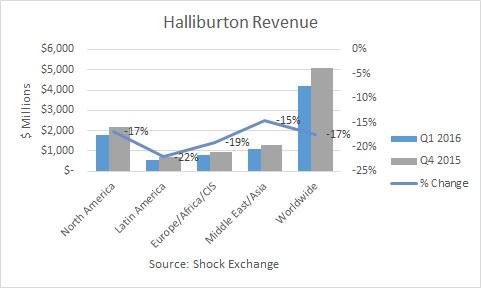 This quarter and beyond, Latin America (13% of total revenue) may be a source of worry. Revenue from the region fell 22% sequentially in Q1. Venezuela, one of world's largest oil producers, is in dire straits. Its economy experienced one of the world's deepest contractions in 2015, and it's negatively impacting oil production. Oil production fell to a 13-year low in June; meanwhile, Venezuela's state oil company, PDVSA, is having problems paying its debts.
Halliburton is one of PDVSA's biggest vendors and has agreed to finance some of its equipment purchases. This could put more strain on the company's balance sheet. Secondly, if the fall in Venezuela's oil production leads to lower equipment purchases, it could negatively impact Halliburton's Latin American operations in this quarter or the next.
Disclosure: I am/we are short BHI.
I wrote this article myself, and it expresses my own opinions. I am not receiving compensation for it. I have no business relationship with any company whose stock is mentioned in this article.