Tensions between traditional electric utilities and national rooftop solar companies have escalated significantly in the US. The rhetoric has grown more harsh on both sides of the rooftop solar debate, which is not surprising given the enormous market at stake. Whereas traditional utilities do not want to lose valuable revenue from residential/commercial customers, rooftop solar companies are doing everything in their power to convince these customers to switch to solar.
The policy battles between major traditional electric utilities like Pinnacle West Capital Corporation (NYSE:PANW) subsidiary APS and SolarCity (NASDAQ:SCTY) are indicative of the conflict between the two industries. While many utilities like APS and SRP still appear to be adamantly against rooftop solar, the relationship between utilities and rooftop solar companies appear to be entering a new phase of collaboration.
Strategic Transition
Solar advocacy groups have generally employed highly aggressive tactics over the past few years with varying degrees of success. While such aggressive tactics have allowed the rooftop solar industry to triumph in many regions, such tactics also appear to be growing less effective and even counterproductive in some cases. In fact, many believe that Nevada's decision to kill the rooftop solar industry was partly motivated by TASC's (The Alliance for Solar Choice) highly aggressive and even controversial tactics.
SolarCity's departure from TASC is a sign that a general shift in the industry's mindset is underway. Given SolarCity's clout and disproportionate influence in the rooftop solar scene, the company's departure clearly represents a huge blow for more aggressive solar advocacy proponents. More recently, Bryan Miller left TASC and Sunrun (NASDAQ:RUN) likely as a result of growing dissatisfaction surrounding his aggressive methods.
As Bryan Miller helped spearhead the highly belligerent rooftop solar campaign against electric utilities, his departure is perhaps the biggest indication that the rooftop solar industry is attempting to transition away from more aggressive tactics. Taking into consideration the recent damaging policy losses experienced by the rooftop solar industry, aggressive solar campaigning tactics are clearly starting to lose their effectiveness.
[Editor's note - A Sunrun representative sent Seeking Alpha the following statement after this article published: "Bryan successfully led our public policy efforts over the past 3 1/2 years. Under his leadership, over 100,000 people across the country have solar panels on their homes and millions have the option to go solar. Sunrun is grateful for his service and wishes him the best in his future endeavors."]
In fact, the aforementioned Nevada decision caused major rooftop solar companies like SolarCity, Sunrun, and Vivint Solar (NYSE:VSLR) to experience sharp stock declines. The unprecedented damage caused by the Nevada decision more than erased these companies' massive gains after the solar ITC was extended. In light of the growing policy headwinds facing rooftop solar companies, a more collaborative solar advocacy position should be a major positive for these companies.
Solar advocacy appears to be taking a less aggressive stance.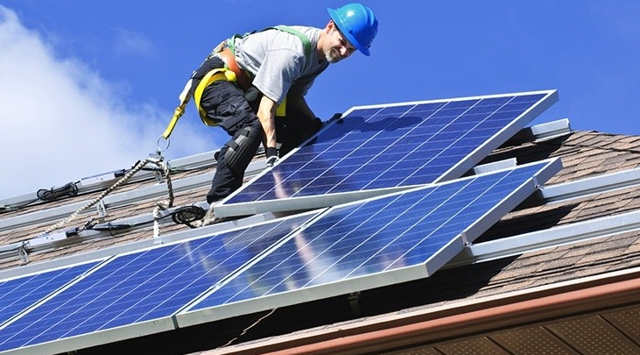 Click to enlarge
Source: Ecowatch
Rooftop Solar Companies Ill-Equipped for Conflict
The traditional electric utility industry has a massive amount of resources to leverage against the comparatively minuscule rooftop solar industry. While rooftop solar companies were able to secure policy victories in an overwhelming number of cases early on, this rapidly appears to be changing. Now that major electric utilities are starting to view rooftop solar as a clear existential threat to their business models, many are doing everything in their power to stunt rooftop solar's growth.
Although rooftop solar companies largely have public approval on their side, the industry is still not equipped to deal with the massive resources of traditional electric utilities. Not only does the electric utility industry have far more financial clout than the rooftop solar industry, but it also has far more entrenched connections with commissioners and regulators. Even efforts to uncover these connections have done little to influence policy outcomes, as was clearly demonstrated in the Nevada case. Despite Sunrun's efforts to shine a light on the Nevada governor's administration's ties to NV Energy, Nevada's policy decision remained firmly anti-rooftop solar.
Electric Utilities and Rooftop Solar Companies Benefit from Working Together
Given that electric utilities can also benefit from distributed generation, a collaborative approach should be better for both the electric utility and rooftop solar industries. In fact, six major New York utilities, including the likes of Consolidated Edison (NYSE:ED) and Avangrid's (NYSE:AGR) New York subsidiaries, have worked with solar companies SolarCity, SunEdison (OTCPK:SUNEQ) and SunPower (NASDAQ:SPWR) on the issue of net metering and grid reliability. This model of collaboration appears to be gaining steam with the shift in solar campaigning tactics, which should be good for both electric utilities and rooftop solar companies.
A shift in the electricity landscape is inevitable given the advances being made in distributed technologies by companies like SolarCity and Tesla (NASDAQ:TSLA). Even if electric utilities successfully manage to stunt rooftop solar's growth in the near term, technological progress in distributed energy will not stop. Rather than fighting against this change, electric utilities would likely be better off embracing this change. Rooftop solar companies should also be better off using a more conciliatory approach towards electric utilities. As solar advocacy is clearly starting to shift towards this direction, rooftop solar companies like SolarCity will likely benefit.
Conclusion
The highly aggressive solar advocacy approach is starting to show some major flaws. The recent industry shift towards collaboration should be a positive for rooftop solar companies and electric utilities alike. However, even major electric utilities like that are integrating distributed generation technologies, e.g. Duke Energy (NYSE:DUK) and AES Corporation (NYSE:AES) will likely see downside in the long run. While these adaptive utilities have a higher chance of surviving in the long run, they will likely still lose a great deal of market share to solar companies like SolarCity and SunPower.
Although rooftop solar companies are facing many near-term headwinds, their long-term prospects are strong. SolarCity and SunPower, in particular, have promising futures and distributed solar. While rooftop solar companies will undoubtedly continue to experience conflict with electric utilities, a more collaborative approach should yield better results on the policy front. As policy remains one of the major obstacles for rooftop solar companies, an effective solar advocacy approach will be vital in the long term.
Disclosure: I am/we are long SCTY.
I wrote this article myself, and it expresses my own opinions. I am not receiving compensation for it (other than from Seeking Alpha). I have no business relationship with any company whose stock is mentioned in this article.
Editor's Note: This article covers one or more stocks trading at less than $1 per share and/or with less than a $100 million market cap. Please be aware of the risks associated with these stocks.