Berkshire Hathaway (BRK.A, BRK.B) has been involved in the insurance industry since 1967, when it purchased National Indemnity for $8.6 million. Over the nearly 50 years since then, Berkshire has expanded into new lines organically and been highly acquisitive. Despite the fact that the company now owns a bewildering array of businesses, insurance is still its' backbone.
Yesterday Berkshire announced its latest acquisition, Medical Liability Mutual Insurance Co., a New York medical malpractice insurer. The acquisition will further solidify Berkshire's position as the largest medical malpractice underwriter in the country, but also extend the theme of Berkshire growing its direct insurance business much faster than its reinsurance business.
The primary insurance businesses of Berkshire are known less than its reinsurance divisions, except for GEICO, due to its strategy of advertising saturation. These insurers are of an extremely high quality in aggregate and it is obvious that Berkshire sees them as more attractive in comparison to reinsurance at the present time. While some of these insurers have been owned from the start, there has been a sustained slant towards these lines within Berkshire's portfolio for a decade or so now, when Berkshire got into workers compensation and medical malpractice in a major way in 2005 and 2006.

Source: Berkshire Hathaway SEC filings
Should the acquisition close, Berkshire would have earned premiums in medical malpractice of about $1.3 billion, shy of only auto and workers compensation within Berkshire's book or direct business.

Source: NAIC
Going back nearly fifteen years, the category Berkshire refers to as "Other Primary" has had growth that's outpaced the other insurance operations and exceptionally good profitability, particularly in the last five years.

Click to enlarge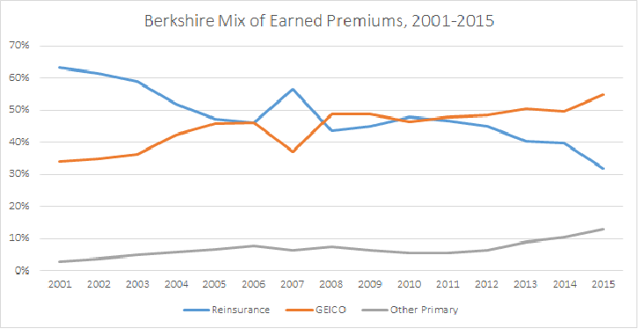 Click to enlarge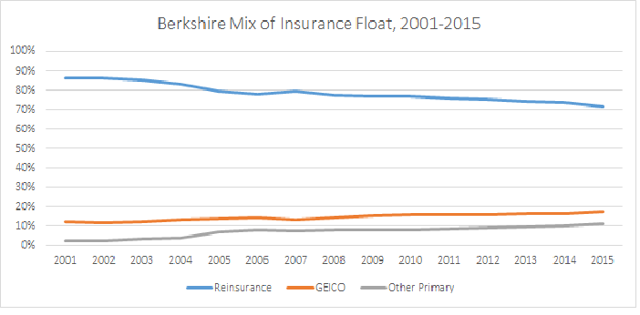 Click to enlarge
Source: Berkshire Hathaway Annual Reports
While GEICO continues to be an extremely valuable asset, it's performance has faltered somewhat of late.
GEICO
For years, GEICO has been the star of the direct side of Berkshire's book with extraordinarily impressive results since it was acquired in 1995.
The strategy that GEICO has pursued has hardly been unknown, but it has been extremely successful. GEICO markets its products directly to consumers rather than through agents. Many say that this model is more efficient than the agent mode, but that's not necessarily true. It requires a lot of fixed costs to run customer support centers as well as invest in advertising to drive business. For smaller insurers the agency model may actually be more efficient, but with GEICO's scale now being so large its direct to consumer model gives it enormous advantages. It has attracted more competition due to its success, but as long as it continues to use its cost advantage to undercut competitors and market heavily then it will enjoy continued success.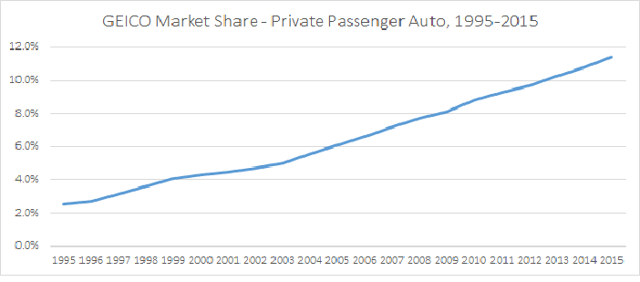 Click to enlarge
Source: Berkshire Hathaway Annual Reports
Some have fretted at the possibility of self-driving cars and the impact it will have on the auto business. Many, very rationally, fear that at some point there will be practically no need for auto insurance at all - although no one can say right now how close we are to that point.
In the interim, GEICO has suffered from higher claims costs from an increasing number of accidents, with the company speculating that it has resulted from an increase in texting and driving.
While those fears and realities remain front and center, Berkshire has been building its other primary insurers into a franchise nearly as dominating as GEICO has been.
Other Primary
The business that Berkshire is acquiring is a good one and will immediately supplement its existing insurers in the "Other Primary" category. Over the last four years, Medical Liability Mutual Insurance has had an average return on equity of a little more than 10% and in the past two years sub-90 combined ratios.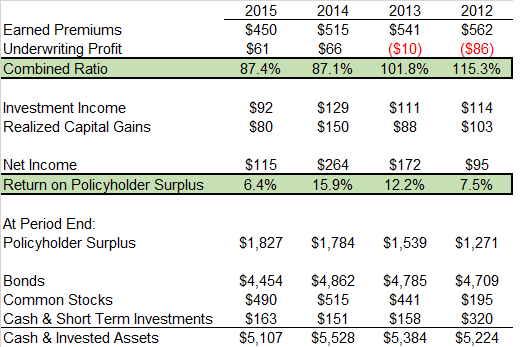 Source: MLMIC
Medical Mutual Liability Insurance along with Physicians Reciprocal Insurers (PRI) dominate the market in New York with a combined 60% market share. PRI, however has fallen on hard times due in part to poor investments.
Berkshire has a clear advantage in reinsurance because of its capital strength and in auto insurance as a low cost leader. Where does it see its advantage in its remaining primary insurers?
There are a couple. First, about sixty percent of the premiums written from this area are for workers compensation or medical malpractice - with the latest acquisition that figure will rise to sixty-nine percent. These are both long tail businesses - businesses in which it could take a very long time to determine and pay claims. When an insurer is looking for a reinsurer, they will look hard at the capital strength and stability of the reinsurer so that they have confidence that: a) the reinsurer will be around when a catastrophe strikes and b) if the insurer is still around it will have the capacity to pay claims to cover elevated losses. In writing long-tail direct insurance consumers are less concerned with b) since there is much less correlation in claims than to a reinsurer (particular in catastrophe reinsurance) which makes it less likely any one particular set of claims would impair the insurer; but they are extremely concerned with a) still because a doctor or a business needs to know that when needed, they can call on their carrier.
The second advantage Berkshire may have is its scorn of bureaucracy. This was seen in the start-up of Berkshire Hathaway Specialty Insurance in 2013 and 2014. From a standing start, the organization established itself quickly and poached several key American International Group (NYSE:AIG) executives.
Even with the rapid growth, Berkshire's direct insurance operations, ex-GEICO, are still fairly small and the acquisition of Medical Mutual Liability Insurance Company could well have been opportunistic as well as strategic. But, as Berkshire continues evolving the best collection of insurance assets in the world, investors will want to pay attention to the expansion of this unit.
Disclosure: I am/we are long BRK.A.
I wrote this article myself, and it expresses my own opinions. I am not receiving compensation for it (other than from Seeking Alpha). I have no business relationship with any company whose stock is mentioned in this article.