We wrote yesterday that we think the Fed's hands are tied. If it raises rates, it will crash the markets, and if it cuts, it will jump inflation higher. That did not change, from our perspective. What is new is that through the Wall Street Journal ("WSJ"), the Fed is reiterating its desire to raise in September or December. We think the Fed's post-FOMC commentary will reflect this Thursday's jobless claims report. A rate hike would be a giant risk to the stock market (NYSEARCA:SPY).
First let's review what the Fed said through the Wall Street Journal.
Rate hike, "possibly as early as September"
Rates likely "unchanged when they meet July 26-27"
But for all of us, this is the real key. Please pay attention to what the Fed says here.
"But the message in their post meeting policy statement could be that the economy is on a more solid footing than appeared to be the case when they last gathered in June, setting the stage for raising rates if the data hold up in the months ahead. Such a message would get the attention of traders in futures markets, who see low chances for the Fed moving as early as September."
The Fed Cares What We Think, And Depending On Jobs Thursday, Will Want To Make Sure We Know A Hike Is Coming
For us, that's the key message we believe the Fed leaked to the WSJ. The Fed constantly cares what the market thinks. It does not want to surprise markets. It has also credited itself for having talked the markets higher.
Fed Funds Futures are mentioned in the minutes regularly. The Fed cares that we are all aboard.
There is one problem right now. Nobody believes the Fed.
For that reason, if the Thursday jobless claims are decent, we have a strong feeling the Fed will get the message out next week that it wants to raise rates. That will be, for us next week, a negative market event.
Here's a look at the Fed Funds Futures for December. The spike up was on June 24th, where a rate hike jumped "off the table." (Up means less chance for a rate hike. The Future is calculated 100 minus the expected rate in the future. Up means less chance.)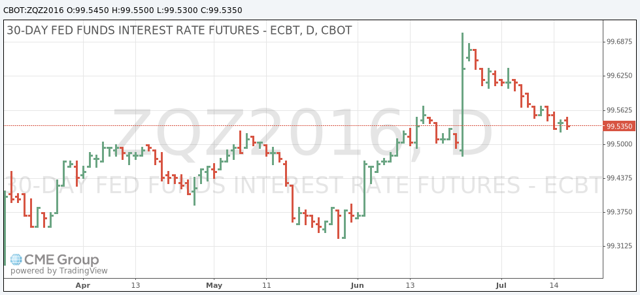 Click to enlarge
You can see the Fed Funds Future expects a 50bp Fed Funds Rate by December. It is currently 25-50bp. That is about a 50-50 chance for a rate hike by December.
As for September, the market is pricing in a 80% chance that the rates stay the same. That is different than the messaging right now.
We think if the jobless claims number is strong on Thursday, the Fed (as per the WSJ) will call out next Wednesday a greater chance of a rate hike in September (ahead of the elections).
If Jobless Claims Are Strong On Thursday, The Fed Will Give A Stronger Message Next Wednesday
We think the Fed wants to give a clear message it will raise if jobless claims continue strong.
Here's the weekly jobless claims trend.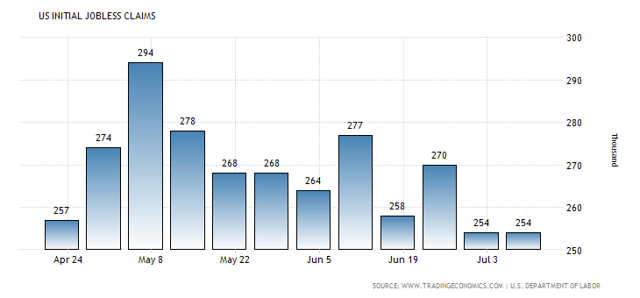 Click to enlarge
The last two reports were very strong (less jobless claims implies more workers). If Thursday's report is strong, the Fed will likely give a stronger message of an imminent hike when it addresses the Street after its FOMC meeting in the press conference.
Fed Getting Itchy On Inflation?
The WSJ writes, "But new rounds of strong economic data - particularly on hiring or an uptick in inflation - could increase their sense of urgency in the months after their meeting next week."
We think the Fed is starting to worry about inflation. If we start to get another uptick as we've seen in recent numbers, it will spook the Fed into thinking it is behind the curve.
We think the Fed is already behind the curve. That said, it has to wait to raise, as we think it knows it'll crash the markets. The Fed is stuck.
We think the trajectory of inflation is building, and that is the risk.
Here's the core measure, PCE, picking up.
| | | | | | | | | | |
| --- | --- | --- | --- | --- | --- | --- | --- | --- | --- |
| PCE | Dec | Jan | Feb | Mar | Apr | May | | 2-Mo. Avg. | 2-Mo. Annualized |
| Current Dollars | 0.1 | 0.1 | 0.2 | 0.0 | 1.0 | 0.4 | | 0.7 | 8.4 |
| Chained Dollars | 0.2 | 0.0 | 0.3 | -0.1 | 0.6 | 0.3 | | 0.5 | 5.4 |
The last two months picked up. Taken together, they are running at 5 & 8%. The difference of 3% is well ahead of the Fed mandate for 2%. Goods cost more.
We think this is making the Fed itchy. The next PCE reports are due August 2nd.
Why is a rate hike a negative event?
The last rate hike crashed markets in January, we think for two main reasons.
The December rate hike was 100%, and this one will be 50%.
A rate hike will send the long end of the curve negative, which means recession.
Let's go one by one.
Reason 1: 50% rate hike on a 100%
The move from 25bp to 50bp in December was a 100% jump. This next move from 50bp to 75bp will be a 50% jump. It sounds funny, but we are in uncharted territory.
Here's the long-term Fed Funds rate. We have never been here before. We have very little evidence what this means for stocks except for January (which crashed stocks).
Here's the chart.

Click to enlarge
Many quant models and investors have a yield component as a denominator in their valuation models. If that is based on Fed Funds, then the jump of 100% and the crash in January makes perfect sense.
The 50% move will be something similar.
We've never been here, so nobody can tell you what it means until it happens. Again, the only evidence we have is a market crash in Q1. Not good.
Reason 2: A rate hike will send the long end of the curve negative, which means recession.
First, what's that mean? It means that the 10-year yield will drop like it did in January, because bonds already don't believe the economy will grow. If the Fed now raises the short end of the yield curve, bonds will certainly not believe the economy will grow.
The 2-year yield would rise and the 10-year yield would fall.
How do bonds convey that they don't believe growth. They drop in yields, unless bonds fear inflation, which they don't yet. (We do.)
The drop in January of the 10-year yield to the trough was a fast 70bp move lower. Here's the chart.

Click to enlarge
Look at 2016-01-01 and you'll see a fast drop in 10-year yields following the rate hike in December.
If we get another 70bp drop in the yields on the next rate hike (like we did last time), the 10-year yield will be at .9%. The 2-year currently is at .7%. We will be inches from the famous inverted yield curve. That inverted yield curve predicted each recession. Here's the proof.

Click to enlarge
Each time the yield curve went negative (10-year yield was less than the 2-year yield), a recession followed.
We think we are one hike away from being very close to that scenario.
But Elazar, September Will Be Ahead Of The Elections - The Fed Will Never Raise Rates!?
We don't agree. We think it would. That makes it even more of a risk, because nobody believes it will happen. So, if it does, it is a major risk. We were surprised the Fed raised in December, when most managers are trying to break away early for vacations.
We never thought it would raise in December, and it did.
That tells us anything is possible.
We Still Think We Are In A Negative Scenario Either Way
We saw an interesting point from CNBC that may have clarified the recent move after the decent jobs number. Investors were caught short ahead of a major options expiration the following week.
When the jobs number came out, traders needed to cover for the options expiration. Last week also saw a follow-through need to cover up until expiration last Friday.
CNBC quoted Neil Azous of advisory firm Rareview Macro, who said the same exact scenario happened the year before. This year's July 15th expiration was last year's July 17th.
CNBC said, "For Azous, this is no mere coincidence. He reports that there was an extraordinarily large amount of short call options outstanding for last Friday's expiration, which created an unnatural demand for equities," which was exactly similar to the year before.
That move in the year before created a price that wasn't seen again until this year's recent move. Here's the chart and the timing of the two comparable options expirations.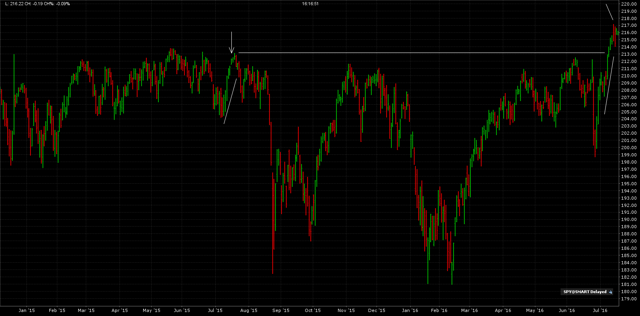 Click to enlarge
If correct, the expectations for a continued follow-through after the recent breakout could disappoint. We don't think the news is as good as the breakout seems to convey.
Conclusion
The Fed is signaling that it wants a rate hike. It has found every excuse not to do one. With markets holding up, inflation picking up, and jobs normal, the Fed is likely more serious.
The fact that the Street doesn't believe it means the Fed may need to send a stronger message.
If jobless claims are decent on Thursday, the Fed's message next Wednesday will likely be a stronger one. That may be a market risk, given a rate hike crashed markets in January.
If you want Elazar's analysis on Seeking Alpha, scroll to the top of the article and hit "Follow." Elazar also writes real-time pieces as news is reported. If you want to be among the first updated, check the box for "Real-time alerts on this author" under "Follow."
Weekly Rating: Downside, Weekly Aggressive Rating: Downside
(Aggressive Ignores our Medium-Term Fundamental Call and just focuses on the week.)
Medium-Term Rating: Downside, Longer-Term Rating: Downside
Disclaimer: All investments have many risks and can lose principal in the short and long term. This article is for information purposes only. By reading this you agree, understand and accept that you take upon yourself all responsibility for all of your investment decisions and to do your own work and hold Chaim Siegel, Elazar Advisors, LLC, best ideas, their related parties, and its authors harmless.
Disclosure: I/we have no positions in any stocks mentioned, and no plans to initiate any positions within the next 72 hours.
I wrote this article myself, and it expresses my own opinions. I am not receiving compensation for it (other than from Seeking Alpha). I have no business relationship with any company whose stock is mentioned in this article.