Medtronic (NYSE:MDT) has set an ambitious goal for itself of generating $40B in free-cash-flow over the next five years. Half of that FCF will be returned to shareholders in the form of dividends and buybacks. It plans to allocate another $10B for debt reduction and bolt-on M&A. The final $10B will be reserved for financial flexibility - options for its use includes all of the above as well as bolstering the company's cash position. The company also previously stated its intention to achieve mid-single digit constant currency revenue growth and double digit constant currency EPS growth over the next five years. Doing so is critical to meeting its goal of generating $40B in FCF over the next five years.
In early June Medtronic held an investor day to detail just how it plans to achieve these goals in the coming years. I will review the key details below.
Revenue Growth
The company outlined three key features of its plan that will drive revenue growth: Therapy Innovation, Globalization, and Economic Value. Let's explore each.
Therapy Innovation & Economic Value
Each division at Medtronic has a plan to drive innovation and new product development. Medtronic wants to be the most innovative medical device company in the world. It is driving cultural, structural, and process changes in order to speed up innovation and new product go to market.
For the Cardiac and Vascular division, the company estimates that the market will grow at a CAGR of ~4% over the next five years. But it wants to grow at a ~9% CAGR. To do so it will first focus more on the sub segments that are growing faster than the overall market (Diagnostics, Aortic, Cardiac Rhythm and Heart Failure, and Peripheral). From there it will maintain a robust product pipeline through the rest of the decade. Here are meaningful growth drivers for the division over the length of the strategic plan.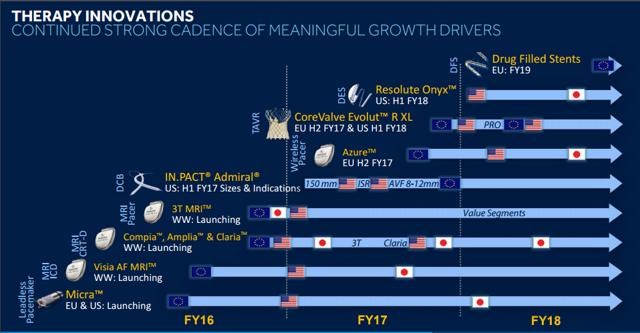 Click to enlarge
It is also putting a greater emphasis on services (care management, diagnostics, etc.). The company believes services revenues for this division can grow 4x over the next five years.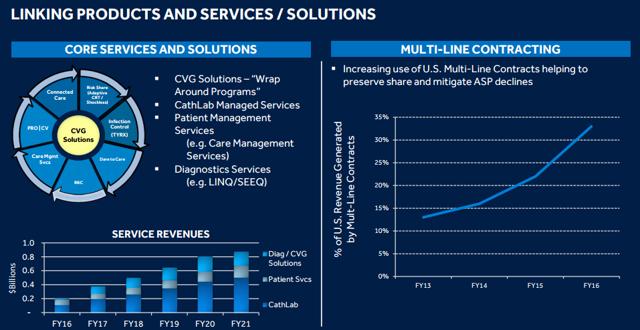 Click to enlarge
For the Restorative Therapies Segment, the story is similarly focused on new product development and an expanded patient care continuum. The company estimates the market growth rate for this division will be ~5-6% annually over the next five years. In the past, this segment at Medtronic has not maintained share. In FY2016 it only grew revenues 4% while the market grew 6%. The goal is absolutely to gain back market share going forward. The plan is to deliver a steady cadence of innovation that matters to patients and their providers. Medtronic has a plan to reduce development cycle times by 40-50% while staying on budget, maintaining quality, and driving productivity improvement. Whether it be Spine Therapy, Brain Therapy, Pain Therapy, or Specialty Therapies, Medtronic is building a product pipeline that it believes will position it for sustainable mid-single digit growth over the next five years.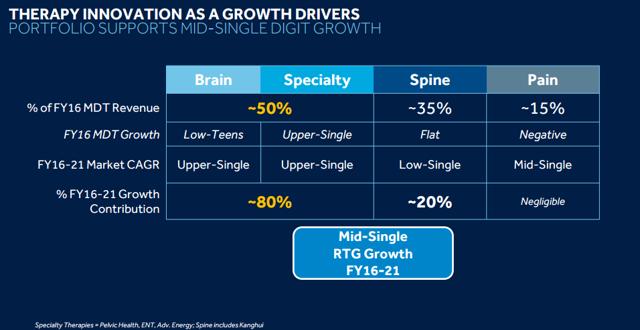 Click to enlarge
The Minimally Invasive Therapies Group is aiming for 5% annual growth over the next five years. This division's goal is to enable earlier diagnosis, better treatment, faster complication-free recoveries and enhanced patient outcomes through less invasive solutions. Medtronic focuses on four areas within this division: surgical solutions, early technologies for diagnosis and treatment, patient monitoring and recovery, and renal care solutions. It believes it has a robust pipeline of innovation it will bring to market during the next few years that will drive revenue growth.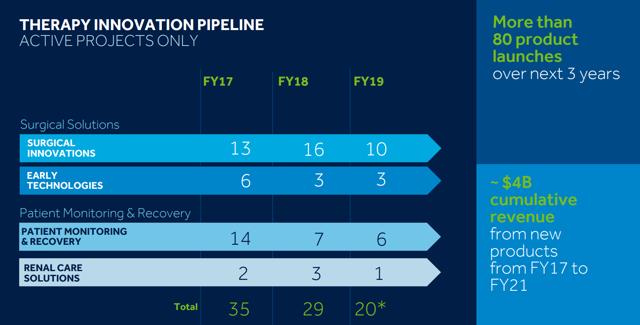 Click to enlarge
These are just a couple of the innovative products the company plans to launch in the next few years: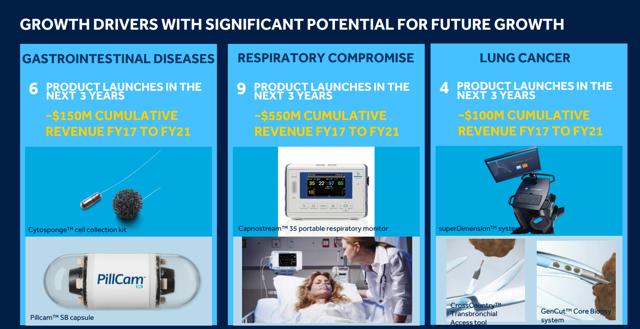 Click to enlarge
Finally, there is the Diabetes segment. While this division has a lower operating margin than the company average, it is nonetheless important because it is the fastest growing opportunity for Medtronic. Once again Medtronic is focused on creating disruptive innovation for diabetics. It wants to be the first to market with a fully closed loop insulin delivery system.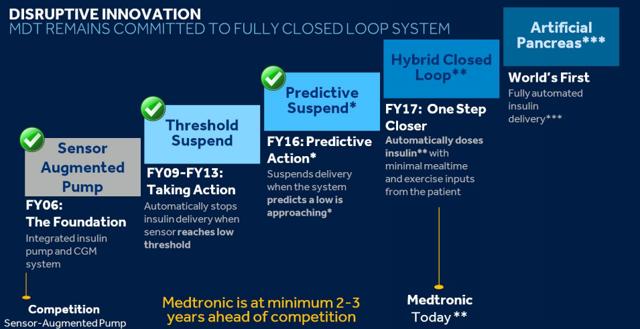 Click to enlarge
It is stepping up innovation with a plan to launch more new products between 2015-2020 than the last 15 years combined. It is an ambitious goal, but the company is very focusing on successfully executing its plan. I would also not be surprised to see meaningful M&A in this division, as the market is currently quite fragmented.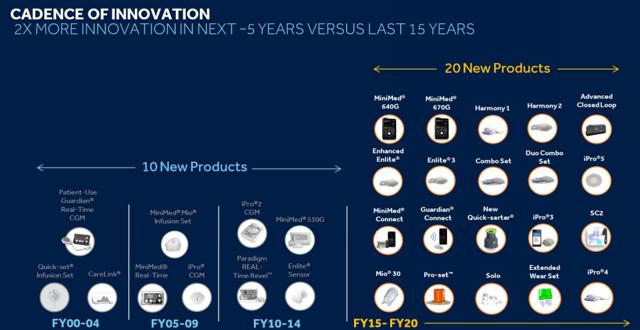 Click to enlarge
Medtronic is also focused on creating best in class analytics for patients. It is leveraging technology to make use of smartphone apps, which provide real-time insight and patient monitoring and coaching. It has partnered with IBM's Watson Health for this initiative to create customized plans for patients. This should really improve patient outcomes; early results are encouraging as patients enrolled in a study are reporting much improved health after just 8 weeks. Overall Medtronic expects to grow sales in this division mid-teens over the life of the plan.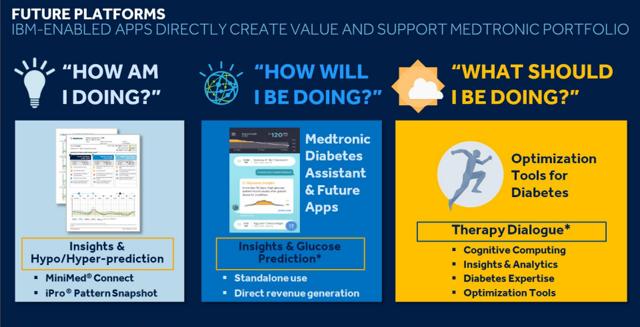 Click to enlarge
Globalization
Globalization is a big contributor to the revenue growth opportunity at Medtronic. The company believes emerging markets will grow at a 10-13% CAGR over the next five years. Deeper penetration into emerging markets is crucial for Medtronic to hit its ambitious growth targets. It plans to be innovative in its pursuit of new opportunities in EM. Much of the healthcare systems in EM are run by governments. It is looking at public/private partnerships, risk-sharing and subscription models to unlock new growth opportunities. Each division is looking to increase EM penetration and grow faster than it will in developed markets.
EPS Leverage
The revenue growth targets are ambitious, but the EPS targets are more ambitious. The company needs margin expansion if it is to grow EPS at a meaningfully faster pace than revenues. A big part of margin expansion is related to the Covidien acquisition. Within the next two years Medtronic expects to deliver on a minimum of $850M in annual synergies related to the Covidien deal. Here is a look at where those synergies will come from.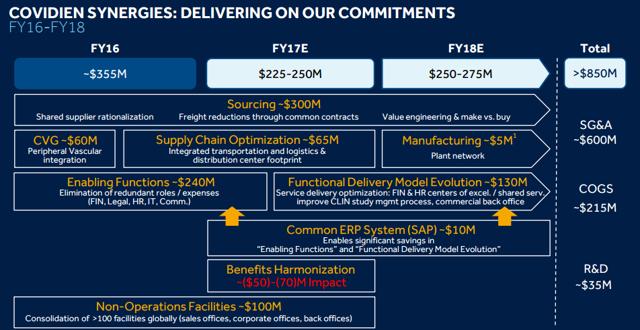 Click to enlarge
The company also plans to aggressively take out costs from its cost of goods sold. It will implement lean manufacturing techniques, renegotiate supplier agreements, identify alternative supply sources, and reduce the number of manufacturing plants in use. These initiatives are expected to generate a total of $3B in savings in total through FY2021. The company will also aggressively work to reduce SG&A expense. It is taking a number of steps, including workforce management, offshoring, automation and site consolidation to drive $1.7B in expense savings between now and FY2021. The impact of all these programs should drive 500-650 bps of operating margin improvement by FY2021.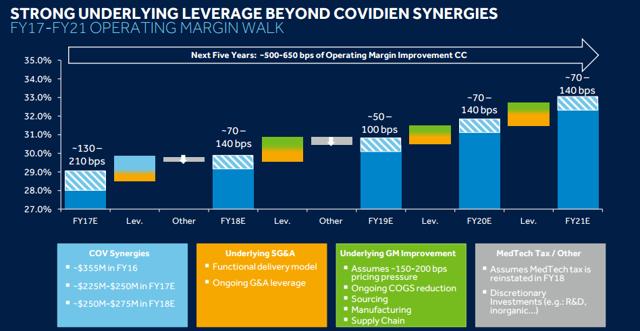 Click to enlarge
Capital Allocation
The final piece of the puzzle for Medtronic's strategic plan for the next five years relates to capital allocation. As I stated earlier, the company has a goal of generating $40B in FCF over the next five years. It expects annual free-cash-flow to grow high-single digits annually through FY2021. Part of that growth will be achieved through better working capital management. Medtronic has a plan to improve inventory turns and collections on accounts receivables as well as to extend accounts payable for all suppliers to 60 days. I find it pretty ironic that it wants to get paid quicker but also wants to take longer to pay its suppliers! I guess that is a benefit of Medtronic's size.
The company is also benefiting from a marginally lower tax rate as a result of its merger with Covidien and re-domicile in Ireland. This so far has resulted in a 200-300bps improvement the company's tax rate. The larger benefit from the new Irish domicile, however, is greater access to cash - both existing cash and future cash generation. Prior to the merger about two-thirds of Medtronic's cash was trapped offshore and not available for shareholder returns or on-shore acquisitions. As a result of the merger with Covidien, Medtronic was able to quickly gain access to several billions of its cash, which it principally used to reduce debt and buyback stock. By FY2021 Medtronic expects to have access to 75% of its ongoing free-cash-flow generation. This will be key to the execution of its capital allocation program. It will allow for the $20B in capital returns and $10B in M&A without the need for additional leverage on the balance sheet like a US corporation (Apple or Microsoft for instance) would need to raise. In fact, it will also facilitate further deleveraging of the balance sheet and a possible ratings upgrade.
Conclusions
Medtronic has ambitious growth plans over the next five years. Personally I am skeptical all the targets can be hit. Generating consistent mid-single digit revenue growth across the portfolio will be difficult. Achieving all of the EPS leverage targets will be equally daunting. But I am not really sure it matters whether Medtronic precisely hits all its targets or not. Even if Medtronic can only grow earnings 7-9% annually the stock will be a winner. This premier global leader in medical devices should command a premium multiple from the market. A high-teens, low-twenties multiple is appropriate given the recession proof nature of its business. If the multiple of the S&P 500 continues to climb, so should Medtronic's. The combination of high single-digit earnings growth and continued dividend growth should give the patient investor 10% annual returns or better over the next five years. Certainly if Medtronic is able to meet all of its financials goals the return profile could be higher - in the low double digits. Either way this is a solid return profile from a megacap, non-pharma healthcare stock. I own the stock and would be a buyer of more on weakness.
Disclosure: I am/we are long MDT.
I wrote this article myself, and it expresses my own opinions. I am not receiving compensation for it (other than from Seeking Alpha). I have no business relationship with any company whose stock is mentioned in this article.