We've shown in recent reports that OPEC and Saudi Arabia ("KSA") have been increasing oil (NYSEARCA:USO) (NYSEARCA:OIL) (NYSEARCA:UWTI) production. The weak oil price is forcing countries to produce more to make up for the lower price. US production is the highest in years. The global demand is ticking slower. All that said, war words have picked up globally and would be one major chink to the bear case armor.
As a quick review let's see OPEC and US production picking up.
Here're OPEC and KSA picking up production last month.
| | | | |
| --- | --- | --- | --- |
| | April | May | June |
| Iran | 3457 | 3567 | 3644 |
| KSA | 10160 | 10242 | 10308 |
| Total OPEC | 32620 | 32594 | 32858 |
This pickup in production looks like the highest production in a couple of years (Page 62).
Let's go to the US oil supply/demand picture.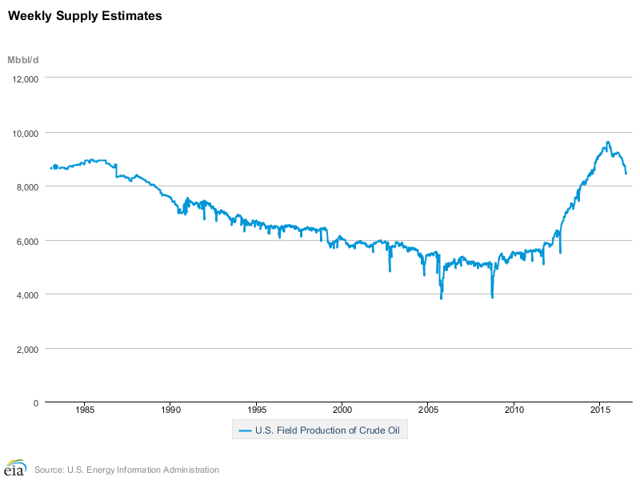 Click to enlarge
Above is US oil supply and production. It's way up.
Demand, however, in the US is slowing.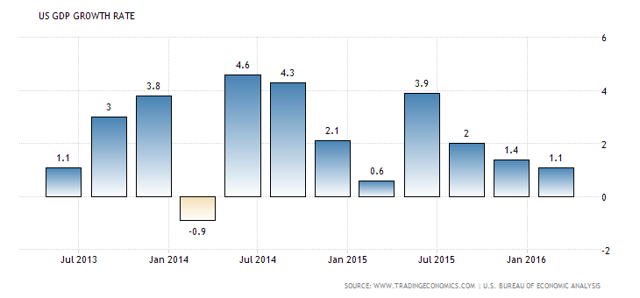 Click to enlarge
GDP has been slowing (chart above) steadily over the last two years.
While global production is up, the global demand picture is also weakening.
The IMF just lowered their global forecasts due to Brexit.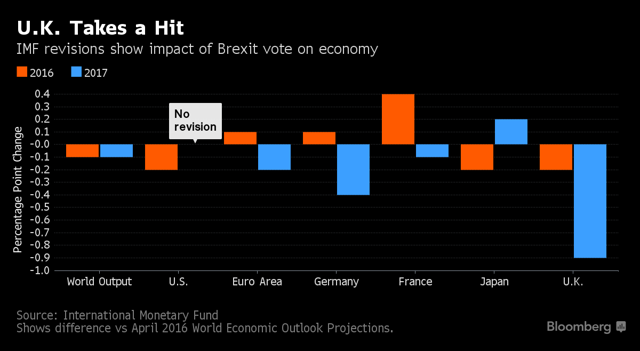 Click to enlarge
As oil production and supply pick up globally demand is weakening.
We reported multiple comments from the US, OPEC, OECD and KSA hinting to slowing global demand.
That's the bear case and we see the oil drop continuing.
Here's the risk to oil's bear case, war.
Let's Review What Threats Of War We Heard Last Week
The US: Donald Trump said last week that he plans to go to war with ISIS. He made his comments after the Nice attack. He pointed out that the prior administration has not been as proactive as he would be. For now Clinton has focused her military strategy on intelligence. Like President Barack Obama, she appears to prefer against military force.
Even though Trump said there would be limited US troop involvement we don't expect that to end up being a reality.
ISIS has a large presence in Iraq, Syria, Yemen, Libya and Jordan. ISIS probably has its biggest entrenchment in Iraq and Syria.
We'd expect that if Trump becomes president, such a war against ISIS would require more than "intelligence." We'd expect that he would be pulled into making more investments against such a regionally dispersed enemy.
As for Clinton, we think she may also be forced to use more military force over time if terrorists grab greater hold of diverse countries' landmass.
China: The UN ruled that territories in the South China Sea did not belong to China. China stated they do not recognize the ruling. The US and Japan so far have come out to say China should recognize the ruling.
Immediately following the ruling, China announced they are having a 3-day military exercise in the South Sea which, they said, cannot be interrupted or crossed by others.
The Chinese national newspaper said,
"If the US and Japan use [the ruling] to pile military and political pressure on Beijing, Chinese people will firmly support our government to launch a tit-for-tat counter punch." (The Guardian)
Given China's ignoring the ruling, the UN decision can only be upheld through force.
Japan: Last week, following a victory from Shinzo Abe and his party, there is talk that they will restate the constitution. Currently the Japanese constitution does not allow an act of war. Here's what it says.
Article 9 "(1) Aspiring sincerely to an international peace based on justice and order, the Japanese people forever renounce war as a sovereign right of the nation and the threat or use of force as means to settling international disputes.
(2) in order to accomplish the aim of the preceding paragraph, land, sea and air forces, as well as other war potential, will never be maintained. The right of belligerency of the state will not be recognized."
The interpretation of the above law has expanded over time to include allowing acts of defense. The interpretation was further expanded to include joining allied military moves.
Prime Minister Abe wants to change the constitution by widening the scope even further to clearly allowing military actions.
We think since the monetary stimulus alone has not worked to drive GDP, we'd expect fiscal stimulus will be added. We think that will coincide with increased spending on military needs. Military spending has clearly lagged since World War II with the Japanese adoption of such a constitutional clause.
Widening Geographic Risk
In a matter of days we feel that the scope risk of war has widened. Japan and China have already been back and forth verbally about the UN decision in the South China Sea. Japan's build-up of military would be a clear risk to China. The US would likely have to pick sides.
Add to Asia's risk, the Middle East could get more US attention by either candidate.
We think Trump is bringing war as a key election issue. We think Trump could force Clinton to convey a broader response than the simple need for intelligence.
Trump likely sells a story that there is a need of more force. He has blamed Obama and Clinton for the lack of force allowing ISIS to spread. The recent massacre in Florida was associated with ISIS and can likely be used as evidence that without added force, the US homeland is vulnerable.
The Obama administration has avoided making military a focus. This could be about to change in the US.
As sides build up rhetoric or weapons, the risk of war increases.
In the face of an amazing setup for supply and demand to drop oil prices, an underlying war risk needs to be watched.
The risk of war is a worry about global supply. Just as we saw in Turkey's quickly failed coup attempt, fear can show up quickly.
If there is war, typical oil channels would be cut off making oil more difficult to attain. That would likely jump prices.
Technicals still in a downtrend
We still see oil in a downtrend and we will remain bearish as long as we see it pointing lower.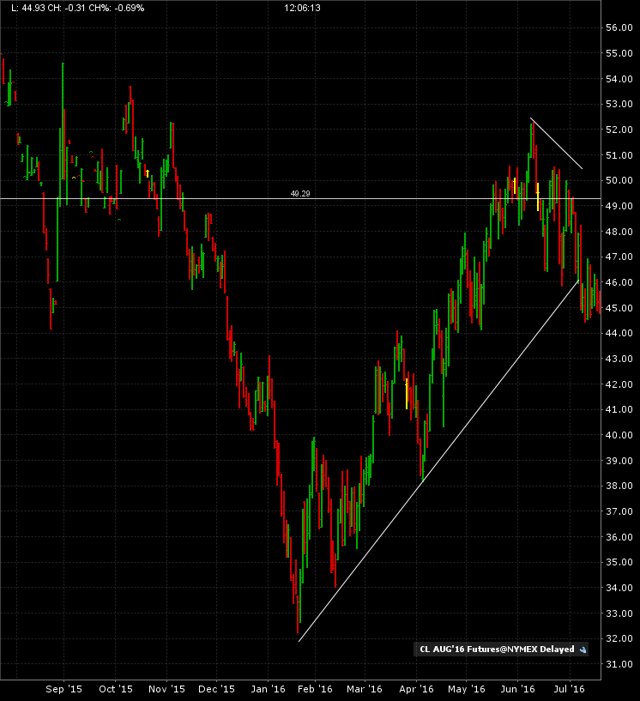 Click to enlarge
We think the supply/demand setup is causing oil to go back into a downtrend, breaking its uptrend. We'll have to watch if war rhetoric builds up and what it does to the above chart.
Conclusion
We are bearish on oil. We still see it in a downtrend. We see the supply/demand dynamics tilting the oil price lower.
That all said we need to keep a sharp eye on China, Japan, the US and the Middle East. Nothing is really that new, but we did notice a build-up of rhetoric last week that we wanted to call attention to and watch closely.
If you want Elazar's analysis on Seeking Alpha, scroll to the top of the article and hit "Follow." Elazar also writes real-time pieces as news is reported. If you want to be among the first updated check the box for "Real-time alerts on this author" under "Follow."
Disclaimer: All investments have many risks and can lose principal in the short and long term. This article is for information purposes only. By reading this you agree, understand and accept that you take upon yourself all responsibility for all of your investment decisions and to do your own work and hold Chaim Siegel, Elazar Advisors, LLC, bestideas, their related parties, and its authors harmless.
Disclosure: I/we have no positions in any stocks mentioned, and no plans to initiate any positions within the next 72 hours.
I wrote this article myself, and it expresses my own opinions. I am not receiving compensation for it (other than from Seeking Alpha). I have no business relationship with any company whose stock is mentioned in this article.