Back in February, Williams (NYSE:WMB) put on the block its Canadian operations. Now, it appears the unit is close to being sold. According to a Reuters report, at least 7 bidders have shown interest in buying the asset. Reuters reported that interest has come from the Canadian pipeline giant Enbridge (ENB), Alberta based Pembina (PBA), Keyera (OTC:KEYUF), and Inter Pipeline (OTCPK:IPPLF), as well as three Canadian pension plans, along with an unspecified number of U.S. companies. A deal could be made as soon as by the end of the month.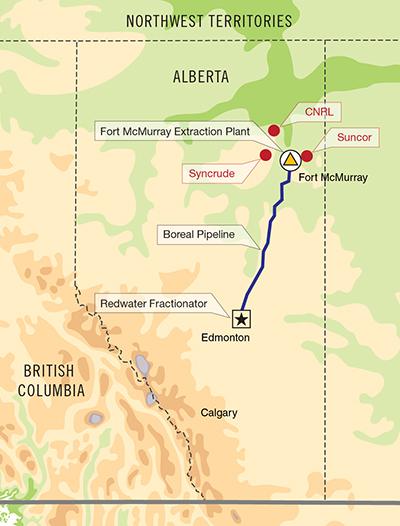 Now is a good time for a deal
When Williams initially announced its plans to sell the Canadian unit in February, the outlook for natural gas liquids "NGLs" and olefins, the output of the facility, was poor. Prices were low as a result of a warmer than expected winter and there was signs of a glut forming for products such as propane, ethane, and butane. Yet, the outlook for NGLs has improved considerably since then. If Williams wants to make a deal, now is the time.
Prices for the components of NGLs have risen fast as the US is exporting more of the product and new chemical facilities, large consumers of the product, are set to go online in the next few months. Even ethane, where not long ago it was being rejected en masse as unprofitable to extract due to low prices, is now in demand.
Why is Williams selling?
Given that the outlook for the Canadian operations has improved, this begs the question - why sell now? To answer this, we have to look at what happened since the initial sale announcement and now.
Back in February, Williams was in the midst of a merger with Energy Transfer Equity (NYSE:ETE). Though, after a drama filled process too long to explain here, that merger fell through.
It is likely that Williams wanted to sell the asset to pay down debt post ETE merger. After all, the post merger company was to be saddled with an additional ~$8 billion in debt due to the cash component.
Now that the ETE merger is off the table, why is Williams still looking to sell? Well, I think this sale has to do with debt.
Well, Williams, due to an inappropriate dividend raise and the $418 million incentive distribution rights ("IDR") waiver paid to Williams Partners (NYSE:WPZ) relating to the termination of the merger agreement, has seen debt pile on in the last few quarters.
Leverage has risen, resulting in a downgrade to Ba1 by Moody's, one notch below investment grade, or in other words, junk status. Furthermore, Moody's still has Williams in review for another downgrade after the ETE merger failed.
There is also the issue of the capex requirements for the project. Williams had planned to build a propane dehydrogenation facility in Alberta, taking advantage of up to $500 million CAD ($385 million USD) offered by the providence in royalty credits in order to help fuel job growth. Given Williams' high debt load, it is unlikely that the company has much appetite to build this facility.
Conclusion
Now that the outlook for NGLs has improved, Williams is likely to sell the Canadian -- to both raise cash to lower debt and remove the capex hurdle. The company currently has a very high cost of capital and it really needs to regain investment grade.
In addition, I believe Williams may soon announce a dividend reduction in order to further reduce debt and save on cash. The company even indicated this in a recent press release. Williams is paying out more than it can afford -- the coverage ratio was a weak 0.89x for Q1 2016. The size of a cut is still up in the air, though I am expecting at least a 25% cut.
Disclaimer: The opinions in this article are for informational purposes only and should not be construed as a recommendation to buy or sell the stocks mentioned. Please do your own due diligence before making any investment decision.
Disclosure: I am/we are long WMB.
I wrote this article myself, and it expresses my own opinions. I am not receiving compensation for it (other than from Seeking Alpha). I have no business relationship with any company whose stock is mentioned in this article.