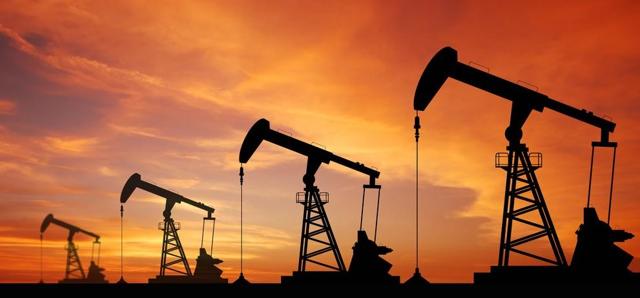 Click to enlarge
Important note: This article is not an investment recommendation and should not be relied upon when making investment decisions - investors should conduct their own comprehensive research. Please read the disclaimer at the end of this article.
Devon Energy (NYSE:DVN) followed Continental Resources (NYSE:CLR) dedicating a press release to strong recent well results in STACK. Impressive early-time production data across a large core area in STACK and optimistic commentary coming from leading operators in the play are certainly encouraging. However, uncertainty with regard to the play's ultimate oil recoveries per well and drilling economics should not be underestimated at this point, particularly in the over-pressured window where initial production rates may be very strong but longer-term declines and gas-oil ratio trajectories are difficult to predict.
Detailed production data for many STACK wells is not readily available. Therefore, operators in the play may wish to voluntarily furnish more comprehensive well performance information to investors, including older-vintage wells that have longer performance histories, to support their estimates with regard to the play's potential. Insufficient information encourages a "proceed with caution" bias.
Devon Announces "A Record-Setting Oil Well" In Stack
In its press release, Devon highlighted an IP result from a 5,000-foot lateral Meramec well in the play's over-pressured oil window in southwest Kingfisher County. The Pony Express 27-1H achieved a 30-day average rate of 2,100 boe per day, consisting of 1,500 barrels of oil per day (70% of the production mix). According to Devon, the well's oil productivity is the highest of any Meramec well drilled to date in the play on a per lateral foot basis - obviously, as measured by the IP-30 rate. In the statement, Devon characterized the Meramec as having quickly evolved into "the best emerging development play in North America."
Devon also highlighted the success of the density pilots the company brought online recently.
The first spacing test, the two-well Born Free pilot, "continues to perform exceptionally well, achieving a 90-day average rate of 1,500 boe per day per well (60% oil)." The Born Free is a stack and stagger pilot in the upper Meramec. The two wells were spaced 400-feet apart and landed in two intervals.
The latest spacing pilot, the Alma, tested five wells per section across a single interval in the Upper Meramec, delivering IP-30 rates averaging 1,400 boe per day per well (5,000-foot laterals), of which 60% was oil. The Alma wells were brought online with a 12/64-inch choke and gradually increased to a 20/64-inch choke. According to Devon, "early flow-back results from the Alma pilot indicate minimal interference between wells, suggesting potential for tighter spacing in the over-pressured oil window."
Devon's next spacing test, the Pump House pilot in southwest Kingfisher County, is testing seven wells per section in a single interval in the Upper Meramec and initial flow rates are expected in the third quarter of 2016.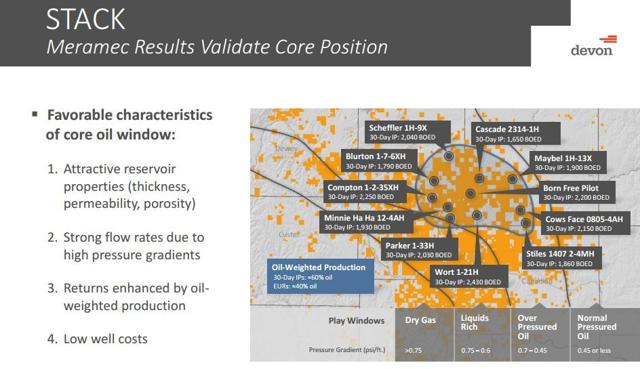 Click to enlarge
(Source: Devon Energy, June 2016)
Continental Resources Recently Announced Its Own Record STACK Oil Well
Few months ago, Continental Resources, another major operator in STACK, announced its own industry-leading - at that time - well in the Meramec's over-pressured oil window. The Verona 1-23-14XH, a 9,700-foot lateral, flowed at an initial 24-hour test rate of 2,345 barrels of oil, or 70% of production, and 6.0 MMcf/d of super-rich (1,370-Btu) natural gas. The Verona produced at a flowing casing pressure of approximately 2,400 psi, on a 34/64-inch choke. Continental commented that the Verona's completed cost was ~$9.0 million.
Continental deserves credit for also providing cumulative production figures for its existing wells (which is not always the case with other operators). The company's first Meramec well, the 2-mile-lateral Ludwig well, as of early May produced nearly 190,000 barrels of oil after being on production for nine months, a very strong result. As of early May, the well was still flowing naturally at nearly 700 boe/d (72% oil) with 1,600 psi pressure, indicating significant additional production potential. Most importantly, the well's gas-oil ratio appears to be quite stable after nine months on production. Continental's other wells announced to date are also impressive and show GORs holding up well to date, although may be less prolific on average compared to the Ludwig.
Perhaps, the most important observation is that the Meramec is now proven to be prolific over a large extent within the over-pressured window, with Devon showing very strong early-time results in Kingfisher County whereas Continental has been highly successful in Blaine County.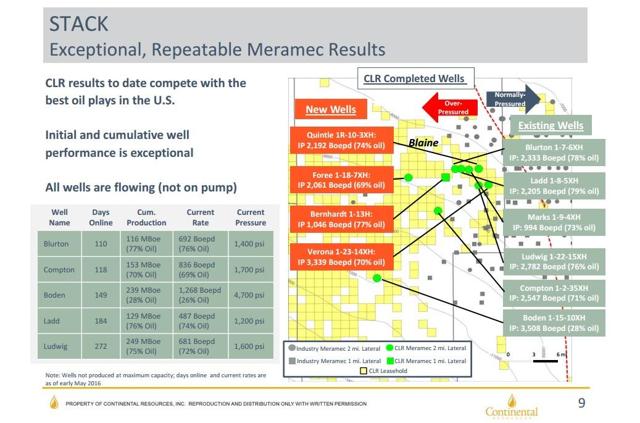 Click to enlarge
(Source: Continental Resources, June 2016)
Similar to Devon, Continental is searching for an optimal well density formula for the play. At its Ludwig unit, the company was drilling an eight-well density pilot, its first in STACK, including seven new wells in the Upper and Middle Meramec reservoirs, as well as an additional well in the Woodford reservoir underlying the Meramec. The company expected to announce results from the Ludwig density pilot by its third quarter 2016 earnings release.
A Word Of Caution
There is no doubt that the IP rates highlighted by Devon and cumulative production results disclosed by Continental are quite impressive (please note that the wells mentioned by Devon have single-section laterals). Stable oil yields that one can detect from Continental's slide - at least so far - are also encouraging. Continental's Ludwig well sets a leading-edge benchmark for cumulative production for a Meramec well in Blaine County. The well appears to be on track to produce 225,000+ barrels of oil during its first year online. In Kingfisher County, the leading-edge bar is also set quite high. Using Devon's Born Free pad data point, the two wells produced an average of ~80,000 barrels of oil from average perforated intervals of ~4,800 in the first 90 days. Normalizing to a two-mile lateral length, the average 90-day cumulative oil volume for the two wells could potentially be twice as high. Irrespective of future declines, these two specific wells look quite strong.
The strong early-time performance notwithstanding, it is still too early to judge, based on the very limited information available/provided by operators, whether the leading-edge rates can evolve into "type" rates and what does the decline trajectory look like. Without such data, investors may find it difficult to validate return metrics for the play. Given that the play is still in its infancy, reviewing decline performance for older-vintage wells may provide some insights and may be a more critical indicator of the play's potential than the most recent IP rates.
One precedent comes to mind in this regard. About four years ago, Chesapeake Energy (NYSE:CHK) announced, with significant fanfare, the success of its exploratory wells in the Hogshooter play in the Anadarko Basin. In its press release, Chesapeake highlighted IP rates and early-time cumulative production volumes for its discovery well that in fact significantly - possibly by as much as a factor of two - exceed Devon's leading-edge result in the Meramec. The following are excerpts from Chesapeake's press release highlighting strong performance of its Hogshooter wells:
Jun. 1, 2012-- Chesapeake Energy Corporation today announced a significant new discovery in the Hogshooter play in the Anadarko Basin of the Texas Panhandle and western Oklahoma. Chesapeake owns approximately 30,000 net acres in the play, which are more than 90% held by production (HBP) from its legacy deeper Granite Wash production.

Chesapeake has completed two horizontal wells in the Hogshooter formation to date. The Thurman Horn 406H well was drilled to a vertical depth of approximately 10,000 feet with a lateral section of approximately 4,900 feet. This successful exploratory well was drilled more than five miles from established Hogshooter production, but in a section of land where three wells had already been drilled to other formations. During its first eight days of stabilized production, the well averaged daily production of 5,400 barrels (BBLS) of oil, 1,200 bbls of natural gas liquids (NYSE:NGL) and 4.6 million cubic feet of natural gas (mmcf), or approximately 7,350 bbls of oil equivalent (BOE) per day. Total cumulative production, which includes five days of flowback testing, is 68,400 boe. Current daily production is approximately 7,000 boe.

The Meek 41 9H well, located approximately five miles from the Thurman Horn 406H, was drilled to a vertical depth of approximately 10,500 feet with a lateral section of approximately 4,800 feet. During its first 27 days of stabilized production, the well averaged daily production of 1,300 bbls of oil, 365 bbls of NGL and 1.4 mmcf, or approximately 1,900 boe per day. Total cumulative production, which includes five days of flowback testing, is 53,500 boe. Current daily production is approximately 1,400 boe.

In addition to the wells mentioned above, Chesapeake has drilled two Hogshooter wells that are waiting on completion, the Zybach 6010H and the Hamilton 39 10H. The company's average working interest in the four wells is approximately 88%. The company estimates its acreage position contains at least 65 more Chesapeake-operated Hogshooter locations to drill during the next few years. The drilling and completion of these 65 wells will be a part of the company's already budgeted Anadarko Basin drilling program and should result in no increase to the company's budgeted capital expenditures. Chesapeake had none of the 65 potential future Hogshooter wells classified as proved reserves in the company's March 31, 2012 reserve report.
In retrospect, Granite Wash area plays, including the Hogshooter, did not live up to the high early expectation. Oil volumes declined rapidly and wells typically failed to establish meaningful production tails. High variability of results and high well cost has been other factors that made some of these "conventional unconventional" plays uncompetitive economically. Once a super-hot "emerging development" oil opportunity, the Granite Wash area has faded into relative irrelevance on the map of U.S. resource plays.
It should be noted that Chesapeake emphasized the exploratory nature of its Hogshooter program. Not all plays live up to initial expectations.
In Conclusion…
Early-time production rates in the Meramec's over-pressured oil window suggest that the play's sweet spot may be extensive, spanning a large area across Kingfisher and Blaine Counties (and possibly beyond).
However, questions relate to well performance after the point where downhole pressure has been substantially drawn down.
For due diligence purposes, investors may wish to focus on the performance of older-vintage wells in the play, with available production histories beyond one year. In addition to the decline rate, gas-oil ratio trajectory appears to be a critically important factor.
For in-depth data and analysis of commodity fundamentals, please consider subscribing to Zeits OIL ANALYTICS that provides analysis of the crude oil and natural markets.
Disclaimer: Opinions expressed herein by the author are not an investment recommendation and are not meant to be relied upon in investment decisions. The author is not acting in an investment, tax, legal or any other advisory capacity. This is not an investment research report. The author's opinions expressed herein address only select aspects of potential investment in securities of the companies mentioned and cannot be a substitute for comprehensive investment analysis. Any analysis presented herein is illustrative in nature, limited in scope, based on an incomplete set of information, and has limitations to its accuracy. The author recommends that potential and existing investors conduct thorough investment research of their own, including detailed review of the companies' SEC filings, and consult a qualified investment advisor. The information upon which this material is based was obtained from sources believed to be reliable, but has not been independently verified. Therefore, the author cannot guarantee its accuracy. Any opinions or estimates constitute the author's best judgment as of the date of publication, and are subject to change without notice. The author explicitly disclaims any liability that may arise from the use of this material.
Disclosure: I/we have no positions in any stocks mentioned, and no plans to initiate any positions within the next 72 hours.
I wrote this article myself, and it expresses my own opinions. I am not receiving compensation for it (other than from Seeking Alpha). I have no business relationship with any company whose stock is mentioned in this article.