All dividend investors in bank stocks must read this article concerning the debate over how future interest rate increases will affect banks such as Wells Fargo (NYSE:WFC), JPMorgan (NYSE:JPM), Bank of America (NYSE:BAC), and the like. Before I continue, I'm assuming the comments made around interest rate increases are referencing the Federal Reserve's policy on the benchmark rate, which currently stands at 0.5%. To me, the perceived thesis of most investors in these stocks is that future rate increases in the benchmark rate will increase the profitability of the banks. I've read many articles on Seeking Alpha covering names such as WFC and JPM, and most of them mention the positive headwind for big banks associated with interest rate increases. I'll concede that even I have posted an article recently about WFC here, and mention future rate increases as a source of increasing profitability. Well, I'm here to tell you that collectively, as dividend investors in big banks concerned with the future and sustainable profitability of these companies, we must caveat our statement about how interest rate increases will affect these big banks. I will attempt to illustrate and convince my readers that not all benchmark interest rate increases are created equal, and we must consider the big picture, or "curve" as they call it, to see how an increase in interest rates affects the banks.
Why Should Dividend Investors in Banks Care About The Yield Curve?
Well supposedly, dividend investors are concerned about the long-term health of the business they're invested in, and the yield curve interest rates serve as a proxy for what a bank can earn as interest income. This is an important source of income for most big banks, and makes up around 50% of net income for WFC, JPM, BAC, etc., according to latest earnings reports. Dividends come from earnings, so as dividend investors in big banks, we need to understand where their earnings come from and what causes them to increase or decrease.
Since the yield curve of U.S Treasuries is typically viewed as the "risk-free" rates at which one could borrow, mortgage, auto, and credit card rates are normally set using the yield curve rates plus some risk premium. The thesis of this article will focus on interest income, which is more sensitive to changes in interest rates. Our objective is to analyze how interest rate movements will affect banks by looking at three possible yield curve scenarios: (i) rise in short-term rates that leaves long-term rates unchanged (flattening) (ii) rise in long-term rates that leaves short-term rates unchanged (steepening), (iii) and a parallel upward shift in both short- and long-term rates.
Yield Curve Flattening
First off, traditional lending is a spread business, meaning banks profit from the gap between the interest they receive on assets (loans and securities) and the rate they pay on liabilities (mostly deposits and depository certificates). Typically, bank assets have a longer maturity and, hence, higher interest rates than shorter-maturity deposits and investment certificates. If short-term interest rates, i.e., the Federal Funds rate, were to rise and long-term rates remain unchanged, then the bank would pay more on their short-term liabilities, while the return on their longer maturity assets would remain unchanged. This would squeeze net interest margins, hurting profitability. You might ask whether this has happened before. Well, in my research for this article, I found out it has occurred in the past, most recently right before the Great Financial Crisis.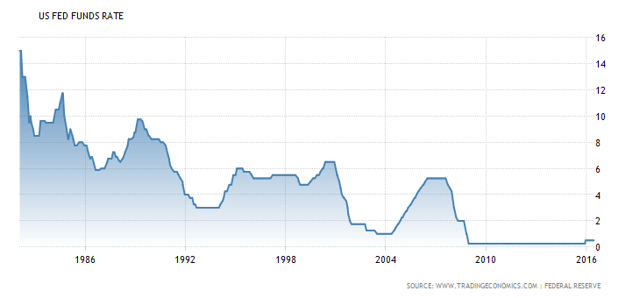 Figure 1: Federal Funds Rate
And the corresponding effect on the spread between 10-year and 3-month Treasuries.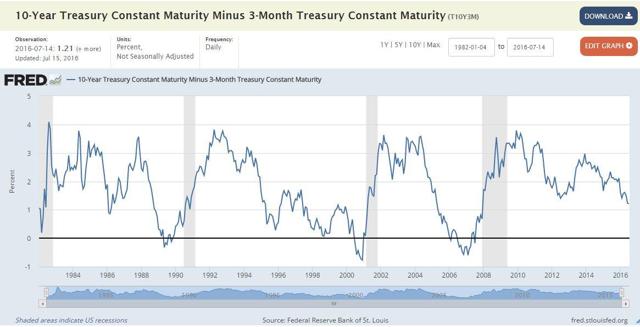 Figure 2: Spread Between 10-Year and 3-Month Treasuries
As you can see from figures 1 and 2, as the Fed increased short-term rates, long-term rates stayed where they were, which definitely squeezed net interest margins. Two important items to take home from these figures: (i) In 3 out of the 5 instances where the spread between 10-year and 3-month Treasuries was close to zero, a recession followed; and (ii) Each of these five instances of yield curve flattening was caused by an increase in short-term rates, while long-term rates remained fairly constant. Clearly, this scenario of interest rate increases would not be preferable for dividend investors in banks. So then, what do we mean when we say, "Higher rates are better for banks"?
What do we Mean by "Higher Interest Rates are Good for Banks"?
We actually mean a steepening of the yield curve or a parallel shift, as both of these scenarios of increased interest rates would be beneficial to a bank's net interest income. A steepening of the yield curve (longer-term interest rates rise more than short-term rates) would benefit banks, since we established that most of their lending assets have longer maturities than their deposits. This scenario would cause an increase in the net interest margin, and hence, much higher net interest income. I'd like to caveat that net interest income can increase even if the net interest margin decreases, as long as loan growth is large enough. However, loan growth alone cannot materially fuel future interest income growth, so net interest margins need to increase if we are to be confident about the future dividend prospects from the banks.
For the third and final scenario, a parallel shift in the yield curve (i.e., yield on all maturities increases by 50 basis points) is beneficial to banks because of one simple reason: Bank assets typically exceed liabilities, with the exception of a few banks in 2007-2008 that no longer exist. So, if assets exceed liabilities and the interest rate earned on assets and paid on liabilities increases by the same amount, total net interest income will increase. To illustrate this, I will use a simple equation: Net Interest Income = Interest Earned on Assets - Interest paid on Liabilities. Interest Earned on Assets = Assets * asset interest rate, and Interest Paid on Liabilities = Liabilities * liability interest rate. Suppose our bank has assets of $100 and liabilities of $90, and the interest rate earned on assets is 4% and the interest rate paid on liabilities is 1%. Interest earned on assets for one year will be 4%*100 = $4, and interest paid on liabilities will be 2%*$90 = $1.80, for a total net interest income of $2.2. Suppose the interest rate on assets and liabilities both increase by 1%. Interest earned on assets will be $5 and interest paid on liabilities will be $2.70, for a total net interest income of $2.30, i.e., a 4.5% increase from the first scenario.
At this point, you might ask what causes longer-term rates to rise with short-term rates? That largely depends on investors' future expectations of inflation and, more broadly, economic health in general. For example, if you're confident of the future prospects of the U.S economy, you'd be inclined to sell or decrease your demand for long-term bonds in exchange for stocks, which could push bond prices down and increase their yield.
Moral of the Story?
Whenever dividend investors in banks cheer on higher interest rates, let's monitor the yield curve to make sure longer-term interest rates increase as well. This way, we can be reasonably confident that the basic banking business model is intact, and that our future dividends are not in jeopardy.
Disclosure: I am/we are long WFC, JPM.
I wrote this article myself, and it expresses my own opinions. I am not receiving compensation for it (other than from Seeking Alpha). I have no business relationship with any company whose stock is mentioned in this article.