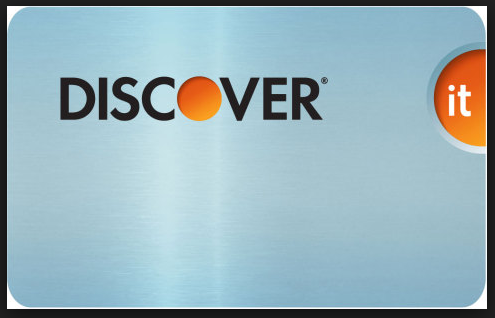 I've been a bull on Discover Financial (NYSE:DFS) for some time now. The company's transition out of mortgages and into its core card and loan business in addition to its enormous buybacks has made me believe the story. But things haven't turned out the way I thought they would; DFS is buying back huge amounts of its own stock and growing EPS as a result but the actual business is moving much more slowly than I thought it would. Heading into Q2 earnings the stock was butting up against what has become strong resistance at the $57/$58 level and if the current action in the stock is any indication, we may see DFS get rejected at least one more time at that level. So with no apparent breakout as of yet, what could get DFS over the hump?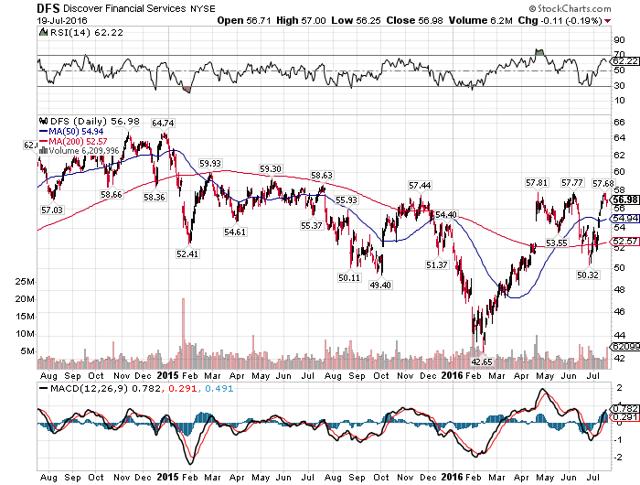 Click to enlarge
Discover's total revenue was up 2% during Q2 and that amounts to respectable growth for financials these days. Interest income was up a very strong 7% during the quarter as loan growth and higher NIM powered that number higher. Interest expense was up sharply but the dollar total is small enough that it was more than offset by revenue gains, meaning total net interest income rose by 7%. That's a great number for interest-related income but where things aren't so rosy is in the noninterest income space.
DFS saw every single line item in the noninterest income section of its income statement show a Y/Y decline except for discount/interchange revenue. That number was up 4% thanks to higher card spending but rewards costs were up 18% as Discover spent more on promotional rewards, including its relatively new double rewards program for new accounts. These things drive traffic to Discover's products but they are expensive, particularly during the promotional period. In total, noninterest income fell 14% and in dollar terms offset roughly two-thirds of the revenue gains from interest income, leaving us with the 2% total revenue gain for the quarter. That's weaker than what I was hoping for but given the immense amount DFS is spending to acquire new customers and the fact that it is essentially getting out of the protection product business, fee income is going to be low for some time. I am, however, encouraged by the strong performance of interest income during the quarter.
I mentioned NIM was up during the quarter and given the horrendous environment we have for rates right now, DFS' boost of 37bps over last year's Q2 was very strong. DFS' NIM was up due to an increase in its prime rate, boosting its card yield, which is easily the most important component of NIM. DFS' portfolio is about 80% credit card loans so what happens there is of the utmost importance and in Q2, it was great. Total yield on the card portfolio was up 38bps to 12.42% and that certainly drove the strong performance. That should continue into Q3 and likely Q4 as the Fed's December rate hike last year won't anniversary until Q1 of 2017 for DFS. By that point, we may have one or two additional hikes under our proverbial belts as well if recent Fed speak is to be believed.
On the expense side, DFS performed very nicely as well, continuing with the trend we've seen from other financials in terms of cutting costs as much as possible to boost profitability in a tough environment. DFS' adjusted operating efficiency - which is defined as total operating expense divided by revenue net of interest expense - fell 40bps during the quarter. The adjusted number excludes one-time events like costs related to the mortgage business exit last year and provides a more realistic view of DFS' efficiency. It is operating with a lean model right now and while wholesale changes aren't likely, we should continue to see DFS focus on chipping away at its expenses in relation to revenue.
Unfortunately for DFS, credit quality suffered somewhat in Q2. The other banks have been reporting fairly steady or improving credit metrics and while DFS isn't really a bank, the difference is rather striking nonetheless. Total provision for loan loss was up a staggering 35% during the quarter as all three loan categories saw worsening metrics. Part of the increase was due to loan growth - new loans must have reserve builds against them - but part of the problem is just that DFS' portfolio saw worsening credit metrics. Q3's credit numbers will be interesting to watch because I don't care that DFS had to provision against new loans but I do care that it is seeing worsening delinquency rates. Is DFS becoming more lax in its underwriting standards to try and fuel growth? We won't know for a couple of quarters but it is something to think about.
At current prices, DFS is trading for about 9.9 times this year's earnings, although I suspect this year's EPS number may come down very slightly after Q2's less than enthusiastic results. Still, that is a very low multiple even in today's environment for a financial that is growing so DFS is certainly still cheap. Analysts have DFS growing EPS at just 6% next year which I find interesting because its buyback alone is worth about 9% of the float at current prices. That implies that analysts see DFS producing negative dollar earnings growth next year, something I'm not sure I can get behind. Interest income has been very strong in a weak environment so unless the Fed cuts rates back to zero, I can't see this kind of scenario playing out. Fee income is weak but it is more than offset by strong interest income so I'm not sure why there's all the pessimism. At any rate, DFS isn't growing the way I thought it would be by now so I'm forced to reassess my position after Q2.
I thought we would have seen DFS solidly in excess of $60 by now because it really is a strong earner. ROE is always well in excess of 20% and the buyback is huge thanks to DFS' massive capital position. In addition, it is producing moderate loan growth and has strong NIM but credit quality is suffering more than I would like. On balance, DFS still looks like a growth story to me and particularly in light of very low estimates analysts have for 2017. I think DFS can pretty handily beat 6% EPS growth next year without any further rate hikes but if we get one or two or even three before the end of 2017, DFS' revenue and profits will move materially higher. Thus, despite the disappointing Q2 performance, I still think DFS is cheap here; it is just a matter of bulls pushing it through the heavy resistance at $57 and then it is off to the races.
Disclosure: I am/we are long DFS.
I wrote this article myself, and it expresses my own opinions. I am not receiving compensation for it (other than from Seeking Alpha). I have no business relationship with any company whose stock is mentioned in this article.