Despite pressure by media, legislators, insurers, regulators, and the public the Wall Street Journal concluded last week that pharmaceutical companies' power to raise prices was "firmly intact." Rising prices and expensive new medicines have fueled an increase in U.S. drug spending, but not without its critics. In this atmosphere for the companies producing and pricing these drugs, I took a look at a few financial, operational, and governance metrics for Eli Lilly and Company (NYSE:LLY) and its pharmaceutical peer set.
For comparison I used the peer group from Eli Lilly's 2016 Proxy Statement and our free real-time monitoring platform. The peers listed this year were AbbVie Inc. (NYSE:ABBV); Abbott Laboratories (NYSE:ABT); Allergan plc (NYSE:AGN); Amgen Inc. (NASDAQ:AMGN); AstraZeneca PLC (NYSE:AZN); Biogen, Inc. (NASDAQ:BIIB); Baxter International Inc. (NYSE:BAX) Bristol-Myers Squibb Company (NYSE:BMY); Celgene Corporation (NASDAQ:CELG); Gilead Sciences, Inc. (NASDAQ:GILD); Johnson & Johnson (NYSE:JNJ); Medtronic, Inc. (NYSE:MDT); Merck & Co., Inc. (NYSE:MRK); and Pfizer Inc. (NYSE:PFE). Our platform is currently limited to US-based equities, so AstraZeneca, F. Hoffman-La Roche AG, GlaxoSmithKline plc, Novartis AG, and Sanofi SA, all part of the proxy peer set, were excluded from the data.
Eli Lilly noted in the proxy that it determined this peer set from direct competition and similar business model. Notably, Johnson & Johnson, Novartis, and Pfizer were the only companies with more than three times the market capitalization or revenues of Eli Lilly - they were included despite this gap because of similarities in competition and business model.
Total Shareholder Return
The peer set median and Eli Lilly were nearly tied in total shareholder return since the beginning of 2012. At market close on July 18th, Eli Lilly was at 123.38% and the peer set was a bit higher at 130.40%. Below are two views, one of the overall comparison and another broken down by individual peer.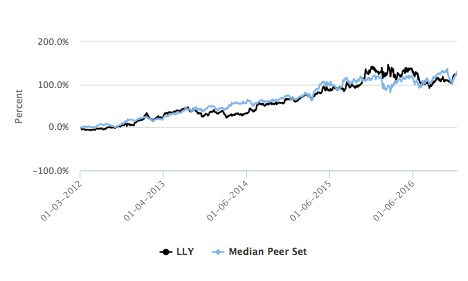 Exhibit 1: Total Shareholder Return
Source: Enlight Research, LLC
Note: Total shareholder return assumes dividend reinvestment.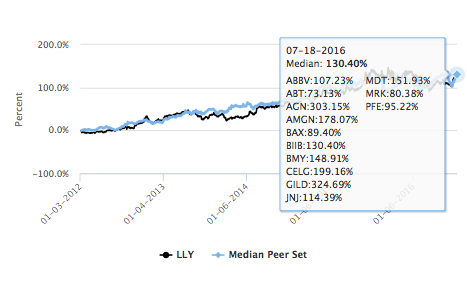 Exhibit 2: Total Shareholder Return Broken Out By Individual Peer
Source: Enlight Research, LLC
Note: Total shareholder return assumes dividend reinvestment.
Return on Invested Capital
Eli Lilly held a substantial lead over the peer set in return on invested capital until the end of 2014. Since then, the gap closed, though recently Eli Lilly saw a downswing while the peer set median moved up. For Q1 2016, the peer set surpassed Eli Lilly with 4.74% and 4.23% respectively.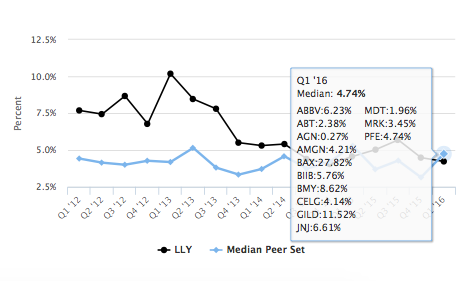 Exhibit 3: Return On Invested Capital
Source: Enlight Research, LLC
Research and Development Expenditures
Of course, research and development costs are huge for pharmaceutical companies. Eli Lilly has shown consistently higher research and development costs as a percentage of revenue than the peer set median (though keep in mind companies like Johnson & Johnson are only partially pharmaceutical). In Q1 2016 Eli Lilly reported 24.67% costs for research and development and the peer median was at 14.99%. The two look to be trending away from each other over the last few quarters. Only two peers, BMY and CELG, were higher than Eli Lilly with no other peers cracking 19%.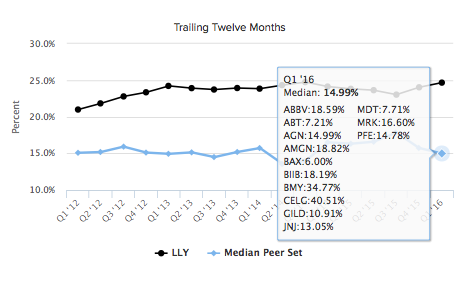 Exhibit 4: Research and Development Costs as a Percentage of Revenue
Source: Enlight Research, LLC
CEO Compensation
Eli Lilly compensates its CEO with a diverse package a bit less weighted to long-term incentives than the standard in the peer set. It is important to keep in mind that long-term incentives are only as strong as the board makes them and can be formed with easy targets or limited downside. The overall compensation is on the lower side of the peer set.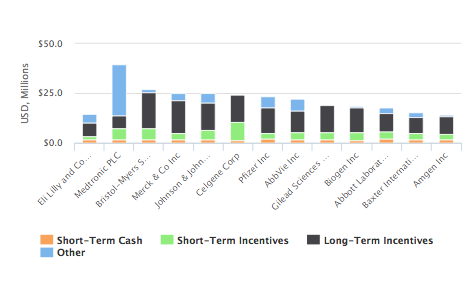 Exhibit 5: CEO Compensation
Source: Enlight Research, LLC
Shareholders seem generally satisfied with executive compensation at Eli Lilly - at 98.2% approval on 2016 Say on Pay it is the highest in the peer set. Over the last three years Eli Lilly has stayed above the 92nd percentile in Say on Pay approval. Bristol-Myers Squibb is dealing with a 56.8% approval from 2015 and is the only company to not yet report 2016 results. Allergan reported 51.7% approval for 2016 after showing trouble at 85.6% in 2015. The others are all above 93% for 2016.
Director Compensation
The board compensation is pretty evenly split between director fees and long-term incentives. It is less focused on long-term incentives than about half the competitors and pretty even proportionally with the other half. The overall director compensation is more in the middle of the peer set than the CEO compensation.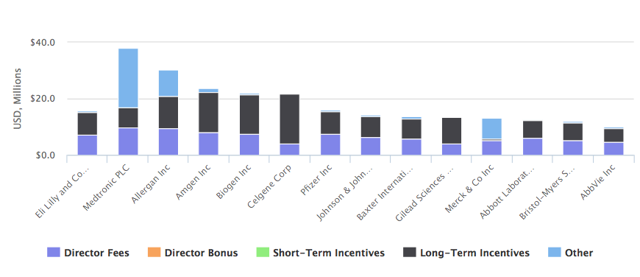 Click to enlarge
Exhibit 6: Director Compensation
Source: Enlight Research, LLC
Board Diversity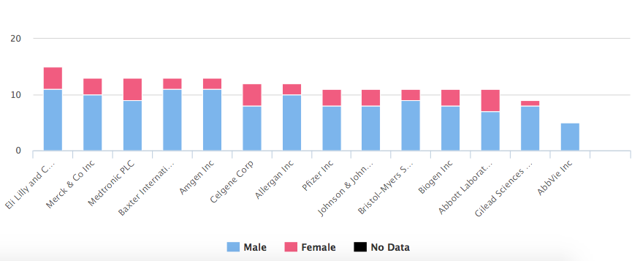 Click to enlarge
Exhibit 7: Board Diversity
Source: Enlight Research, LLC
While not the most diverse, Eli Lilly is about middle of the pack when it comes to board diversity with 26.6% women directors. The industry is fairly diverse compared to the market as a whole. Women, according to the 20% by 2020 mid-2016 study, accounted for 17.9% of directors in the Fortune 1000. The goal of the 20% by 2020 campaign is to reach 20% women representation on the boards of the Fortune 1000. SEC Chair Mary Jo White recently reinforced her increasing focus on board diversity saying -
"Diversity on boards, and in organizations more generally, is very important to me and I have not shied away from expressing my strong views on the topic. As a former member of a public company board and its audit committee, I have seen first-hand what the research is telling us-boards with diverse members function better and are correlated with better company performance. This is precisely why investors have - and should have - an interest in diversity disclosure about board members and nominees."
Regardless of mixed performance or fairness arguments related to board diversity, shareholders at companies beyond potential thresholds are in more stable position should institutional investors, proxy advisors or regulators exert pressure to meet board diversity thresholds. Speaking of such pressures, here is a quick rundown of the increasing efforts from major stakeholders to push board diversity.
What Does This Mean?
There are many major players in the pharmaceuticals arena and these are a few comparative metrics to add to your analysis. The governance trends in particular, often without broad coverage, provide a look into how well incentives align executive compensation with shareholder performance. You should note that Eli Lilly is under the peer group in using long-term incentives for CEO and director compensation. Additionally, it will be critical to evaluate Eli Lilly's earnings report later this month to see how some of the financial and operational trends develop compared to the peer set. Although the WSJ reported the continued pricing power of these companies, I will also continue watching how outside pricing pressures develop and could impact the market.
Interested in seeing similar metrics done with another company and peer set? Drop us a comment, send us a private message, or check out our profile to access our free real-time monitoring platform.
Disclosure: I/we have no positions in any stocks mentioned, and no plans to initiate any positions within the next 72 hours.
I wrote this article myself, and it expresses my own opinions. I am not receiving compensation for it (other than from Seeking Alpha). I have no business relationship with any company whose stock is mentioned in this article.