By Parke Shall
Nothing catches our eye more than bullish options activity in a company that we are long. Yesterday, that company was Ford (NYSE:F).
Yesterday we received information on the new Ford Super Duty, European car registration data for June, and all the while options were buzzing ahead of the company's earnings report which is due later this month.
First, our readers know that we believe the company's investment into its F-series of trucks after the 2008 crash was one of the smartest investments we have seen a company make in itself. The new aluminum bodied F-150 with Eco-Boost engine has revolutionized gas mileage and productivity for American-made trucks and it has set the standard for companies like Dodge and General Motors (NYSE:GM) who moved to adopt some of the same technology, but only after Ford had already proven it a success.
Ford has focused on cultivating all aspects of its business rebirth since 2008, including brands like Lincoln which have helped propel sales in Asian locations where American luxury is sought out.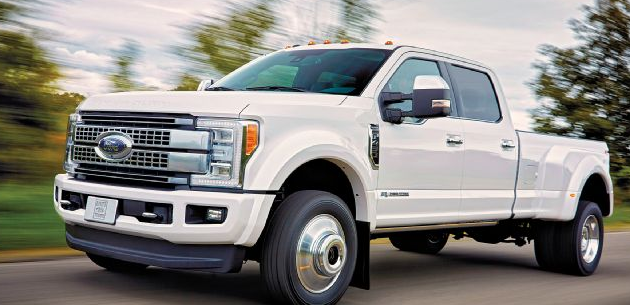 (2017 Super Duty, courtesy Ford)
We learned yesterday about the new 2017 Super Duty to be released. At the same time, the company is reaping the benefits of investing into its F-150 after a banner couple of years,
Ford says the new 2017 F-Series Super Duty model will feature the most horsepower and torque of any heavy-duty truck.
The V8 turbo diesel engine standard on all F-Series diesel trucks from the F-250 to the F-450 will boast 440 horsepower and 925 lb.-ft of torque. The automaker was able to boost power by strategically redistributing the weight saved from the use of aluminum.
Ford Super Duty trucks go on sale this fall.
As you can see, the company's bet on aluminum continues to pay dividends, as even the Super Duty V8 turbo diesel will have unprecedented power as a result of the weight distribution change by using aluminum.
The continued focus on efficiency from weight loss proves that innovation made years ago and continue to pay benefits for years to come. While other automakers like GM are focused on distributing capital to shareholders, Ford continues to make strategic investments in itself all over the globe in hopes that these initiatives will pay out in years to come. We think that profitability in key international markets will drive Ford's stock much higher in years, so we support these strategic investments across the globe.
Also catching our eye was a bullish bet in the options market yesterday that came in to Ford. Traders bought the weekly expiration $13.50 calls. 2311 contracts were bought in one shot and 15K contracts in total were traded during the day. This was compared to total open interest of 11K contracts. This bet signifies the bettor is looking for an almost immediate price move to the upside.
The company again has its earnings report later this month, so we will be on watch to see if the same investor rolls out this position to expiration closer to earnings or if the company is to give us a clue as to what the quarter looked like early.
We also got some data from Europe yesterday. European car registrations, which is a number that we continually watch, came in a little low for Ford, with the automaker down 1.1% for the month.
We have noticed with metrics like car registrations and year-over-year sales in international locations that we do get a blip on the radar here or there and a month occasionally where we do not have growth. We believe this is simply one of those aberrations and that Ford will continue to grow moving forward. As you can see from the bottom of the most recent ACEA report, Ford registrations remain up on the year.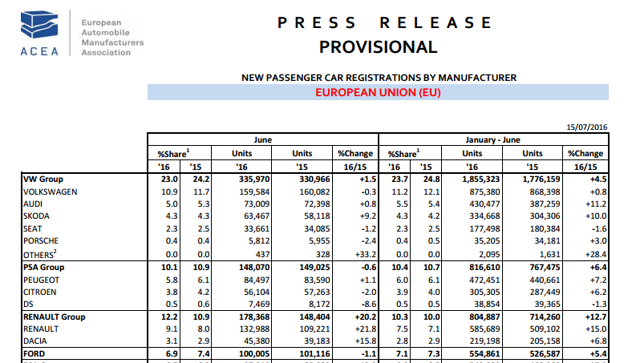 Click to enlarge
As always with data that is less than favorable, we'll be on watch for next month to see if a pattern starts to develop. Usually, these spikes lower have a tendency to resolve themselves as Ford continues to show growth in its operating results.
According to Yahoo Finance, the company will be reporting earnings on July 28th before the bell.
Disclosure: I am/we are long F.
I wrote this article myself, and it expresses my own opinions. I am not receiving compensation for it (other than from Seeking Alpha). I have no business relationship with any company whose stock is mentioned in this article.