Ever since oil crashed, the movement of the S&P 500 (NYSEARCA:SPY) has had a strong correlation with oil prices (NYSEARCA:USO).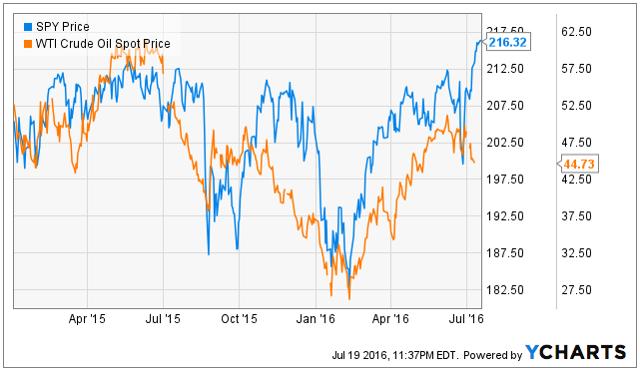 Click to enlarge
If we view this phenomenon from an economic perspective, this correlation should not exist. As I mentioned in my other article, Oil Anomaly, many corporations in the S&P 500 benefited from lower oil prices. However, investors are not always rational, and the collapse of oil triggered a wave of panic that spread throughout the market (QQQ, DIA). Even though confidence has been restored, I still believe that higher oil prices will be beneficial for the market. Why am I rooting for the continuation of this trend? In fact, we've already seen a bit of a break since July. Oil has slipped by 8% from $49/bbl to $45/bbl while the S&P 500 has appreciated by 3%.
Uneven Distribution Of Profits
Many corporations reported significant earnings growth thanks to lower fuel prices. However, this comes at a great expense to oil producers, almost all of which posted (and will continue to post) heavy losses. Even if we take away non-cash expenses such as reserve impairments, many producers would still be bleeding cash.
Why is a healthy energy sector (by virtue of higher oil prices) important for the S&P 500? In the short run (say two years), I actually think that lower oil prices will continue to benefit the economy, and by extension, the overall market. However, I am concerned about the long-term repercussions of low oil prices. Many producers have become leaner by reducing their workforce during the current downturn, but they are still not making any money.
With reserves dwindling every day as a result of minimal capital spending, it will just be a matter of time before more producers have to make the tough decision of winding down the business. Similar to what happened over the past year, jobs will not be lost overall; after all, oil and gas employment only accounts for less than 1% of non-farm payrolls.
But fundamentals are only useful if the market is rational, and I believe that the market would act more rationally if everyone makes some money. For one, higher oil prices decrease the chance of another rout in the credit market, another key support of equity prices. Secondly, higher oil prices will ensure that there is no excessive friction in the job market. We made it through 2015 and half of 2016 relatively unscathed, but there were plenty of scary moments; not because of fundamental problems with the economy, but due to irrational fear.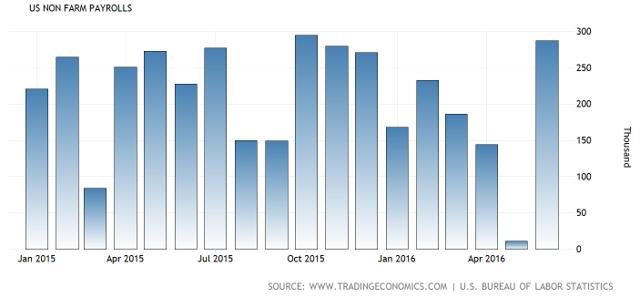 Click to enlarge
Note the consistently positive increase in payrolls, signaling a strong economy
As much as investors should ignore irrational fear, sometimes a small problem can become a big problem in a self-fulfilling prophecy. Theoretically, the loss of energy-related jobs should not have a significant impact on the overall economy. But if the general public believes that the economy is in trouble due to widespread layoffs in the energy sector, everything will come crashing down.
By smoothing out the road bumps with higher oil prices, I believe that the market will become much more rational going forward. As such, I believe that higher oil is critical in supporting the S&P 500's long-term growth trajectory.
Click the "Follow" button beside my name on the top of the page to be updated with my latest insights. To learn more about the V20 Portfolio, whose goal is to compound capital at 20% over the long term, I encourage you to read the introduction to my investment process. Premium subscribers get full access to the V20 Portfolio.
Disclosure: I/we have no positions in any stocks mentioned, and no plans to initiate any positions within the next 72 hours.
I wrote this article myself, and it expresses my own opinions. I am not receiving compensation for it (other than from Seeking Alpha). I have no business relationship with any company whose stock is mentioned in this article.