Orexigen (NASDAQ:OREX) was on its way to obtaining a dominant 50% market share in the branded anti-obesity space, a position which could have made it the de-facto "go-to" branded obesity drug. Instead, Orexigen's partner Takeda (OTCPK:TKPYY) decided to cut ties with the drug after seeing that costs to market the drug were not going to develop the desired returns. Orexigen wound up paying Takeda $60 million to get back a drug that has seen its sales trajectory level off, and worse yet, enter a decline.
This past week sales of Contrave saw the biggest percentage dip in the sector. With a holiday in the week, Contrave sales were off by over 15% when compared to the week prior. The dip in sales with the 4th of July week were even more pronounced than the dip seen with Memorial Day weekend. Sales the week prior carried a "14 handle", while this week saw a "11 handle" print. Simply stated, it does not look good even when considering a holiday.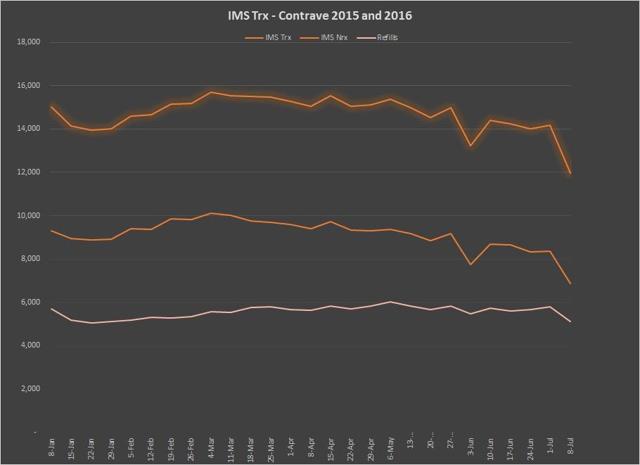 Click to enlarge
Chart Source - Spencer Osborne
On a quarter over quarter basis, Orexigen investors are seeing the first signs of a dynamic that Arena (NASDAQ:ARNA) investors saw at this point a year ago when Eisai pulled the plug on marketing efforts. Sales in Q3 have started off 20.33% lower than where we were in the first week of Q2.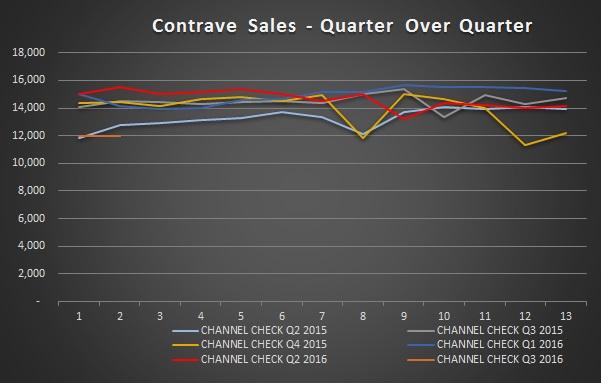 Chart Source - Spencer Osborne
On a year over year basis, investors can begin to see what should be a big concern. Sales for Q3 of 2016 are now pacing 15% lower than what we were seeing a year ago. The problem is that declining sales in the U.S. mean declining revenue. In concept marketing in South Korea and some countries in Europe could help mitigate this, but there is also the issue of how good or bad Orexigen is at marketing Contrave once the company gains full control in September.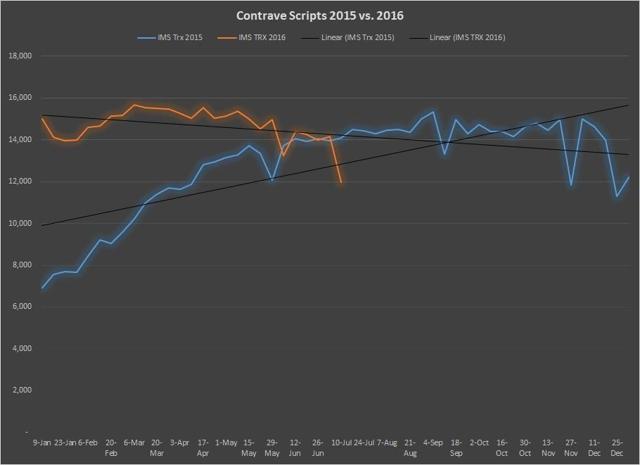 Click to enlarge
Chart Source - Spencer Osborne
From a market share perspective, we are seeing a continued decline. Market share of Contrave among branded anti-obesity agents peaked at about 42.4% four months ago. This past week the market share of Contrave was at 39.17%. The market share trajectory of Contrave has gone from being a modest upward rise to a modest downward fall. The problem here is that all indications are that Orexigen is going to scale down the sales force when it takes over, meaning that growth is even more difficult.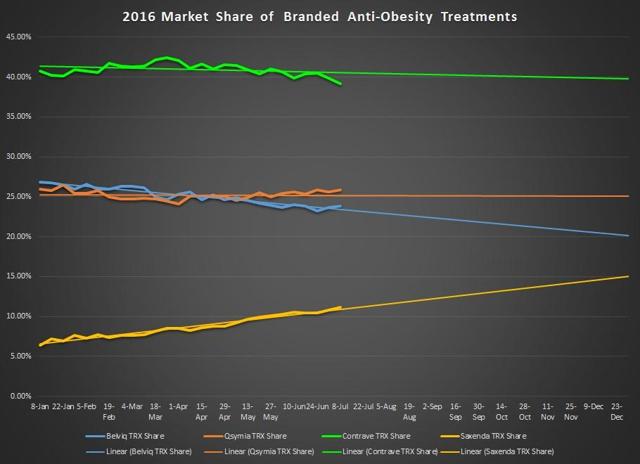 Click to enlarge
Chart Source - Spencer Osborne
The sector is simply not performing in the manner that Orexigen once thought. The company outlined that sector growth would happen in 2016, but that is no longer the case. Growth is now negative to the tune of 1%. Given that Orexigen laid out 4% growth as is baseline guidance, it is readily apparent that Orexigen will miss its own internal projections for US sales. Right now the delta is 5 points, and realistically speaking, the delta will continue to increase.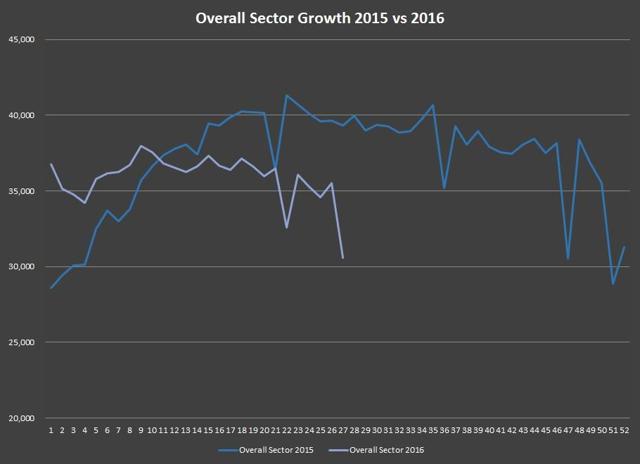 Click to enlarge
Chart Source - Spencer Osborne
Orexigen went through a reverse split that had a result of a stock price near $4.40. Today that stock trades at $3.70. It is clear and apparent that the street is carrying little faith that Orexigen can turn around the story. In my opinion sales will continue to decrease, and we will see that the marketing efforts planned for the balance of the year may not be able to shift the trend lines, This is not about whether Contrave works or does not work. It is about whether this company can collect enough revenue to show strong signs of viability. Stay Tuned!
Disclosure: I am/we are long ARNA.
I wrote this article myself, and it expresses my own opinions. I am not receiving compensation for it (other than from Seeking Alpha). I have no business relationship with any company whose stock is mentioned in this article.
Additional disclosure: I have no position in Orexigen
Editor's Note: This article discusses one or more securities that do not trade on a major U.S. exchange. Please be aware of the risks associated with these stocks.