Short Brazil Into Olympics with EWZ
The iShares MSCI Brazil Capped ETF (NYSEARCA:EWZ) has seen a big run this year, up over 50% YTD. While there are other potential ETFs or instruments to utilize, I chose this index as it boasts a large asset base, wide acceptance, and a long track record. It's heavily weighted toward 39.75% financial sector (39.75%), consumer cyclical (20.59%), and energy (10%), with the first of these vital to the short thesis as we will later point out.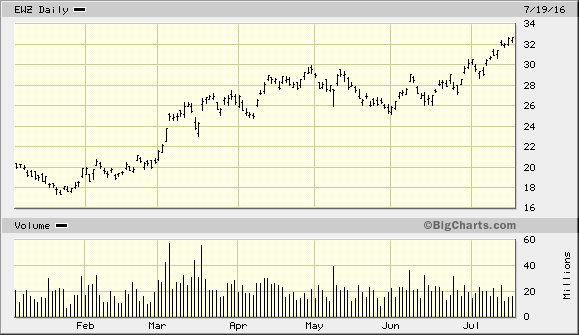 A brief glance at a chart of the Brazilian Real currency (source: Bloomberg) shows a similar jump from lows.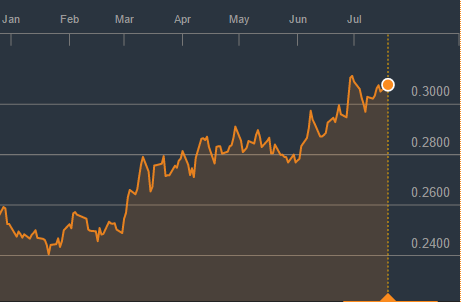 I imagine most of the readership of Seeking Alpha is at least generally aware of the situation in Brazil. The Guardian's Jonathan Watts and Bruce Douglas paint a dismal picture, with the economy slowing or stagnating for 8 of the past 10 quarters with GDP declining at the steepest rate since the 1930s, president Dilma Rousseff might be officially impeached after the Olympics, the Petrobras scandal caused more than 60% of company employees to lose their jobs, unemployment rate above 11%, increasing crime with 85% of Rio residents seeing lack of security as the biggest issue, the potential for a Zika epidemic, and a generally depressing environment with 49% of Rio residents in favor of the games.
While personally I admire the Brazilian culture and will celebrate the Olympics with my Brazilian coworkers and friends here in Peru, from an investment standpoint I'm pessimistic until proven otherwise, until real political and economic reforms that include difficult decisions are made that bring about tangible results. It seems I'm not the only one who feels this way, as top hedge fund manager Luis Stuhlberger of Verde Asset Management fame in his April investment letter commentary remarks that the Brazilian stock market "reflects an exaggeration of optimism for the new government", predicted a lost decade for Brazil, and pointed out they have a small short position.
An Economist article provides the below graphic and reminds us that Brazil is by far the most violent place the Olympics has taken place in, and that though the government has made strides in the right direction, progress has slowed down since 2012 and quite possibly has reversed direction.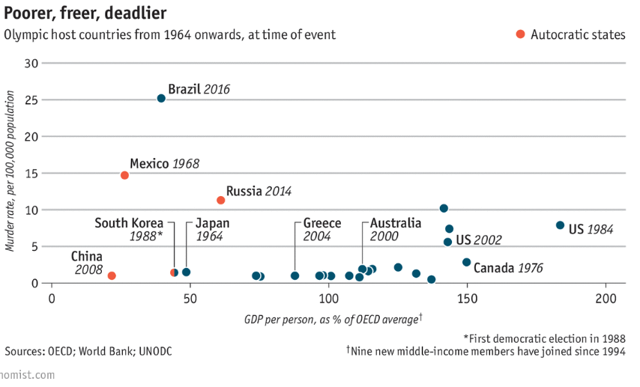 Click to enlarge
Maria Silvia Bastos Marques, the new leader of Brazil's development bank, may be successful in building confidence in government efforts to resuscitate the economy by focusing on loaning money to smaller businesses instead of larger private public partnerships, but it might be a case of too little too late. After all, the bank's credit portfolio increased over four times during Coutinho's 9 year reign, and the effects of such government largesse cannot simply be undone by taking small steps in the right direction. The graph below (source: Bloomberg) serves to remind investors of just how much money is at stake and imagine what could happen in the wake of increased defaults as is the case when most bubbles burst.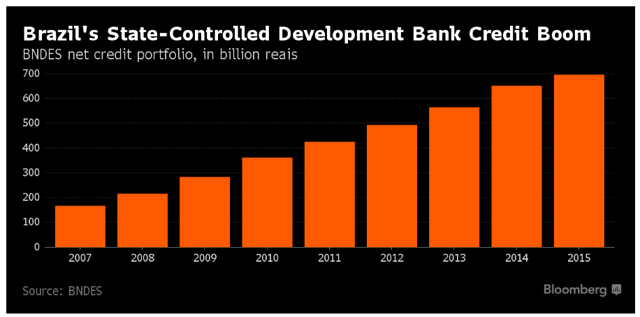 Click to enlarge
It's not hard to imagine a scenario where the shine fades post Olympics and the world (and investors) are reminded just how dire the situation is the country is facing and shift their views accordingly. The New York Times states "there is strikingly little evidence that such events increase tourism and draw new investment". Hopefully, the Olympics could serve as a signal to the world that Brazil is open for business, but the effects of such efforts will take a long period and in the meantime my thesis is that investors and markets will adjust expectations after the event.
The Political Storm Continues
Hopefully the political crisis is put to rest, but the current state of the market does not reflect the uncertainty inherent in the situation. There exists the chance that Rousseff tries to exploit the weak legal system and political framework to replace Temer- there's also the lack of credibility and popularity of Temer's government, partly due to leaked conversations that point toward ulterior motives for her Rousseff's impeachment.
Thesis
Again, while unemployment continues to creep upward with record budget deficits and investment in the country continues to be depressed, the EWZ iShares MSCI Brazil Capped Index continues to hit 52 week highs and the Brazilian real continues to strengthen. Either markets are in denial or there really is a recovery on the way.
There are two ways to win with shorting EWZ. One, if reality hits, whether political crisis, negative headlines, negative economic data, or other potential black swans that the market seems to be discounting as improbable. Or, after the Olympics are finished and tourists leave, the main obstacles come back into the limelight, and markets refocus on the difficult road ahead, some of the optimism deflates… a reversion to the mean if you will.
If the former, less likely but more frightening scenario comes about, where the crisis is not resolved and continues to escalate, meaning this was just an uptick on the road down, low $20s are a possibility. If the latter, a simple reversion to the mean, coming back down to a more realistic value, $24-$28 seems like a fair bet.
As stated before, risks to the short thesis include continued positive economic reforms and strengthening of the current government. As inflation continues to decrease another important factor is taken away from the shorts, as the government proves it can get a handle on the situation. If inflation continues to slow, there is a good chance of a rate decrease by the Central Bank of Brazil, which could also in turn fuel the market rebound. Additionally, if oil prices and commodities in general continue to improve, that would add more conviction to the long side.
To conclude, a quick look at the Ibovespa (Brasil Sao Paolo Stock Exchange Index), shows that we are approaching prior resistance (chart source: Bloomberg). A break above could confirm a longer term rally and put another nail in the short thesis, while failure to do so might signal this bounce is ready to reverse.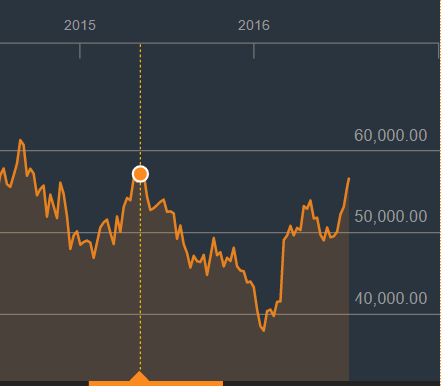 Best of luck to all and especially the residents of Brazil as the games get started.
Disclosure: I/we have no positions in any stocks mentioned, but may initiate a short position in EWZ, BZF over the next 72 hours.
I wrote this article myself, and it expresses my own opinions. I am not receiving compensation for it (other than from Seeking Alpha). I have no business relationship with any company whose stock is mentioned in this article.