Introduction
Just last week, I wrote an additional in-depth article on Orocobre (OTCPK:OROCF) as the company's share price has been performing really well in the past six months on the back of a huge hype in the lithium market. I claimed the company seemed to be fairly valued using a lithium price of $7,500/t, but every dollar increase in the lithium price would be upside potential. Orocobre has now released its quarterly report, and I wanted to finetune my assumptions.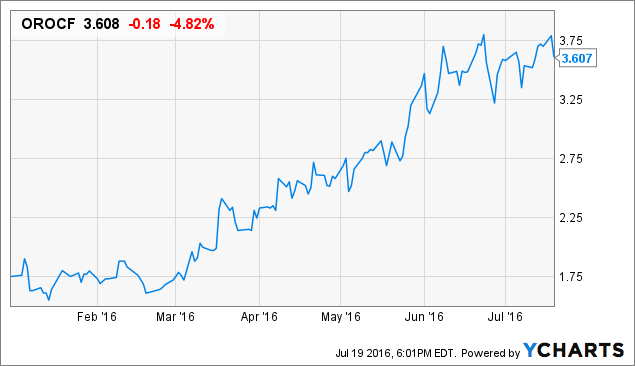 Orocobre should be traded on the ASX where the company is listed with ORE as its ticker symbol. Even though Orocobre has a US listing, the average daily volume in Australia is almost 600,000 shares.
A small production miss, but nothing to be alarmed about
In last week's article, I said the company's target to produce 3,000 tonnes of lithium carbonate in the second quarter of the calendar year 2016 sounded quite realistic, as it did look like Orocobre was able to solve all its operational problems and de-bottleneck the production phase.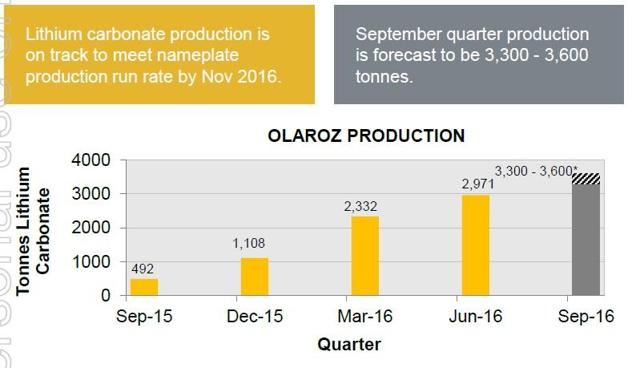 Source: company presentation
Even though the company produced just 1,100 tonnes in Q4 CY 2015 and 2,332 tonnes in the first quarter of the current calendar year, there seemed to be very little doubt the production increases can continue, and Orocobre produced 2,971 tonnes of lithium carbonate in the second quarter. That's indeed approximately 1% below its official production guidance, but I'm considering this to be within the 'error of margin' and I'm definitely not too worried about that.
More importantly, the lithium carbonate production rate will increase once again in the current quarter (as it should be!) to 3,300-3,600 tonnes. That's a relatively wide guidance, but I guess the company wants to make sure it will be able to effectively meet the guidance this time, and I think we'll see a total LCE production of somewhere in the middle (3,450-3,500 tonnes).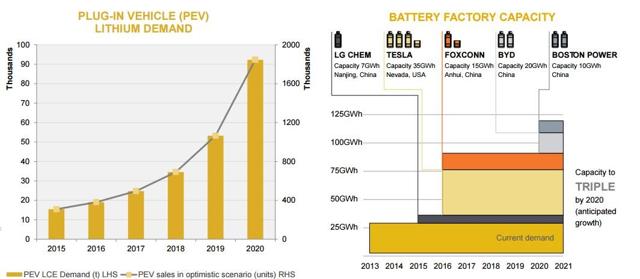 Source: company presentation
That's great, because Orocobre has confirmed it has been able to reduce its operating cash cost to approximately $3,500/t. On top of that, the sales price for the third quarter has now indeed been locked in at $10,000/t, indicating the operating margin at Olaroz will be $6,500/t or 65% of the revenue. That's great news because this also means the operating subsidiary (66.5% owned by Orocobre) will be generating in excess of $20M in net operating cash flow. This will enable the company to start hoarding cash to (A) repay the remaining construction-related debt and (B) save cash to build the potential expansion at Olaroz (see later).
A negative free cash flow in the quarterly report? Just dismiss it
Fundamental investors will, just like me, immediately look at the financial statements. Orocobre has provided a shortened cash flow statement but before you get disappointed (and alarmed), I would like to point out the Olaroz operations are NOT included in the cash flow statements.
Orocobre's 66.5% stake in Olaroz is 'housed' in a subsidiary which Orocobre reports on as having an equity stake in that subsidiary. The revenue from the lithium sales is not included in the corporate financials, which solely consist of Orocobre's Borax operations in Argentina. That's why there's a negative operating cash flow of $1.4M and a negative free cash flow of $2.5M.
And that's why you really shouldn't be worried about these negative cash flows, as Orocobre's operating subsidiary is definitely free cash flow positive by now (see above).
The expansion study will be ready within two months
In the previous article I already highlighted Orocobre's ambition to quickly increase the output at the Olaroz lithium project. Even though I was basing my 'additional value' calculations on a production rate of 17,000 tonnes per year, Orocobre seems to be more ambitious than that as it says it's investigating a potential expansion of 17,500-25,000 tonnes per day.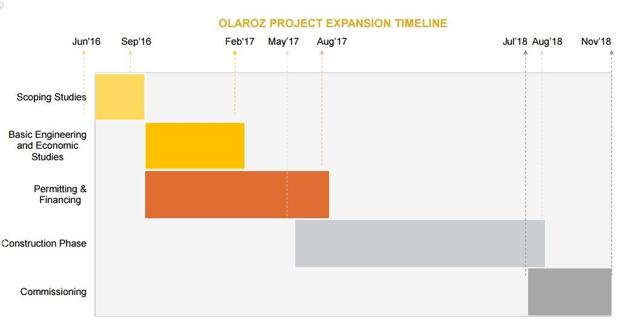 Source: company presentation
The company expects to release the results of its study towards the end of the current quarter, so in just two months we'll know whether or not Orocobre's Olaroz asset will be able to produce up to 40,000 tonnes of lithium carbonate per year. This announcement further strengthens the thesis I made in a previous edition of the Resource Sector Digest (co-published with Itinerant), expressing my opinion I wasn't too optimistic about all those micro-cap Lithium-plays, as the larger and established lithium producers (Albemarle (NYSE:ALB), FMC Corporation (NYSE:FMC) and Orocobre) all had expansion plans which could increase the world supply by 50%.
Additionally, the recent strength in the lithium price (and the fact the company no longer has to act on cash calls from its operating subsidiary) has caused Orocobre to have another look at the Cauchari salar, which isn't too far away from the producing Olaroz project. Orocobre plans to commence a drill program later this quarter to update the current inferred resource of 470,000 tonnes of lithium carbonate equivalent (which now has an in situ value of $4.7B). It would be very interesting to see if the resources can be increased and if Cauchari will be developed as a standalone-mine or as a satellite deposit for the Olaroz mine and production facilities.
Investment thesis
Everything seems to be fine at Olaroz, and Orocobre's operating subsidiary should now definitely be free cash flow positive thanks to the higher lithium price, higher production rate and lower cash costs per tonne of lithium carbonate that has been produced. This doesn't mean the subsidiary will start to stream cash up to its owners (Orocobre, the Jujuy Province and Toyota Tsusho), but it does mean the future cash calls from the subsidiary will remain limited to a cash call related to expanding the production rate at Olaroz.

Source: press release
Orocobre has locked in a price of $10,000/t and what's even more interesting is the company's hint it expects this price level to remain stable until the end of next year (see previous image). Should this indeed be the case, there's no reason why the operating subsidiary wouldn't be able to generate a free cash flow of $100M, reducing its net debt to less than $100M by the end of the next calendar year (unless it decides to expand the production rate to 35,000-40,000 tonnes per day). All options remain open!
Disclosure: I/we have no positions in any stocks mentioned, and no plans to initiate any positions within the next 72 hours.
I wrote this article myself, and it expresses my own opinions. I am not receiving compensation for it (other than from Seeking Alpha). I have no business relationship with any company whose stock is mentioned in this article.
Editor's Note: This article discusses one or more securities that do not trade on a major U.S. exchange. Please be aware of the risks associated with these stocks.