The Earnings Reporter
My goal in this segment is to unlock both short-term and long-term growth in stocks that have just reported earnings. These stocks are specifically subject to enormous volatility, as earnings reports are seen (and rightfully so) as a huge aspect of a company's progression. What I offer you is an analysis of the economic well-being of the company, and whether I think the stock is a Buy, Hold, or Sell for either (or both) the short term or long term. If you are interested in unlocking more immediate growth opportunities, click the follow button by my name! For the first time ever, I am giving Tile Shop Holdings (NASDAQ:TTS) a feature in "The Earnings Reporter" segment for a third time. Why? There are some serious changes going on at Tile Shop. Take a look at how the company has performed since my first earnings reporter article on them back on July 21st, 2015: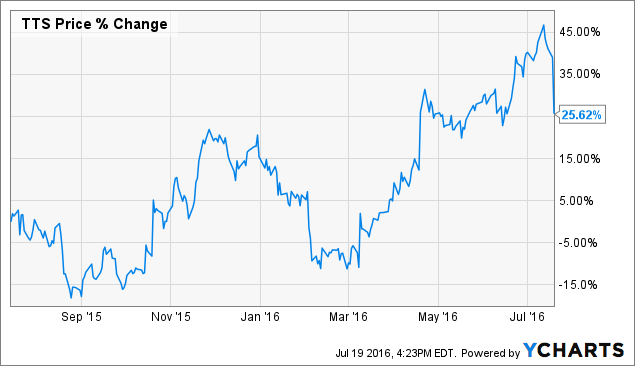 TTS data by YCharts
This chart is by no means me bragging and inflating my ego. On the contrary, it is to demonstrate the effectiveness of this segment, and why you should do your own risk-reward analysis after being exposed to unique opportunities featured here. After careful consideration, I still rate Tile Shop Holdings a Strong Long-Term Buy.
A Gross Overreation to a Solid and Reassuring Report
Before market open on July 19th, Tile Shop Holdings released earnings. A quick glance at its top and bottom line performance vs analyst expectations had me thinking it would clearly be on the rise during trading today. Damn was I wrong. I checked up on Tile Shop halfway through the day and was dumbfounded; the stock has fallen over 10%!! It's performance over the rest of the day didn't show any strong bounce-back: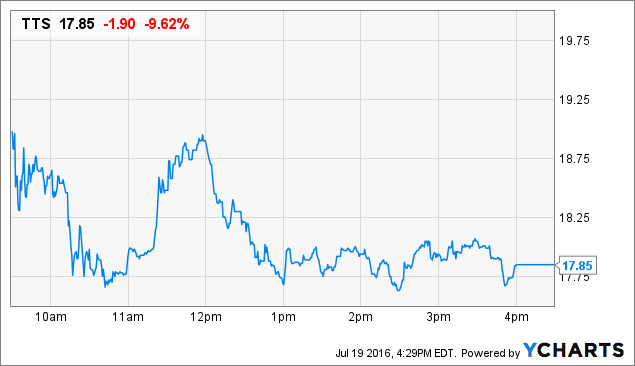 I couldn't believe my eyes, and quickly began poring over the report. I was even more bullish than ever after looking at the report, that I finally put my money where my mouth is: I am a proud owner of Tile Shop Holdings. I firmly believe that these guys operated with unprecedented efficiency this past quarter, and the numbers back it up.
The Numbers
First off, let's look at the biggest picture. Tile Shops generated a Q2 EPS of $.14, beating expectations of $.13 by only $.01. This isn't bad, but far from anything great. Total Sales came in at $84.27 Million, barely scraping by analyst expectations. Well, it looks like I've dug a bit of a hole for myself. Sure, Tile Shop beat on both top and bottom line estimates, but they barely did so. Why then did I make the decision to finally pick these guys up? For starters, there is absolutely no reason for a 10% drop in the stock price. Sales growth did taper off compared to other quarters, but an 8.2% comparable stores growth is still damn impressive. People were up in arms that Tile Shop couldn't increase sales by over 10%, but that's just unreasonably high expectations to act on. Operating Income grew nearly 40%, but you barely see any recognition of that in today's trading.
New stores unfortunately did not contribute as much to the top line as they had in the past. New stores accounted for only $2.4 Million in incremental sales growth. In the past, Tile Shop was successful in generating higher numbers for new stores. Maybe this represents a few poor location choices, but these numbers aren't particularly bad. They just aren't as incredible as pampered investors in the stock have been treated to.
Look, there was still a +11% increase in overall net sales. More importantly, Gross Margin raised ~200 basis-points from 67.8% to 69.7% in this quarter. That represented fewer discounts in Tile Shop stores, and much more efficient operations. This is incredibly important to recognize, as Tile Shop was able to still increase revenue substantially while cutting discounts. Products they provide are still in high demand, and this was a great quarter. CEO Chris Homeister had this to say:
We are pleased to report a second quarter with very strong results for our business. We continue to deliver against our key initiatives and the outcome was another quarter with outstanding sales performance and significant earnings growth. We are eager to build upon our first half accomplishments as we seek to deliver significant growth in sales, operating margins and earnings per share throughout the remainder of 2016 and beyond.
Costs to build up brand new stores decreased to approximately $1 million, down from $1.4 million. Tile Shops can begin expanding at a cheaper cost with a new capital structure; that's something to be excited about.
YTD Cash Flow increased to $29 Million, and management made a rational decision to spend $11.3 Million to pay off long-term debt obligations. Turnover declines and stronger staff retention also shows management's strong leadership and effective influence on employees.
Looking more macro, you can see strong June figures for US home construction. Construction of homes jumped nearly 5%, and more homes means more potential consumers for Tile Shop.
The numbers are solid. The fundamentals are there. This is a steal.
Design Studio
Tile Shop just announced an exciting new addition to their portfolio. Design Studio is an online application accessible from Tile Shop's website that will, according to Yahoo Finance, "allowing customers to personalize and visualize how an entire room or a distinct space will look upon completion of their project. The Design Studio gives customers and sales associates a collaborative platform to create customized 3D design renderings to scale. The Design Studio allows shoppers to input their specific room dimensions, choose from an extensive selection of Tile Shop's tile and stone products, trim and grout, visualize various tile layout possibilities and select accompanying furniture and accessories, including lighting."
Why is this important? During Tile Shop's earnings call, management highlighted the strength of Pro consumers at its shops. This is a tool that will entice many Pro consumers, and attract new ones. You must sign up on the Tile Shop website to access this free application, allowing Tile Shop to increase its user base and have more consumers to reach out to.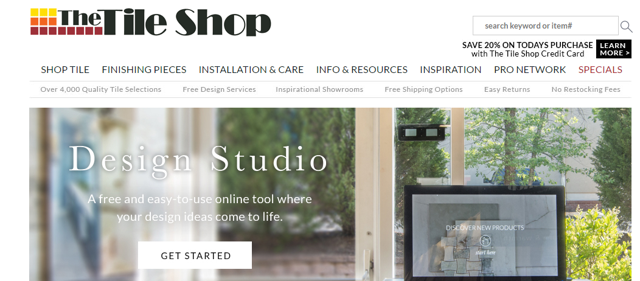 Not only will this innovative application help squeeze more money from consistent buyers, but it will generate new ones as well.
Conclusion
If Tile Shop can continue boosting sales and earnings, while increasing operating efficiency, I say no reason to back off from these guys. Introducing new stores with cheaper costs while offering an innovative application will only help the long run. The opportunity to invest is upon you. Enjoy.
Disclosure: I am/we are long TTS.
I wrote this article myself, and it expresses my own opinions. I am not receiving compensation for it (other than from Seeking Alpha). I have no business relationship with any company whose stock is mentioned in this article.