General Electric (NYSE:GE) announces earnings for its second quarter on the 22nd before the bell and analysts expect an earnings per share of $0.46 which would be a full $0.15 higher than the corresponding quarter in 2015. The stock is up a whopping 10%+ since markets bottomed on the 27th and sentiment is getting rather bullish. On a short-term basis, the stock is definitely overbought and due for a pullback (see chart). Earnings could be just the catalyst to bring my assumption about so investors with short-term intentions need to be wary.
Operating margins fell last year to 14.4% and revenue fell to $117 billion as the company continues with its transition. The company's oil and gas segment is really the division where GE is struggling at present. Suffice to say that if its operating profit declines by more than the expected 30% this year, achieving its full year EPS goal of $1.45-$1.55 will be difficult to say the least. Its Power, Aviation & Healthcare divisions now have to take up the mantel. They have been performing well to date but investors will need to see positive guidance in all three areas in the event of a sustained lack of demand in its oil and gas division. Here are key metrics investors will be tuning in for.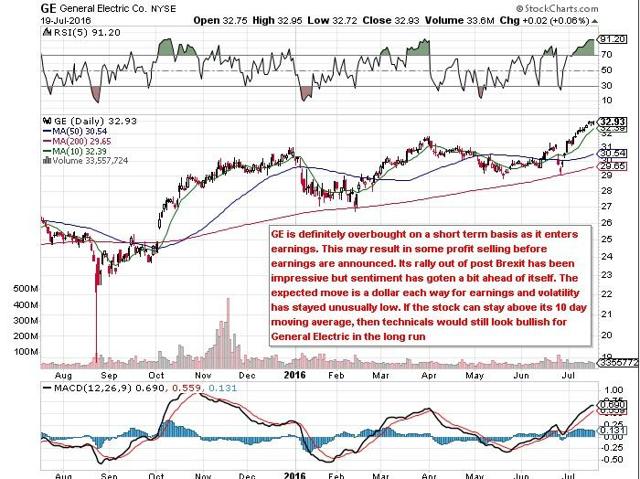 Click to enlarge
Source: Individualtrader.net
In terms of the power division, it is critical that guidance remains strong for the rest of the year. GE has already guided that it will deliver 115 gas turbines this year alone, so if that number is increased, it would be a bullish move. General Electric bought Alstom recently and although operating profit was up in the first quarter, when you strip out Alstom's additions, it actually declined by 28%. This is worrying not just from a profit point of view but also from a margin point of view. Alstom's lower margin businesses resulted in a drop in operating margin last quarter. Therefore, information on synergies and how cuts (we are seeing them now with the closure of plants) can increase margins once more will be sought by investors. In fact, GE already stated that synergies were ahead of plan with relation to Alstom so we will see how these items pan out when earnings are announced
With respect to the aviation division, we had the opposite story regarding margins and expectations that this division will continue to grow meaningfully. The new jet engine (LEAP) rollout is critical and it will be interesting to hear both the company's guidance for forthcoming quarters as well as what the company delivered in the second quarter. GE has been busy in this section as of late with numerous deals including $25 billion in orders and commitments from farnborough's air show in London last week. However as we know in this industry, it's all about getting products delivered not just from an earnings perspective but also from the service viewpoint. It is the service division, which holds the big margins. Service revenue spiked by 17% last quarter so investors will be looking for more of the same this time round
In terms of dividend investors, the company's free cash flow dipped to $12.58 billion last year, but this year, analysts expect that they will top $30 billion, which is good news for shareholders. Why? Because $8 billion in dividends and a further $18 billion in buybacks is scheduled to be returned to shareholders this year. Now this is the majority of its free cash flow, so safer income investors would not like to see GE take on a sizable piece of debt to further future acquisitions for example. Its current debt to equity ratio is 1.48, which is the lowest it has been in a decade. However, with the company digesting its financial divisions, this company now becomes more cyclical which means cash flow numbers could be more irregular in the future. A company with over a $300 billion market cap giving out a 2.8% yield is attractive considering the growth opportunities it presently has on its books. Nevertheless, dividend investors will be mindful of the payout ratio and that a dividend increase may be due soon.
With a forward price to earnings ratio of 21.9, even if GE hits a home run in two days' time, I would only foresee investors stepping in and taking profits. I see General Electric as fairly valued at around the $30 level and could become a strategic part of our portfolio (due to its stability) if and when volatility increases. There is just not enough implied volatility at present to put on an earnings trade. We will sit tight, see how earnings play out and adjust accordingly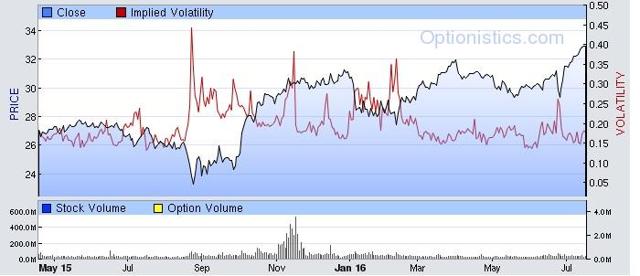 Click to enlarge
To sum up, I'm going to be adding a few good dividend and growth stocks to the Elevation Portfolio over the next several weeks when I see value. In order to ensure that income is brought in every month, it's imperative that they are not correlated and all don't have similar valuations. You can follow along by pressing the "Follow" button above.
Disclosure: I/we have no positions in any stocks mentioned, and no plans to initiate any positions within the next 72 hours.
I wrote this article myself, and it expresses my own opinions. I am not receiving compensation for it (other than from Seeking Alpha). I have no business relationship with any company whose stock is mentioned in this article.