By Parke Shall
Valeant (NYSE:VRX) shot up in after hours trading yesterday on the news that to future drug prospects Relistor and Brodalumab had both received approval by the Food and Drug Administration. Both drugs received approval by the FDA at two different points during the day yesterday, with the second approval coming after market close. The stock moved up 5% this morning and we believe that these approvals could be a much bigger deal for the company then many people think.
The stock is responding by moving almost 10% higher on the week.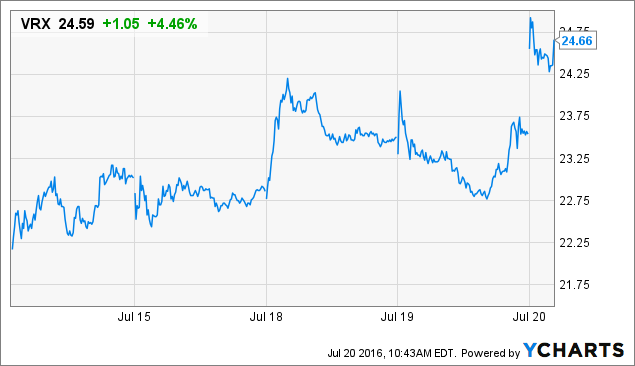 VRX Price data by YCharts
In this article, we wanted to give a brief explanation as to why.
Rodman and Renshaw summed it up this morning, reiterating a $90 target on Valeant,
Brodalumab and oral Relistor pass with flying colors. On July 19, 2016, an FDA advisory committee gave brodalumab, an investigational anti-interleukin-17 (anti-IL-17) monoclonal antibody for moderate-to-severe plaque psoriasis, a unanimous 18-0 vote in favor of approval. The panel also recommended, as we anticipated, a safety monitoring regimen and label warnings for the drug. The brodalumab BLA carries a PDUFA action date of November 16, 2016. In our view, the vote in favor of brodalumab constitutes a meaningful positive value driver for Valeant, since it substantially increases the likelihood of brodalumab approval later this year. Investors should note that our projections do not include any contribution from U.S. sales of brodalumab, and thus the drug's approval could drive upside to our projections…
These two drugs could generate well over $1 billion annually for the company.
One of the charges that Valeant has faced over the last year during its controversy is that it overpaid for all of its acquisitions and that there is no organic growth at the company. This is why the company is currently valued at bankruptcy multiples. Investors do not believe that there is any way to separate the businesses and come out with positive equity due to the overall company's enormous debt load.
The one unknown from the company is the sum of its future earnings and future cash flows. This one variable is going to play a very distinct role in whether or not Valeant is eventually successful in moving higher from here or not. If the company cannot generate cash easily, we know its assets cannot be sold off for more than its liabilities and the company has a real problem.
If the sum of the company's future cash flows will be enough to service its debt and the company can figure out alternate ways to unlock value, perhaps from a Bausch and Lomb spin-off, then we have a question of what the Valeant side of the business would look like in the event of a split.
We said in our June 4th article on Valeant that an interesting idea would be to turn the company into a traditional drugmaker, and have half of the company used as a speculative biotech operation that helps bring drugs up through a conventional pipeline, like normal companies do. The other half could be a B&L spin off, perhaps with some additional cash generating assets.
This would give VRX an opportunity to shift some of the remaining debt any way they'd like, in accordance with what portions of the business are generating the cash capable to service it.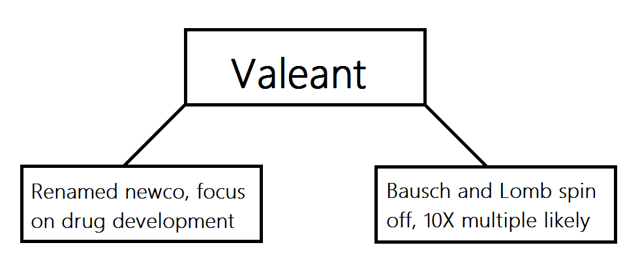 Click to enlarge
These two approvals would give the renamed newco in the above diagram a nice start.
Regardless, this approval yesterday shows that bulls may still have an argument, and it may help refresh the company by being the first good piece of organic news that Valeant has had in probably a year.
When commercialized and brought to market, these drugs could contribute billions in revenue that could eventually lead to significant sums of cash dropping to the bottom line. This, combined with the company's already announced plans to sell off some assets and perhaps rename itself Bausch & Lomb, could make for a fruitful runway for Valeant going forward.
If the company can show the market that it is investable and that it has future prospects while it is capable of paying down its debt, we expect that multiple expansion could very well happen.
Multiple expansion is the key to the stock price going up here.
The important take away here is this; Valeant has really been unable to hit on its 2016 goals so far, with executives leaving in the stock price collapsing,
These two new drug approvals show for the first time, some investments that VRX made may be worth what they cost
If the company can commercialize these drugs successfully, it is going to lead to much needed cash inflows
If the company can take advantage of these approvals while servicing its debt and delivering, we think it's multiple can expand.
If the company can execute this business strategy, the buy side may finally take a look at it
Getting the buy side involved and convincing investors and analysts that the business can be sound is the key to multiple expansion from here
So while these two approvals are not a game changing piece of information in and of themselves yet, they are the first step on a long runway of steps that the company must take in order to show the public it is serious and the first step in getting its stock price moving in the right direction again.
When new CEO Joe Papa took his position at VRX, the stock price was around $35. Since then, but for a lot of noise, no materially adverse news has taken place for VRX.
We have a long argued that the company has a fantastic piece of value buried into a shell that is being treated like it is going bankrupt. Bausch & Lomb is a pure value play and a staple type of consumer goods company similar to a Procter & Gamble (NYSE:PG) that is hidden in a pool of assets that are otherwise tough to discern.
We've argued before that Valeant needs to separate this asset out to create value, and Mr. Ackman's comments two weeks ago on CNBC make it seem to us that they are considering it. Even putting a 10X multiple just on this one portion of the business would likely result in the current equity almost doubling and we believe that Valeant is devising a plan to make that happen. Now, with organic growth positives on the horizon, Valeant is arguably in one of the better places it has been in since this entire controversy started.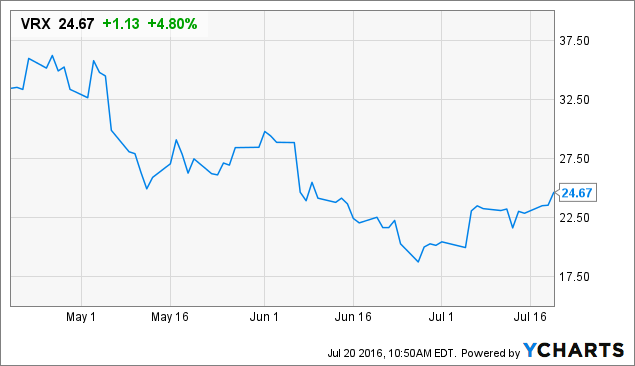 VRX data by YCharts
As you can see from the chart above, Valeant has decreased in value by about 20% since Mr. Papa came on as CEO. We see this as the first of many positives he will have under his belt and due to the company's bankruptcy multiples of 2X non-GAAP earnings, we believe a move back to $35 is definitely possible before a move much higher toward $50 or $60 over the next 12 to 18 months as the business steadies.
Disclosure: I am/we are long VRX.
I wrote this article myself, and it expresses my own opinions. I am not receiving compensation for it (other than from Seeking Alpha). I have no business relationship with any company whose stock is mentioned in this article.