The iShares Nasdaq Biotechnology ETF (NASDAQ:IBB), which tracks the Nasdaq Biotechnology Index (NASDAQ:NBI), has been range-bound between $240 and $290 since January, on concerns about the supposed political dark cloud hanging over prescription drug prices. The SPDR S&P Biotech ETF (NYSEARCA:XBI), which tracks the S&P Biotechnology Select Industry Index (INDEXSP:SPSIBI), fares somewhat better than IBB, as the ETF has skyrocketed over 30% from the February low of $44.07 a share.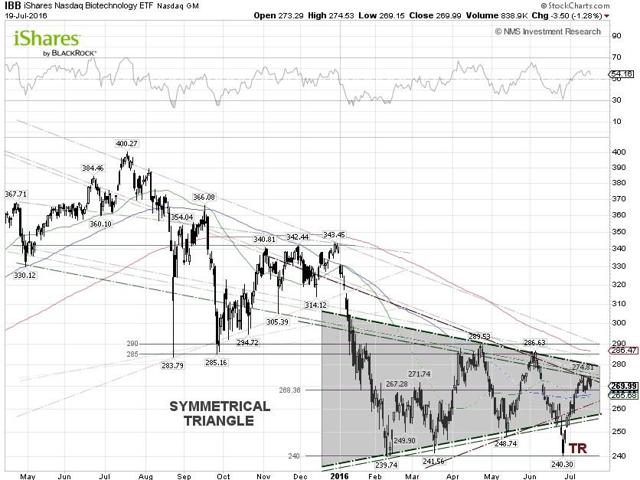 Click to enlarge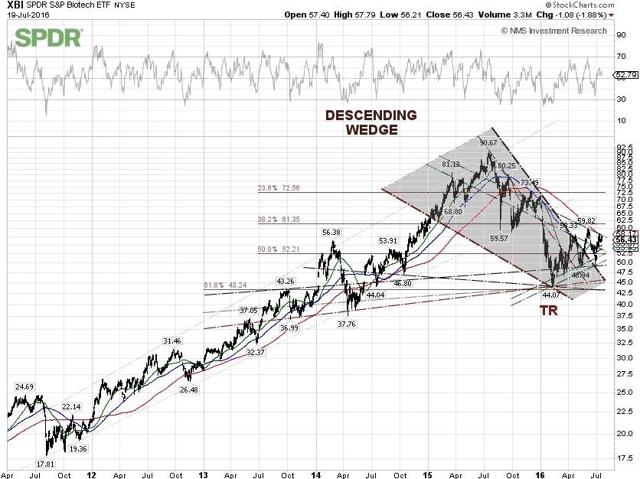 Click to enlarge
Presumptive presidential nominees from both parties have laid out plans for lowering prescription drug costs and to take on the pharmaceutical and biotechnology industries, with Congress also jumping into the debate and holding a series of hearings on the issue of drug prices. Both Hillary Clinton and Donald Trump are calling for Medicare to be able to negotiate with pharmaceutical companies to lower drug prices and for allowing drugs to be imported from abroad.
Investors may begin to realize that the prospects for a comprehensive government reform plan for high drug prices isn't likely for the foreseeable future, as significant opposition mounts from lawmakers, industry, and some patient advocacy groups. In late April, a powerful coalition, the Campaign for Sustainable Rx Pricing (CSRxP), whose members include the AARP, the American Hospital Association, America's Health Insurance Plans and Walmart, issued a set of market-based policy proposals to curb rising drug prices, which call for increasing transparency, promoting competition and innovation and that result in value.
In their proposals, the group, however, omits any change in the law that would allow Medicare to negotiate prices with pharmaceutical companies, a key piece of both Clinton's and Trump's prescription drug plans.
There are risks associated with both the Clinton and Trump drug plans, as a drop in drug prices could result in a cutback in R&D investments and fewer pharmaceutical products in the pipeline. Price controls on prescription drugs may also limit current patient access to the latest therapies. Voters could quickly become angry if the plans do not produce significant reductions in prescription drug prices.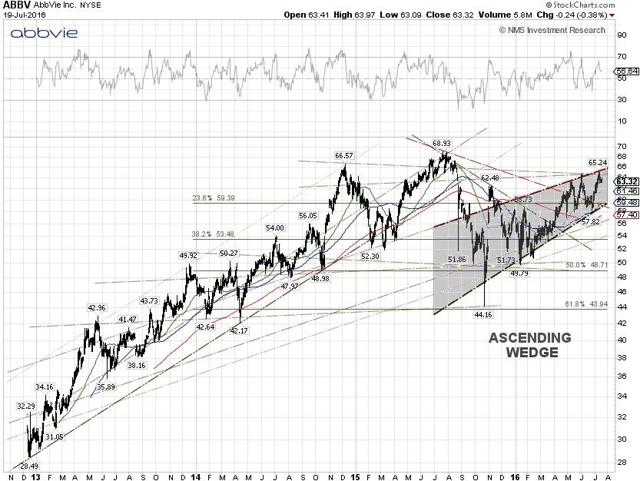 Click to enlarge
With increasing U.S. government regulations, pharmaceutical and biotechnology companies, including Biogen (NASDAQ:BIIB), Bristol-Myers Squibb (NYSE:BMY), and AbbVie (NYSE:ABBV), are in the process of building state-of-the-art, large-scale biologics manufacturing facilities overseas to reduce manufacturing costs and find better incentives than are available in the United States. A prescription drug cost control bill, or any change to existing law, to be introduced by presumptive nominees from both parties would accelerate those processes, in light of the U.K.'s proposed corporate tax cut to 15% to boost foreign investment.
Speculators have been using the political noise as a backdrop to take short positions against the biotechnology sector. According to the NASDAQ, on the settlement of September 30, 2015, IBB short interest surged 23.8% to 11.54 million shares, since Hillary Clinton sent out a tweet on September 21, 2015 saying, "Price gouging like this in the specialty drug market is outrageous. Tomorrow I'll lay out a plan to take it on. -H," in response to Turing Pharmaceuticals, after it raised the cost of an older antibiotic drug, Daraprim, by more than 50-fold and said the drug was still a bargain at $750.
Since then, IBB's short interest has dropped to 5.73 million shares, as of settlement on June 30, 2016, or about 22.9% of shares outstanding. About 29.54 million XBI shares, or 84.8% of shares outstanding, have been sold short, as of settlement on June 30, 2016.
From a technical viewpoint, IBB bounced off the $240 support level, or the February low, as a potential trend reversal may be emerging. There are three major resistances at $280, $285 and $290, respectively, and the trend reversal is confirmed when the IBB can close above the $290 level. Closing and staying above the 200-day moving average, or about $286.65 per share, will trigger a short squeeze. The XBI, which bottomed in February, continues its uptrend move in a symmetrical triangle chart pattern. Closing and staying above the 200-day moving average, or about $58.20 per share, will trigger a major short squeeze.
The Probability of Major Prescription Drug Price Reform is Dim if U.S. Heads into Recession
There are warning signs that the U.S. economy may not be as strong as Federal Reserve and economists have painted it to be, as job and economic growth are decelerating while the core PCE index used by the Fed to measure the inflation, continues to run below the Fed's 2% inflation target. If nothing changes, the next president could inherit the weak economy from the present administration.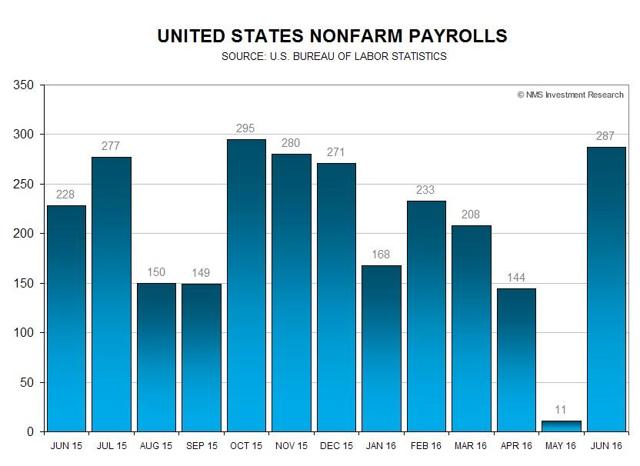 Click to enlarge
According to the Department of Labor, U.S. nonfarm payrolls has declined steadily from 295,000 jobs added in October 2015 to 11,000 added in May 2016, while hourly wages inched up a mere 1.18% from $25.21 per hour to $25.59 per hour during the same period, despite a rise in minimum wages in some states and cities. The June nonfarm payrolls report came in at 287,000, but the figure could be an outlier, as the mean and standard error may be as high as 147,000 and plus and minus 80,000, respectively, for the three-month average, April to June.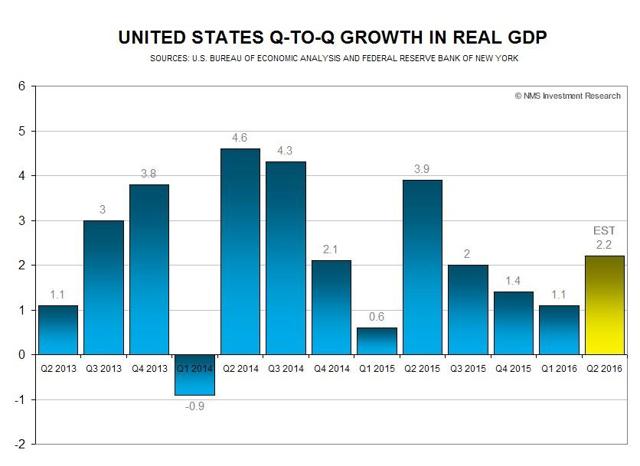 Click to enlarge
The U.S. Bureau of Economic Analysis will release the second-quarter GDP (advance estimate) on July 29. The current GDP forecast by the Federal Reserve Bank of New York is 2.2%, the lowest second-quarter GDP since 2014. Depending on the forecaster, the second-half of 2016 could be worse. Last week, the Conference Board lowered its short-term forecast for the second-half of 2016 to just 1.6%, due to growing uncertainty. David Kostin at Goldman Sachs expects U.S. economic growth to improve to 2.3% in the second-half of 2016.
The Fed's preferred measure of inflation, the core PCE, climbed from 109.860 in October 2015 to 111.022 in May 2016, an increase of just 1.06%. The core PCE price index for May came in at 1.62% on a year-on-year basis, compared to 1.58% from the previous month. In fact, the core PCE has been running below 2% since the second-quarter 2012.
The yield spread between the 10-year and 2-year U.S. Treasury Notes, one of the economic indicators, has narrowed to 0.86 percentage points, the level not seen since late 2007. Narrowing spreads may indicate worsening economic conditions in the future, resulting in a flattening yield curve, while a very low or negative spread could signal an upcoming recession. Analysts at Deutsche Bank, led by Dominic Konstam, issued a warning in early July that the recent flattening yield curve suggests a 60% chance of a U.S. recession occurring in the next 12 months, the highest probability of an economic contraction since the financial crisis of 2007-2008.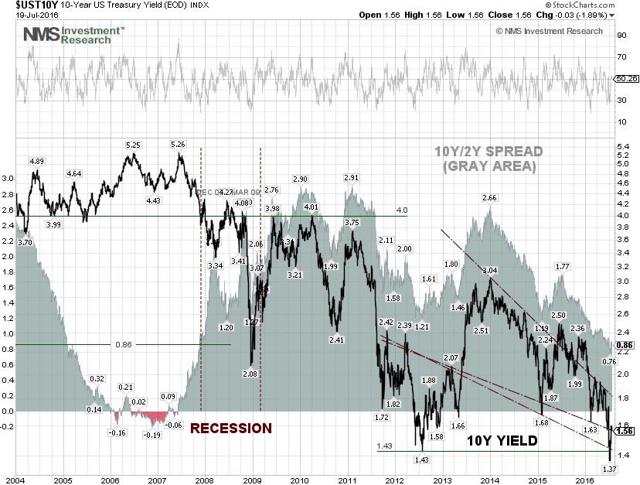 Click to enlarge
The yield spread between the 10-year and 2-year U.S. Treasury Notes has been on the decline since it peaked in December 2014 at 2.66 percentage points, two months after the FOMC decided to end the quantitative easing program. Soon after, Wall Street economists stepped up their speculations about the timing of the Fed's first rate hike and sent fear to the bond market, which had already driven the 10-year and 2-year U.S. Treasury Notes yield spread lower.
From a historical perspective of the Fed leading up to the last U.S. recession, from December 2007 through March 2009, the Fed began hiking the short-term rate from 1.0% to 1.25% in June 2004 as the yield spread between the 10-year and 2-year U.S. Treasury Notes stood at 1.9 percentage points. By the time the Fed raised the key rate by a quarter-percentage point to 5.25% for the last time in June 2006, the yield spread was already in negative territory.
IBB's and XBI's Top Holdings are About to Break Out
Shares of Amgen (NASDAQ:AMGN), IBB's top holding with a weight of 8.5%, and a 2.49% weight in the XBI, are bumping into the $164 head resistance and are about to break out. The company posted better-than-expected results for the first-quarter 2016, driven by strong sales of its flagship rheumatoid arthritis drug Enbrel (etanercept). Sales of Neulasta (pegfilgrastim), its second blockbuster drug, rose due to improved demand and higher pricing in the U.S., while Neupogen (filgrastim) sales declined 13% to $213 million amid increased competition.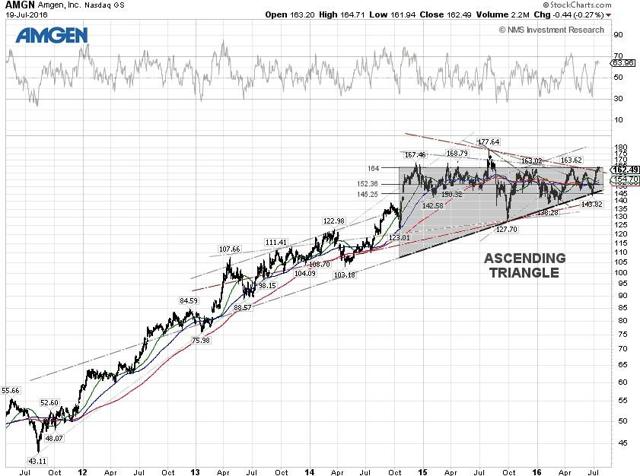 Click to enlarge
Amgen will report its second-quarter 2016 earnings on July 27. Wall Street is expecting EPS of $2.73 on revenues of $5.57 billion. Investors may want to keep a close eye on sales of cholesterol-lowering drug Rephatha (evolocumab), approved in August. Last quarter, Rephatha sales came in at just $16 million and missed Wall Street's expectations, despite that CVS Health (NYSE:CVS) will provide preferred access to Repatha through its CVS/caremark commercial formularies. The startlingly slow launch of Rephatha could be due to rigorous paperwork required for the patient to fill out and lack of clarity on the drug effectiveness on cardiovascular outcomes.
In June, Amgen said the top-line results from their FOURIER outcomes trial designed to evaluate Repatha, whether the addition of evolocumab to statin therapy reduces cardiovascular morbidity and mortality in patients with vascular disease, will be available in the first-quarter 2017.
Shares of Regeneron Pharmaceuticals (NASDAQ:REGN), another IBB top holding with a weight of 7.11%, and a 2.43% weight in the XBI, have been under selling pressure on concerns about the growth prospects of eye drug Eylea (aflibercept) and increased competition in the wet age-related macular degeneration, or AMD, market, as well as the legal battle with Amgen over patent infringements of Repatha.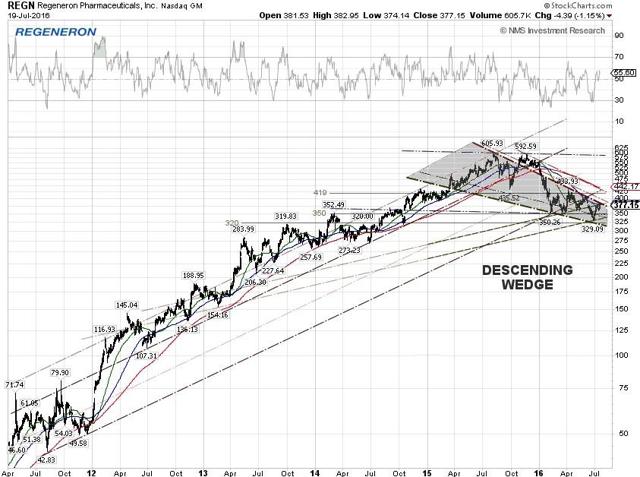 Click to enlarge
The company is expected to report its second-quarter 2016 earnings on August 4. Wall Street is expecting EPS of $2.63 on revenues of $1.24 billion. The stock has been trading in a range between $350 and $419 since the beginning of the year and has now broken out above the 50-day moving average. A REGN short squeeze may be ahead if the stock can break out the $419 level.
Last month, analysts at Canaccord Genuity, John Newman and Andrew Lam, sent out a note and warned investors to tread cautiously regarding positive Phase 3 trial data from Ophthotech Corporation's (NASDAQ:OPHT) Fovista Anti-PDGF therapy. From our viewpoint, investors may want to remain skeptical about Fovista, as the therapy requires two-intravitreal injection visits to the ophthalmologist every month until maximum visual acuity is achieved, one injection of Novartis' (NYSE:NVS) Lucentis (ranibizumab) and one injection of Fovista. Dual injection therapy would most likely be more expensive than Eylea's single-injection treatment every four weeks for the first twelve weeks, followed by a single-injection every two months.
In early April, Regeneron received a big boost after announcing that its experimental drug dupilumab for the treatment of atopic dermatitis, a debilitating skin condition, met all of its major treatment targets in two late-stage Phase 3 studies. According to some Wall Street analysts, dupilumab, co-developed with Sanofi (NYSE:SNY), could have peak annual sales of more than $3 billion for that disease alone. The drug, which is designated as a "breakthrough" therapy by the FDA, is also being studied for asthma and other allergy-related inflammatory diseases.
Sanofi owns a 22.40% stake in Regeneron, or about 23.55 million outstanding shares, and it could raise the stake as high as 30%. In a SEC Form 4 filing on June 16, 2016, Regeneron said Sanofi purchased 64,731 shares of their company on June 14, 2016 at $364.22 per share for a total value of $23,552,858. If Regeneron shares remain undervalued, Sanofi could either increase its stake in Regeneron or takeover the company outright.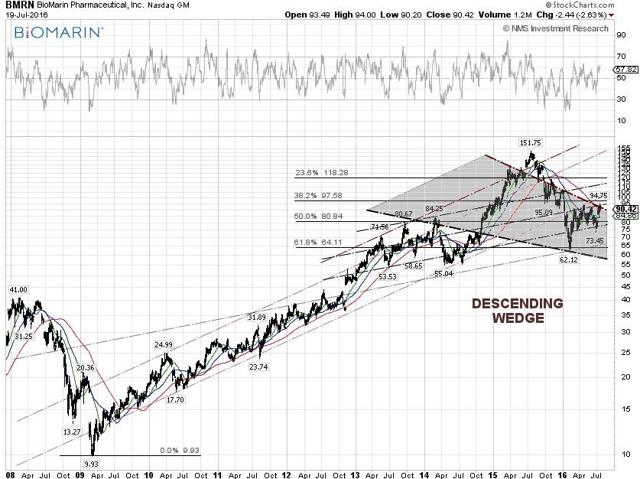 Click to enlarge
Shares of BioMarin Pharmaceutical (NASDAQ:BMRN), a top IBB and XBI holding with 2.83% and 2.71% weight, respectively, have been on the rise after takeover rumors from Roche Holding AG (OTCQX:RHHBY) in a deal for between $130 and $150 per share. BioMarin posted mixed first-quarter 2016 results, as sales of Naglazyme (galsulfase), a drug for the treatment of some of the symptoms of a genetic condition called Maroteaux-Lamy syndrome, continued to be lumpy. Most of the revenue growth came from Vimizim (elosulfase alfa), a drug for the treatment for Morquio A Syndrome, up 43.5% year-over-year, and Kuvan (sapropterin dihydrochloride), a drug for the treatment of Phenylketonuria, or PKU, which increased 53.2% year-over-year.
The company is expected to report its second-quarter 2016 earnings on August 4. Wall Street is expecting an EPS loss of $1.31 on revenues of $277.83 million. The stock is about to break out and should move to above the $100 level if the company can deliver better-than-expected results.
Conclusions
Concerns about the supposed political dark cloud hanging over prescription drug prices have weighed on shares of IBB and XBI. Speculators have been using the political noise as a backdrop to take short positions against the biotechnology sector, though investors may have begun to realize that the prospects for a comprehensive government reform plan for high drug prices isn't likely for the foreseeable future, especially if the U.S. enters into a recession. Shares of IBB have bounced off its support level and a potential trend reversal may be emerging, while XBI continues its uptrend move as top holdings of the ETFs, including AMGN, REGN and BMRN, are ready to break out on earnings results.
Disclosure: I am/we are long ABBV, BIIB, REGN.
I wrote this article myself, and it expresses my own opinions. I am not receiving compensation for it (other than from Seeking Alpha). I have no business relationship with any company whose stock is mentioned in this article.