It has been a rough couple of months for shares of Carnival Corporation (NYSE:CCL). The stock is down 10% since late June and off nearly 20% for the year. Higher oil prices, the strong dollar, and travel safety concerns have all hurt. Yet, for the long-term focused investor, there are signs of strength in the cruise line. Carnival is trading at a discounted valuation and offers an above average yield.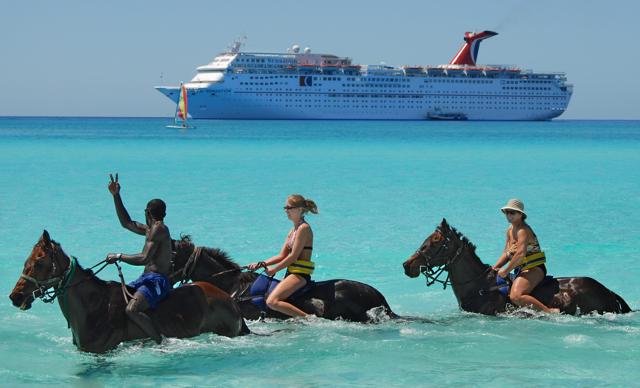 Brexit concerns
One of the biggest headwinds this year for Carnival has been the negative news out of Europe. Brexit impacted the stock almost immediately as the company does a lot of business in the UK.
Around 30% of Carnival's currency exposure is in the British pound and that is expected to hit earnings to the tune of $0.08 per share this year.
Likewise, the recent terrorist attack in Nice, France, a major tourist area, as well as the attempted coup in Turkey, again a big tourism spot, have added even more uncertainty. Travelers can be very fickle with their spending and these sort of incidents are obviously not good for business. While Carnival has not really seen much of a hit on bookings, more on that below, more instability in Europe is worrisome.
Strong earnings outlook
Setting aside some of the above "headline" risk, Carnival's business is booming. The company recently report very strong fiscal Q2 2016 results with adjusted EPS of $0.49, nearly doubling the prior year's $0.25. Net revenues were up 3.6% when adjusting for currency, versus estimates of 1.5-2.5%.
Keep in mind that Carnival is running above its cumulative advance bookings for the rest of the year compared to 2015. These are also at a higher price point as Carnival recently raised prices. The company also noted that booking trends for 2017 are at prices above those for 2016, a good indicator for future profits.
Carnival is on track to hit the midpoint of its full year 2016 adjusted earnings guidance of $3.25 to $3.35 per share, which is 20% to 25% higher versus 2015's $2.70. This is despite currency and oil price increases adding up to a $0.17 per share hit.
High yield at an attractive price
Assuming the low end of Carnival's 2016 EPS guidance ($3.25), the stock is trading at a very attractive 14x multiple. Furthermore, the dividend, which was recently raised by 17%, is hovering above 3%. This is a compelling amount of income in a low yield environment.
Carnival's dividend payout ratio based on TTM EPS is 40% and 52% of TTM free cash flow per share (47% and 60% when adjusting for the recent increase). This is a very modest payout ratio given the 3% yield.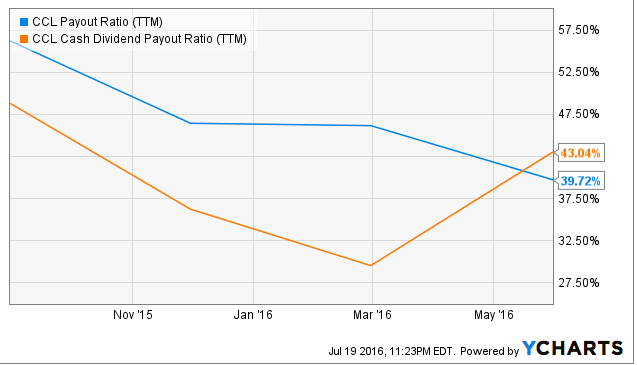 Carnival also boosted its share buyback program, adding another $1 billion authorization, good enough to retire ~3% of the float. Carnival has bought back $1.9 billion in shares of its stock since October, boosting the shareholder return yield (dividends plus buybacks) to nearly 9%.
Conclusion
Carnival is trading at a 3% dividend yield, trades at under 14x forward earnings, and is returning pretty much all of its cash flow back to shareholders via the buyback, all while growing at a 20%+ rate.
While travel stocks are currently out of favor, I believe Carnival represents a real gem in an overvalued market. Outside of energy, I cannot think of a better combination of growth/yield/value.
Disclaimer: The opinions in this article are for informational purposes only and should not be construed as a recommendation to buy or sell the stocks mentioned. Please do your own due diligence before making any investment decision.
Disclosure: I am/we are long CCL.
I wrote this article myself, and it expresses my own opinions. I am not receiving compensation for it (other than from Seeking Alpha). I have no business relationship with any company whose stock is mentioned in this article.