The Model (shown in red below) attempts to find the seven influences or indicators corresponding with quarterly GDP growth, which together have the most explanatory power. Each of the seven factors is plotted to show the lead time with the strongest correlation to growth on a scale (y-axis) that shows the factor's weight in the model. The Model is based on relationships to growth since 2005.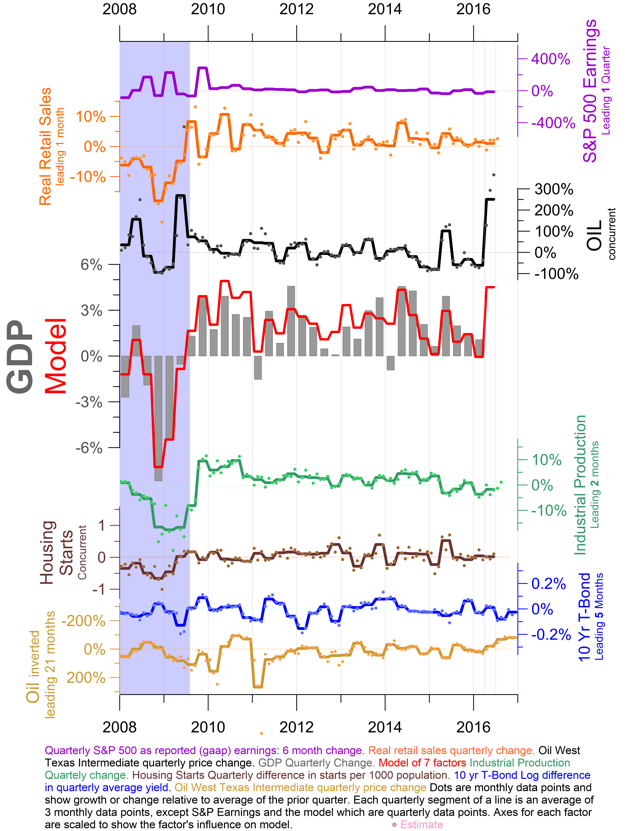 Click to enlarge
The Model forecasts 4.5% GDP. This is the strongest model reading since 2010 and is stronger than any actual quarter since Q2 2014.
The Seven Factors
As reported or GAAP earnings (purple line) show weakness for Q2 it is still below 0%, but not as weak as for Q1.
Real retail sales (orange line and dots) suggest a modest decline in growth from Q1. Q3 appears to be off to a slightly stronger start.
Oil averaged $45.41 a barrel in Q2 which is up 37% from the $33.18 in Q1. At the annualized rate shown on the chart that's 251%. This spike is the main reason the model shows a blow out Q2. On a leading inverted basis the fall in the oil price 21 months ago (shown as a rise on the gold line for Q2) suggests stronger growth for Q2. As a leading indicator oil suggests an increasing economic tail wind for the rest of the year. With a price in July running around $45 oil could go from a 251% increase to a decrease for Q3. Statistically, the concurrent price of oil is the most significant of the 7 factors so Q3 could well be off to a much weaker start.
Industrial production (green line) is still below zero for Q2, yet a significant bounce from what it indicated for Q1. With its two month lead time the May and June data points suggest Q3 will have no growth, but this is an improvement over the previous two quarters.
Housing starts (brown line) show no growth for Q2, which is slightly weaker than Q1. The high point for housing was back in June 2015.
10-year Treasury yield (blue line and dots) implies Q2 will be stronger and positive. Q3 looks to be the weakest quarter in about 3 and a half years.
Q1 recap: the model initially estimated Q1 at -0.3%. Subsequent data revisions have the model at -0.0%. Actual growth is at 1.1% up from initial estimates of 0.7%. The difference between actual and model is near 1 standard deviation.
Recession Watch
What will probably turn out to be a strong Q2 is likely a sign of economic volatility rather than enduring strength. Early in the year we thought the recession might start in Q3. That still looks possible at least by the end of the quarter. A number of indicators appear to have hit their high points or high growth rates for the business cycle and to be trending down.
Our model (shown in red below) looks at the 5 year growth rate of GDP. The model hit its high point for the cycle in April 2015. The 5 year growth rate peaked in Q1 2015. The model bottoms in April 2018. We think the business cycle is on a glide path that drops into recession sometime in the next few months.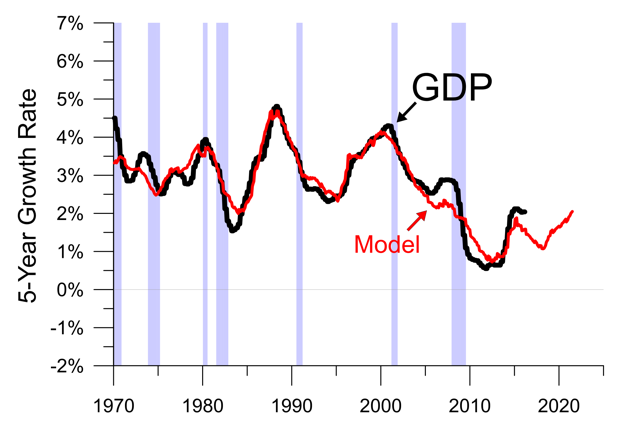 Click to enlarge
The model is based on two tax policy variables, two demographic variables, corporate profits and the balance on the current account.
Four of the last five recessions have proximity to Presidential election years. Two of the last five recessions occurred in election years. One started 3 months after the election year. Another one ended 9 months before an election year.
Market implications
The stock market (NYSEARCA:SPY) is not priced for a recession. Based on the quarterly model's implications for Q3 and the 5 year model, we think a recession is likely this year and will take stock prices down 30% to 80%. Recognition of the risk is probably weeks or a few months away. In the mean time, sentiment could drive stocks to new highs. It is always dangerous to under estimate how overvalued the stock market can become.
Disclosure: I am/we are short SPY.
I wrote this article myself, and it expresses my own opinions. I am not receiving compensation for it (other than from Seeking Alpha). I have no business relationship with any company whose stock is mentioned in this article.
Additional disclosure: There is no guarantee analysis of historical data their trends and correlations enable accurate forecasts. The data presented is from sources believed to be reliable, but its accuracy cannot be guaranteed. Past performance does not indicate future results. This is not a recommendation to buy or sell specific securities. This is not an offer to manage money.