By William Sokol, Product Manager, ETFs
Given the current exceptionally low interest rates in the U.S. and negative rates in other developed markets, investors are increasingly searching beyond global core fixed income asset classes for higher yields.
Emerging markets (EM) bonds is one asset class where investors often look for higher yields, and this year they have attracted special interest. Several tailwinds have helped the asset class thus far in 2016, including continued low interest rates in the U.S., a rebound in commodity prices, and expectations of relatively higher emerging markets economic growth versus developed economies. Furthermore, valuations were considered by many to be attractive at the beginning of 2016, following a few challenging years for the asset class.
Investors Should Weigh Higher Yields with Emerging Markets Risks
As with any investment in the emerging markets, investors must balance the additional yield which can be achieved with emerging markets bonds with incremental risks. These are primarily political and market related risks that can increase volatility. In addition, recent downgrades by credit rating agencies reflect increased credit risk in the broad emerging markets universe.
But emerging markets represent a diverse group of countries, and individually they carry varying levels of risk. Because of this, income-seeking investors may find opportunities by isolating the higher quality segment that exists within the emerging markets universe.
A potential solution for credit-conscious investors is to focus on the higher quality, investment grade subset of the broad U.S. dollar-denominated emerging markets universe, which accounts for about 54% of the market.1 This segment provides higher yields versus U.S. corporate investment grade bonds, allowing for additional income potential without additional credit risks. Also, U.S.-based investors limit the currency risk associated with emerging market local currencies, by investing in hard currency bonds.
A Compelling Yield Comparison
as of June 30, 2016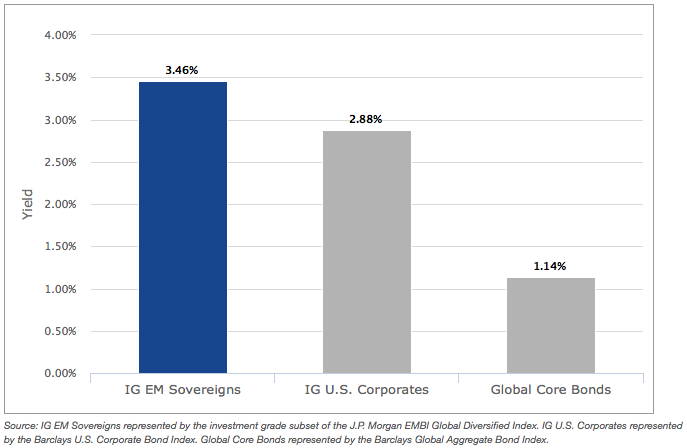 Investors may also want to consider a small allocation to BB rated emerging markets countries. These higher-rated high yield issuers provide incremental yield while also allowing investors to maintain exposure to "fallen angel" countries (whose credit ratings have dropped below investment grade) such as Russia and Brazil, which are among the largest emerging markets issuers. Along with the potential yield pickup, improving credit fundamentals may contribute positively to returns over time.
Complement Your Global Bond Portfolio
Adding U.S. dollar-denominated investment grade emerging markets bonds to a global bond portfolio can add yield and diversification, without a significant increase in credit and currency risk.
The VanEck VectorsTM EM Investment Grade + BB Rated USD Sovereign Bond ETF (NYSEARCA:IGEM) (the "Fund") provides access to the higher rated subset of the broad U.S. dollar-denominated emerging markets sovereign bond universe.
IMPORTANT DISCLOSURE
1 Source: J.P. Morgan. As measured by the market-cap of the investment-grade bonds in the J.P. Morgan EMBI Global Diversified Index.
Any indices listed are unmanaged indices and include the reinvestment of all dividends, but do not reflect the payment of transaction costs, advisory fees or expenses that are associated with an investment in a fund. An index's performance is not illustrative of a fund's performance. Indices are not securities in which investments can be made.
Barclays U.S. Corporate Bond Index measures the investment grade, fixed-rate, taxable corporate bond market. It includes USD denominated securities publicly issued by U.S. and non-U.S. industrial, utility and financial issuers.
Barclays Global Aggregate Index tracks investment-grade debt from twenty-four local currency markets, and is comprised of treasury, government-related, corporate and securitized fixed-rate bonds from developed and emerging markets issuers.
J.P. Morgan EMBI Global Diversified Index is comprised of U.S. dollar denominated Brady bonds, Eurobonds, and traded loans issued by emerging markets sovereign and quasi-sovereign entities. The index weighting methodology limits the weight of countries with larger debt stocks.
This content is published in the United States for residents of specified countries. Investors are subject to securities and tax regulations within their applicable jurisdictions that are not addressed on this content. Nothing in this content should be considered a solicitation to buy or an offer to sell shares of any investment in any jurisdiction where the offer or solicitation would be unlawful under the securities laws of such jurisdiction, nor is it intended as investment, tax, financial, or legal advice. Investors should seek such professional advice for their particular situation and jurisdiction.
The indices listed are unmanaged indices and do not reflect the payment of transaction costs, advisory fees, or expenses that are associated with an investment in any underlying exchange-traded funds. Index performance is not illustrative of fund performance. Fund performance current to the most recent month end is available by visiting vaneck.com. Historical performance is not indicative of future results; current data may differ from data quoted. Indexes are unmanaged and are not securities in which an investment can be made.
The information herein represents the opinion of the author(s), but not necessarily those of VanEck, and these opinions may change at any time and from time to time. Non-VanEck proprietary information contained herein has been obtained from sources believed to be reliable, but not guaranteed. Not intended to be a forecast of future events, a guarantee of future results or investment advice. Historical performance is not indicative of future results. Current data may differ from data quoted. Any graphs shown herein are for illustrative purposes only. No part of this material may be reproduced in any form, or referred to in any other publication, without express written permission of VanEck.
An investment in the Fund may be subject to risk which include, among others, credit risk, call risk, and interest rate risk, all of which may adversely affect the Fund. High yield bonds may be subject to greater risk of loss of income and principal and are likely to be more sensitive to adverse economic changes than higher rated securities. International investing involves additional risks which include greater market volatility, the availability of less reliable financial information, higher transactional and custody costs, taxation by foreign governments, decreased market liquidity and political instability. The Fund's assets may be concentrated in a particular sector and may be subject to more risk than investments in a diverse group of sectors.
The VanEck Vectors EM Investment Grade + BB Rated USD Sovereign Bond ETF is not sponsored, endorsed, sold or promoted by J.P. Morgan and J.P. Morgan makes no representation regarding the advisability of investing in IGEM. J.P. Morgan does not warrant the completeness or accuracy of J.P. Morgan Custom EM Investment Grade Plus BB-Rated Sovereign USD Bond Index. "J.P. Morgan" is a registered service mark of JPMorgan Chase & Co. © 2016. JPMorgan Chase & Co. All rights reserved.
Diversification does not assure a profit or protect against loss.
Fund shares are not individually redeemable and will be issued and redeemed at their Net Asset Value (NAV) only through certain authorized broker-dealers in large, specified blocks of shares called "creation units" and otherwise can be bought and sold only through exchange trading. Creation units are issued and redeemed principally in kind. Shares may trade at a premium or discount to their NAV in the secondary market. You will incur brokerage expenses when trading Fund shares in the secondary market. Past performance is no guarantee of future results. Returns for actual Fund investments may differ from what is shown because of differences in timing, the amount invested, and fees and expenses.
Investing involves substantial risk and high volatility, including possible loss of principal. Bonds and bond funds will generally decrease in value as interest rates rise. An investor should consider the investment objective, risks, charges and expenses of the Fund carefully before investing. To obtain a prospectus and summary prospectus, which contains this and other information visit vaneck.com/etfs. Please read the prospectus and summary prospectus carefully before investing.