In my last article on Sonic (NASDAQ:SONC) I expressed my concern the company had more work to do. Until they fix their food problem, how it is cooked and served, there won't be any meaningful organic revenue growth and subsequently increase in shareholder value I contended.
It has been eight months since that article. During that time frame there is only one way to describe Sonic's stock price: F-L-A-T, flat.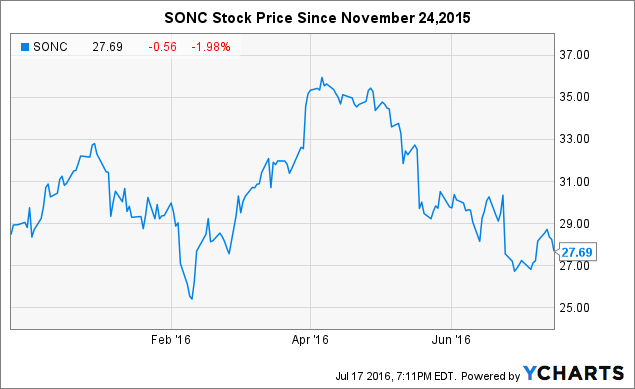 Sure, you could argue that you could have made as much as 25% through some enthusiasm in the fast-food investment circle earlier this year or could have lost 11% on the flip side. Clearly the enthusiasm was irrational and the sell-off, likewise, overdone. The market has said in the last eight months that it values Sonic consistently in the mid-to-high $20s. As a long term investor I was better invested in the S&P 500 (NYSEARCA:SPY) with a 3.3% gain instead of a 2% loss with SONC.
Customers And The Business Model
Recently, though, on the back of a so-so quarter where revenue growth was anemic, Sonic has turned downward once again. Fellow contributor Josh Arnold wrote in the wake of the earnings release that investors don't get it. While that is up for debate, it is clear customers do get it and they are the ones driving the company's revenue. Therefore, it makes sense that the market prices Sonic as it does because it is taking its cue from the customer.
Josh contended that revenue growth be excused while the company transitions to a franchise dominant (95% target) business model. While this would essentially make the customer not as important or impactful to revenue in a direct way it still always comes back to the customer, regardless. Franchise openings will slow down when they realize they can't keep same store sales growing.
Currently Sonic has 88% of their stores franchised. That is not entirely a long distance to the target and doesn't change the fact that same store sales are slowing. In fact, last year's third quarter saw 6.1% increase in same-store sales. That compares to 2.1% this quarter. Quite a slow down. But, if the investment thesis is in part to wait on the completion of this model then there isn't much more transitioning to do and not much to squeeze out of it investment wise.
Dependency
Secondly, Josh pointed out share buybacks as another positive catalyst. So much so that he mentioned it eight times in his 916 word article (including once in his summary). If the other half of this investment thesis is on the basis of share buybacks I think a dependency to prop up earnings, and thus the share price, exists. This is not healthy for a company - or investment - that should be able to grow at much higher levels.
Out of the 7 cent year-over-year decrease in earnings per share 2.2 of those cents were the buyback. This means on an organic level the company produced 29 cents per share (instead of 31 cents) which means it was actually a decrease of 23% on a GAAP basis. This is in contrast to a 18% decrease with buybacks factored in. Now of course buybacks are real money and a real factor in a share count which gives us earnings per share. However, if 7.6% of earnings are reliant on buybacks then there is a problem with growth. It clearly can't prevent a 23% decrease in earnings.
The Issues Are Still Present And Could Get Worse
My point in my last article and now this article is the food issue. Food prep and serving must be improved to bring the quality up to standard where customers are interested in going to Sonic not just for the slushes and milkshakes, which have shown to be the stars of the show, but for the food as well. Sure, Sonic has brought new food offerings to its stores but it still misses the point: the preparation of food is sub-par.
I've shared previously that my experiences with Sonic's food such as French fries vary dramatically and with no real pattern. Four times out of five I will get an order where it is apparent the food was prepared an hour ago and was picked out of a heating lamp basket where it was waiting for me to order it. If I wanted a buffet line of food I would go to a buffet. When I order food at a fast-food restaurant I expect the food to turn over fast so that it is somewhat fresh when it arrives at my car. I'm not an isolated case, either. I have yet to talk to a friend, relative or acquaintance who has been to Sonic at least twice that disagrees with my empirical assessment.
If this problem becomes a priority to management and they can fix their processes it will become a game changer in the Sonic investment. I would have no problem putting my capital to work here because I would expect sales to grow significantly.
However, management is beginning to put themselves in a corner. If they attain their 95% franchised business model they will rely on licensing, fees and leases to fund the top line. If they don't do anything to fix the issue I point out then their growth will slow to the amount of stores they can open. Eventually the market will be saturated. Factor in my issue and there won't be a demand for new stores.
But look at this strategy on the flip side because it doesn't bode well here either. If they do fix the food issue then the company won't share as much in the additional revenue and same-store sales because they don't own but 5% of their drive-ins. They limit their revenue upside.
Still On The Sidelines
I still have hope that Sonic management can make improvements to entice customers to want to purchase food on a regular basis and increase revenue per ticket. Management has made changes with their milkshakes and increased sales 50% of that item so I know they have the execution ability as well as the culinary ability to make additional changes.
The fact that management is rushing to a 95% franchising model while investors cling to share buybacks does not make Sonic look like an enticing investment. Show me some of these changes and I will show you some capital. Until then I see the stock floundering.
If you'd like to be made aware of my opinion and analysis in the future on Sonic along with other consumer companies, then I encourage you to follow me by clicking the "Follow" link at the top of this page next to my name.
Disclosure: I/we have no positions in any stocks mentioned, and no plans to initiate any positions within the next 72 hours.
I wrote this article myself, and it expresses my own opinions. I am not receiving compensation for it (other than from Seeking Alpha). I have no business relationship with any company whose stock is mentioned in this article.