One month ago - before the British referendum - expectations on the German economy were pretty good, the best for almost a year. However, now we can see first impacts of the referendum on the business sentiment in Germany. And more disappointing data is expected to appear in the beginning of August (with data for July). In this article, I want to write about the shift in economic sentiment and further implications of a Brexit on the German economy.
One indicator which captures economic sentiment is the ZEW Economic Sentiment, a monthly economic survey of the sentiments of approximately 350 economists and analysts regarding the economic future of Germany for the next six months. The index value shows the balance between those analysts who are optimistic and those who are not.
The balance between optimistic and pessimistic sentiment has been negative for the first time in almost two years (which means, there are more participants in the survey with a pessimistic outlook than there are ones who are optimistic). ZEW-President Professor Achim Wambach commenting on the result: "The Brexit vote has surprised the majority of financial market experts. Uncertainty about the vote's consequences for the German economy is largely responsible for the substantial decline in economic sentiment. In particular, concerns about the export prospects and the stability of the European banking and financial system are likely to be a burden on the economic outlook."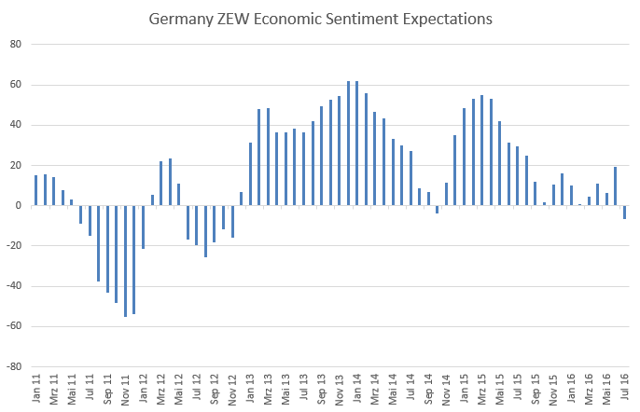 Click to enlarge
The manufacturing PMI for Germany has emerged from its weakness in the beginning of this year and reached a two-year high in June. The services PMI, however, fell a few points to 53.7 from 55.2 in May. But, we have to notice that these results were captured before the British referendum. It is very likely for the German PMIs to weaken down to around a reading of 52. With Germany being the most important driver of the European economy, such an outcome would put pressure on already struggling economies like France and Italy.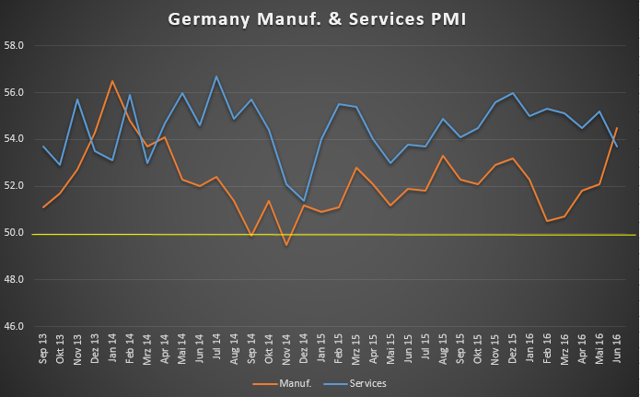 Click to enlarge
So what exactly are economists and financial analysts fearing for? Here are a few thoughts about the relationship between the UK leaving the EU and the German economy: Should the UK actually trigger article 50 and leave the EU, then European politicians are under pressure to impose tarrifs on UK products. Otherwise they would signal there is no downside accompanied leaving the EU. Such tarrifs would probably result in serious economic harm for Germany and the whole EU. They would slow down trade as fewer imports directly lead to fewer exports and thereby weaken GDP growth as well.
Disclosure: I/we have no positions in any stocks mentioned, and no plans to initiate any positions within the next 72 hours.
I wrote this article myself, and it expresses my own opinions. I am not receiving compensation for it (other than from Seeking Alpha). I have no business relationship with any company whose stock is mentioned in this article.