Injection figures currently range between 29 Bcf and 45 Bcf. We think it's 35 Bcf, or pretty much smack in the middle of it all. Canadian imports averaged over 6 Bcf/d last week, and that was 0.3 Bcf/d higher than what we expected. Once the estimates were all finalized, we saw a jump in everyone's forecasts.
How will this compare to the historical builds? Last year saw a build of +59 Bcf and the five-year average was +59 Bcf. Storage would end at 3.278 Tcf or 455 Bcf over the same period last week and 554 Bcf over the five-year average. (Note: there's a discrepancy with the "same week" as last year in EIA's storage report.)
Power burn demand this week is coming in strong so far. Over the last three days it has averaged 38.5 Bcf/d, which bodes well for injection figures next week. U.S. production also saw a meaningful decline over the last two days, as the Rockies Express Pipeline restricted flow capacity as it finishes planned maintenance and expansion. The maintenance should be done by early next week.
Canadian gas imports saw a sharp rise this week to over 7 Bcf/d as we expected. Traders we talk to point to this figure potentially jumping even higher next week. The AECO basis differential remains wide, so this is a telling point regarding where Canadian gas imports stand.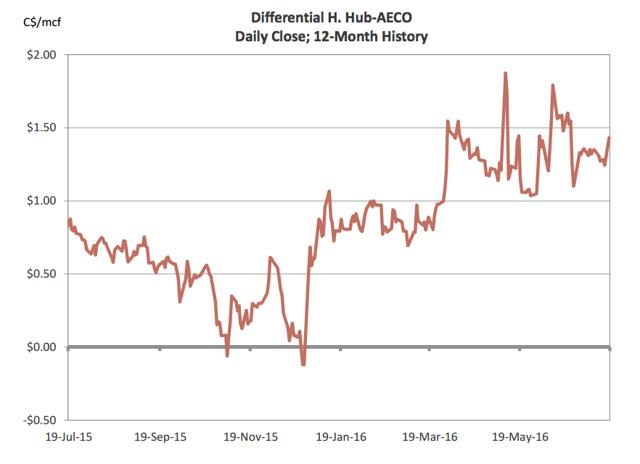 Click to enlarge
Overall, tomorrow should be another positive report as the surplus decreases yet again. As we move toward the end of July, we will cover more on August injection forecasts.
Eight- to 14-Day Outlook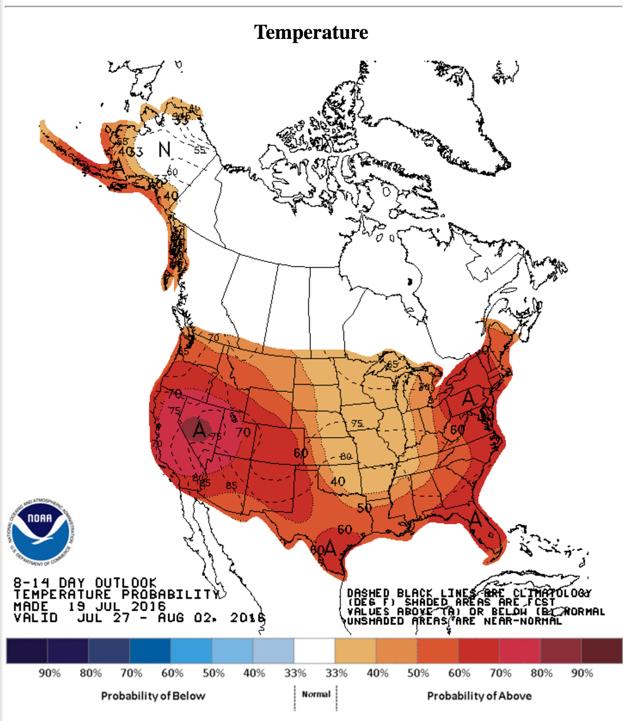 Click to enlarge
Natural Gas Prices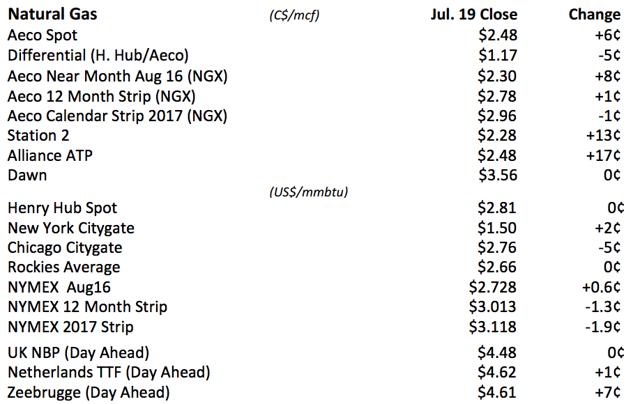 Click to enlarge
Thank you for reading our Natural Gas Daily article. If you want to read more of our articles, please be sure to hit the "Follow" button above. We also write a weekly HFI portfolio update for premium subscribers. You can read a sample weekly update here and view our delayed one-month portfolio update here. We hope you can join the HFI community.
Disclosure: I/we have no positions in any stocks mentioned, and no plans to initiate any positions within the next 72 hours.
I wrote this article myself, and it expresses my own opinions. I am not receiving compensation for it (other than from Seeking Alpha). I have no business relationship with any company whose stock is mentioned in this article.