Recently, Mike Henry, President Operations, Minerals Australia, BHP Billiton (NYSE:BHP) gave a presentation providing an update of BHP's prospects for its coal business, which currently accounts for ~14% of its revenues. The heading of the presentation makes clear where their thinking goes "Coal: the path to improve returns." Or, in an echo of how Peabody Energy (OTCPK:BTUUQ) would phrase it, BHP's Mike Henry said "… positions us well for an expected longer-term improvement in coal market fundamentals." I'm having trouble seeing where these improved fundamentals are going to come from.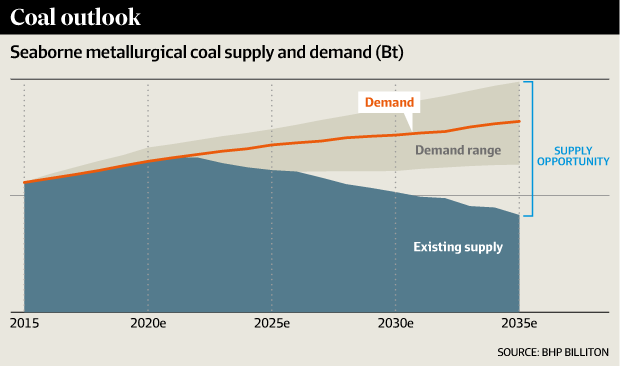 The presentation shows supply and demand increasing for metallurgical coal out to ~2022, then supply falls through 2035, while demand just keeps on rising (see Figure above). For thermal coal, supply and demand is in balance but there is no fall until 2025 when demand outstrips supply, which then increases out to 2035. Based on this view of the coal market in the future, it seems possible that BHP could be the acquirer of Anglo American's Australian coal assets. How to explain new investment in an area in structural decline might be enough to keep BHP away.
In the above projections, BHP sees substantial increases in coal consumption in the future. It isn't clear where increases in coal consumption will come from for met coal, while India and SE Asia are mentioned as major growing markets for thermal coal. BHP is planning to increase coal production by 8% from FY15 to FY18.
The IEA isn't quite so bullish as BHP, but coal consumption remains approximately constant through 2040, even though the % contribution by coal decreases from 28% in 2012 to 22% in 2040 under IEA projections.
The BHP report was surprisingly upbeat given the gloom and doom in the international markets and large number of bankruptcies in the US coal industry, which include Peabody Energy, Walter Energy (OTCPK:WLTGQ), Arch Coal (OTCPK:ACIIQ) and Alpha Natural Resources (OTCPK:ANRZQ), with ~45% of US coal production coming from bankrupt companies. Peabody Energy's future looks particularly grim with its Australian debts finally acknowledged as being beyond resolution. And now the largest private US coal company, Murray Energy Corp., has announced layoff of up to 80% of its workforce.
When one looks at the detail of the BHP presentation, the here and now is managed in a highly professional manner, especially programs to reduce costs and release latent capacity. Since 2012, BHP has made $3 billion productivity gains in their coal business and a further $600 million of productivity gains are planned by the end of the 2017 financial year. And BHP has only retained their best coal assets, hiving off the more problematic and expensive African and some Australian assets. Coal has become less important to BHP since it moved its South African coal assets into the South32 (ASX:S32) spinout, but it still has substantial Australian and Colombian coal assets.
The company is very focused on being cost competitive and delivering the cheapest and best resources requiring minimal capital investment to recover the coal. So the supply side is in good shape and BHP's plan is to be able to wait out a recovery.
By contrast, there are weaknesses in treatment of future projections about coal demand and market growth. Here there seems to be heavy reliance on a recent (December 2015) IEA report that suggests coal demand will grow dramatically in SE Asia.
The IEA suggests that coal use in SE Asia will expand the fastest among all energy sources and become the largest contributor to the energy mix by 2040, with 160GW of new coal power projected. A key assumption was that coal would substitute for oil as energy security issues become critical.
In the IEA report there seems to have been little credence given to renewable energy as a solution to energy security concerns. It seems that the IEA is now rethinking this position and a new report due out at the end of the year will no doubt reflect the dramatic changes happening in the renewable energy space.
As is discussed below, it is already clear that the assumptions about coal in the IEA report are looking shaky in key countries making up the Southeast Asian Nations (ASEAN).
What is missing is a serious analysis of whether the coal industry is in structural decline and if so why. It is very apparent to those looking at the emerging energy trends that there are now serious alternatives to thermal coal and even in the steel industry, met coal is under challenge as recycling and Electric Arc furnaces are increasingly used for steelmaking. For every wind and solar asset built, this means power generation without input resource costs for decades. For every coal power plant decommissioned, this means that the coal supply that served it has gone.
So the weakness in the BHP presentation, just as has been the case for the IEA and the US coal industry majors, is that there is an inbuilt assumption that the industry will recover, demand will return, with no clear evidence about where it will come from. Perhaps capitulation by Murray Energy in the US might force acknowledgement that there are irreversible changes happening for the industry and these changes apply to new energy build as well as decommissioning the old.
While major US coal companies such as Peabody Energy remain hopeful for recovery of met coal exports, and they continue with the mantra that thermal coal will recover, I haven't seen evidence to justify any conclusion other than that coal remains in long term terminal decline. This year, overall coal production in the US is down 27% year on year in the first half (anthracite down 13%).
BHP's review for the year ended June 30, 2016, which was released today, showed metallurgical coal production up 1% year on year, while thermal coal production was down 16% year on year. Prices realized were down 21% (hard) and 22% (soft) for coking coal, and down 17% for thermal coal year on year, with impairments (due mostly to coal) of $US75-150 million. Next year (2017), BHP expects a slight increase in met coal production and a slight decrease in thermal coal production. These figures reflect BHP's view that things are difficult at the moment.
The following graph shows how dramatic the switch from coal (and even gas) has become, with solar and wind power now dominating new power additions in the US.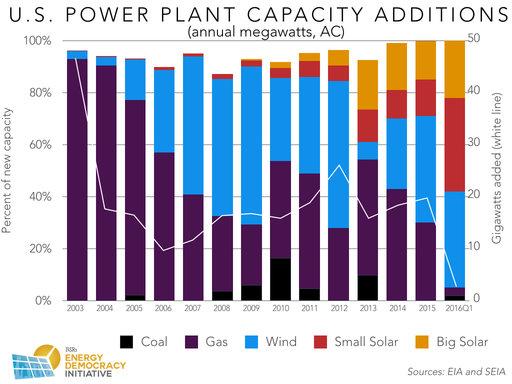 \
And the US, Canada and Mexico have just agreed to a combined 50% clean energy target for electricity generation by 2025; it is now 37% (US 31%, Canada 60% and Mexico 22%). This means downwards pressure on not just coal but also gas in the US, Canada and Mexico.
Coal in China and India
Here I summarize recent news about coal utilisation in the key Chinese, Indian and SE Asian markets. The picture is one of abandoned coal expansion plans and planning and implementation of renewable energy projects throughout the region.
China: Based on Mike Henry's statement about recovery of demand for Met coal to power a recovering Chinese steel industry, happy times are anticipated for BHP's met coal sales from Australia. Alpha Investor has a similarly optimistic view of China, although he is focused on demand for iron ore (which has implications for met coal consumption).
I've commented elsewhere on China's imports and internal coal production in the first 6 months of 2016. This year, China has stopped planning and construction of 200 coal plants, which would have had 105GW of power generating capacity. Of relevance to metallurgical coal consumption, China plans to cut steel production by 45 million tons in 2016.
A recent article from Beijing-based CKGSB (Cheung Kong Graduate School of Business) Knowledge Center suggests that China plans to cut annual crude steel capacity by between 100 and 150 million tons annually by 2020.
The steel situation is confusing currently as there has been a resurgence in the price of iron ore, which some see as likely to be short-lived. Indeed this week there has been a downturn based on fears of slowed Chinese growth and oversupply.
This news out of China is not consistent with a recovery in steel output in China over the next 5 years.
India: Mike Henry singled out India as a country with growing demand for imported coal (both thermal and met coal) although he provided little evidence to support this assertion.
For more than a year now, Energy Minister Goyal has stated that India plans to cease importing thermal coal within 3 years, and the news over the past year shows decreasing imports. Below are the numbers for coal imports over the past two years and projection from Coal Minister Goyal for the coming year. Most of India's coal imports are thermal coal.
The Table also shows production figures for Coal India, which produces ~80% of India's domestic coal. In Q1 2016-2017 (April-June), Coal India produced 125.65 million tons, an increase of 3.5% over Q1 2015/2016, which was weak compared with growth of 12% in the previous year. This was due to sluggish demand from power utilities and a 30.5 million ton stockpile at June 30.
In a surprise move indicating that all is not well with plans to increase coal consumption in India, Coal India is reported to be considering exporting coal, perhaps to Bangladesh, from its 55 million ton stockpile.
Projections to produce 1 billion tons of coal domestically by 2020 seem like a stretch, but clearly, the growth in domestic production is part of Minister Goyal's plan to cease importing coal within the next few years.
Coal imports and self production by India
Year
Imports (mill tons)

Coal India Prodn

(mill tons)

2013-14
~180 (estimate)
462
2014-15
217.78
494
2015-16
199.88
536 (target 550)
2016-17
160 (projected)
598 (projected)
Sources : here, here, here, and here
Very recently, the cancellation of plans to build 4 huge Ultra Mega power plants involving 16GW power capacity indicates the scale of change happening in India. The host states all indicated a lack of enthusiasm for the projects in the face of community opposition over an 8-year period. Two of these plants had been sited on the coast to access imported coal, which is bad news for coal exporters. Coal imports were down 16% year on year in April.
Indeed plans for coal power facility expansion by 2022 have recently been dramatically scaled back by 50GW, from 78GW to 28GW. For the next 3 years, no new coal plants are needed beyond those under construction.
Looking beyond coal, it is surely significant that three major Indian coal companies, Coal India (1GW target, with the first 200MW just agreed), Neyveli Lignite Corp. (4GW solar target and also wind investments ) and Adani (10GW solar JV in Rajasthan and several other major projects) are investing in major solar projects. In the case of Adani, it has been argued that the $5-10 billion level of investment in solar will most likely preclude it from investing in major coal projects such as the Carmichael project in Australia.
Coal developments in key South East Asian Countries
Since the Paris climate summit in December 2015, a lot has happened around the world to begin to address keeping warming below 2C. Interestingly, several SE Asian countries have announced review and reversals of their policy to aggressively adopt coal for implementing major power developments.
This is a rapidly changing situation as the seriousness of the climate deterioration sinks in and leaders realize that the projections in the December 2015 IEA report would lead to substantial overshoot of 2C temperature rise. My impression is that senior BHP executives have ignored these developments, preferring instead to rely on the mantra that coal has always been important and that it will continue to be critical, especially for emerging economies.
Here is a snapshot of developments in key SE Asian countries, which indicates that confidence about their growth of coal adoption is misplaced.
Indonesia: President Joko Widodo is rethinking major coal power plant developments in Indonesia as a result of the Paris Climate Summit and 16GW of new construction has been delayed as the President rethinks the balance between coal and renewable energy development, with coal being pared back from two-thirds to one half of new plans.
More critically, this is leading to investment uncertainty and no new power purchase agreements, a prelude to developing power stations, have been concluded so far in 2016. Indeed a 2GW coal plant has recently been cancelled, even though financing was in place.
Vietnam: Vietnam had the third largest pipeline of coal plants in the world. So it was a critical country supporting dramatic growth of coal in SE Asia as reported in the IEA report.
However, Vietnam became a member of the Climate Vulnerable Forum after the December 2015 Paris Climate summit. This Forum is a group of countries advocating for the strongest action on reducing CO2 emissions, with a goal of limiting temperature rise to 1.5C.
To indicate this commitment, in January 2016, the then Prime Minister Nguyen Tan Dung announced that he would "review development plans of all new coal plants and halt any new coal power development." This indicated a dramatic change of direction towards renewable power and away from coal.
Of course, changing direction rapidly isn't easy and there is considerable uncertainty about where this will end up. However, 23 GW of proposed coal plants have been eliminated and 8GW of wind and 12GW of solar is now part of the 2030 goals. Given the scale of renewable energy developments in the region (China, India, Japan), the Vietnamese renewable energy goals are modest.
The Philippines: With a new Government, it seems that the pro-coal stance of the former Government may be about to change with the appointment of anti-coal and pro-solar, wind and geothermal energy environmentalist Gina Lopez, as Dept Environment & Natural Resources (OTCPK:DENR) minister.
Her first action has been to call a review of the dozens of coal fired plants underway or in planning and to reorient the country's plans towards adopting renewable energy.
Not surprisingly, the appointment of Gina Lopez has been met with consternation from the coal industry and coal investors. Manny Pangilian CEO Meralco, a major utility that invests heavily in coal said " … There go the coal plants.. Can't look."
DENR must provide an Environmental Clearance Certificate for any proposed new coal plant. The previous government was pro-coal and 59 coal plants and 118 mine permits were in the pipeline, with 19 coal plants having approval but construction not yet started. There is huge opposition to many of the proposals.
Like other SE Asian countries, the Philippines is now acutely aware of the environmental implications of temperature rise at or above 2C. An energy policy review is underway with a report expected before November. As is happening all around the world, there is now a movement for exit from fossil fuels and a move to 100% renewable energy by 2030. Watch this space.
Is there good news for coal?
Turkey
Perhaps the best prospects for coal lie in Turkey, where fear about reliance on Russian gas is leading to a dramatic interest in new coal plants. However, like most optimistic discussions about coal, the reality may be less dramatic than the talk.
In 2015, 80 new coal plants were envisaged and coal power output was projected to almost double to 60GW by 2019. Today, the goals are still ambitious, with a goal of an extra 50GW by 2030, but there seems to be some decrease in ambition.
In a common theme, the World Bank, through the IFC, is investing $100 million for a 16.67% stake in Turkish renewable energy company Akfen Energy to triple renewable energy production and allow Turkey to reach 30% renewable energy by 2023. There seems to be good prospects for the development of wind farms, especially off the coast of Turkey, and the goal is for 20GW wind power by 2023.
So just like other parts of the world, I'm skeptical that ambitious plans for new coal plants will be implemented at the scale that is being discussed. IEEFA released a report last month, which addresses the fork in the road that Turkey faces in terms of its energy future.
It is anyone's guess what effect the current instability in Turkey will have on the above policies.
Germany
Germany has been a key country driving adoption of renewable energy. Recent actions suggest pushback from the coal industry may lead to slowing the adoption of renewables. While this does not represent a reversal from the relentless drive to adoption of renewable energy, it does suggest that the pace of implementation of renewable energy may slow in Germany in coming years.
However, new figures for the breakdown of the German power generation mix indicate that it is close to, or may even have exceeded, its 2020 renewable target in 2016. Coal (especially lignite) and nuclear power generation is down, while there is a 10% increase in natural gas.
Bad news for coal, climate initiatives are getting more concrete
My conclusion from the above analysis of what is happening around the world regarding coal consumption is that most countries are taking action to reduce CO2 emissions and coal is the first target for action.
There are now clear signs of international will to address global warming, but it is also clear that substantial and urgent action is needed. A new analysis of what is required to limit warming to be well below 2C has just been published in the prestigious journal Nature, and a summary is published here for those who cannot access Nature.
The bottom line is that the Paris goals need to be increased, as currently, the Paris agreement will still lead to a 2.3-3.5C temperature increase by 2100. And lest one becomes complacent, the urgency is to take action by 2030 or it gets hard and expensive. It is really important to bear this is mind when considering reassuring presentations, that assume fossil fuel growth after 2020, from companies like BHP.
Simply put, while the BHP management does a superb job at cutting costs and getting rid of assets that can't compete in a cost-restrained environment, they tend to be less concerned about real constraints on how much coal can be exploited. Any company that sees increased coal production sometime in the future, without addressing Carbon Capture and Storage is not facing reality.
What does this mean for BHP?
Coal is a problem for BHP and it isn't going to go away. They missed an opportunity to get out of coal completely when they spun out South32, but clearly, the believers in recovery for coal won. Given that coal is still a significant part of BHP's business, in my view, it will drag on the way BHP is valued until they resolve it.
Conclusion
The recent BHP presentation "Coal: the path to improve returns" is presumably meant to reassure investors that all is well with BHP's coal assets. The cost cutting and retention only of pristine coal assets is powerful stuff, but only if there is a market for the product going forward. For reasons given here, I wasn't reassured about coal recovery and indeed about where future growth markets lie. Like many of the traditional fossil fuel majors, BHP is acknowledging problems, (perhaps out to 2021), but then it sees a resurgence in coal demand. I argue that such confidence is flying in the face of the facts.
If BHP's idea was to be the best and most efficient to participate in an industry in wind-up mode, then their current strategy makes sense. However, this isn't the game plan as far as I can see, as BHP has in mind increasing output (even in the short term) and supplying a growing market.
Of course, BHP is a major player and it has other valuable assets, but I'm cautious about this company. And I'm not alone, as BHP's share price has traded in the range $26-29 since May, off a year high of $40.15.
Disclosure: I/we have no positions in any stocks mentioned, and no plans to initiate any positions within the next 72 hours.
I wrote this article myself, and it expresses my own opinions. I am not receiving compensation for it (other than from Seeking Alpha). I have no business relationship with any company whose stock is mentioned in this article.