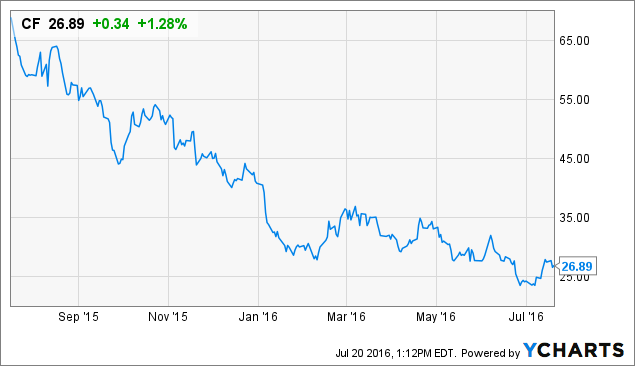 CF Industries (NYSE:CF) has sold off over the past one year, along with many others in the basic materials sector, due to the collapse in agriculture commodity prices. The stock is down to $26 per share, a significant decline as this was a $65 stock one year ago.
Primarily, CF Industries' biggest problem is falling prices of its key products like ammonia and urea ammonium nitrate (UAN), due to global oversupply. Rising production across the industry has depressed prices, which has significantly reduced CF's earnings. Another headwind on the company over the past year was increasing investment in new production facilities, which has elevated capital expenditures in recent periods.
This has had a very negative effect on CF's fundamentals, and consequently, its share price. But the flip side of this situation is that it could open up a very attractive opportunity for value and income investors.
Future Catalysts
It is clear that CF is in the middle of a very difficult operating climate. The company has been caught in a prolonged decline. Last year, sales and EPS declined 9% and 45%, respectively. Going back further, from 2013-2015, CF's revenue is down 21%. Things have not gotten off to much of a better start this year, as the company reported a 56% decline in adjusted EPS in the first quarter.
CF's fundamentals certainly look ugly. In the core ammonia and granular urea segments, which together comprise more than half of total revenue, gross profit margin collapsed by nearly half last quarter. This was due to significant pricing pressure-average realized prices fell 33% for ammonia, and 25% for granular urea, last quarter. One positive note for the company is that low natural gas prices have helped CF's cost structure, as natural gas is its primary feedstock. Unfortunately, lower feedstock costs have been more than offset by weak pricing.
In addition, CF was already experiencing elevated spending because of its major significant expansion projects, the Donaldsville UAN and ammonia plants. Last year alone, the company spent $2.5 billion on capital expenditures. Combined, CF's North America expansion projects have utilized $4.6 billion in spending. This is largely why CF was free cash flow negative last year, to the tune of approximately $1.2 billion.
But this is actually a potential catalyst for the future, because the high level of spending on these projects is expected to ease as these projects become complete. Once these products ramp up production, they will turn from a use of cash to a source of cash. Even under a difficult pricing environment, this will significantly help CF's free cash flow.
This is why the stock was recently upgraded at BMO. The analysts project the company will generate positive free cash flow of $1.93 per share this year. This would be a major accomplishment for the company, as it would more than cover the $1.20 per share dividend, and also allow CF to buy back stock at these low levels, without the need to borrow further. CF expects to have capital expenditure requirements of $1.8 billion-$2 billion this year, which would represent a significant reduction from last year of 17%-25%.
And there are broader implications: CF expects the majority, approximately $1.3 billion-$1.4 billion, of capital expenditures this year will be for the capital expansion projects. Over the long term, once the projects are fully online, this will be a huge decrease in capital expenditure spending per year.
To be sure, investors will need to exercise patience. Management has advised that the extra capacity being brought on by the industry, including by CF itself, is likely to keep pricing restrained this year. But again, this is a free cash flow story. While patience to allow this turnaround to materialize is necessary, long-term investors may be well-rewarded for that patience. The sentiment is very negative, but those willing to buy at this price are getting a very high dividend and a cheap stock.
Attractive Value, Income Stock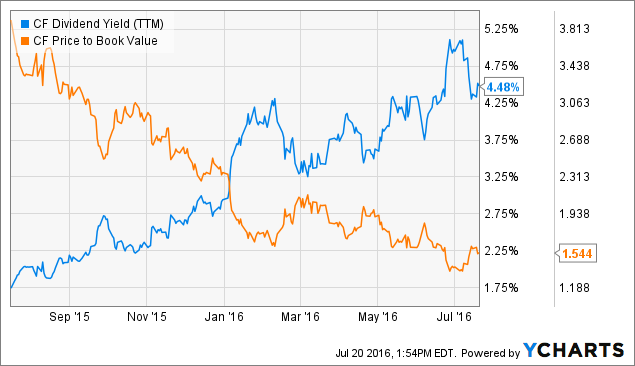 CF Industries screens very well for value and income investors. Based on the July 19 closing price, the stock trades for 9 times 2015 earnings per share. This is about half the valuation multiple for the S&P 500 Index. CF looks cheap across a number of other metrics. For example, the stock trades for 1.5 times book value and 4.5 times enterprise value to EBITDA. These are multi-year lows for this stock. If CF can generate $1.92 per share in free cash flow this year, investors are receiving a nearly 8% free cash flow yield at the current share price.
In addition, CF is attractive as a dividend stock as well. Because of its massive share price decline, the dividend yield has been pushed up to 4.5%, which is also significantly above the average for this stock going back for several years. This is more than twice the dividend yield level of the S&P 500.
The near-term environment may still be rocky, as the company anticipates the difficult pricing environment to continue over the remainder of the year. But over the long term, the pieces are in place for a sustained turnaround, as CF should significantly increase its free cash flow generation which will likely cover the dividend and could lead to expanding valuation multiples. As a result, income and value investors may want to add CF to their watch lists.
Disclaimer: This article represents the opinion of the author, who is not a licensed financial advisor. This article is intended for informational and educational purposes only, and should not be construed as investment advice to any particular individual. Readers should perform their own due diligence before making any investment decisions.
Disclosure: I/we have no positions in any stocks mentioned, and no plans to initiate any positions within the next 72 hours.
I wrote this article myself, and it expresses my own opinions. I am not receiving compensation for it (other than from Seeking Alpha). I have no business relationship with any company whose stock is mentioned in this article.