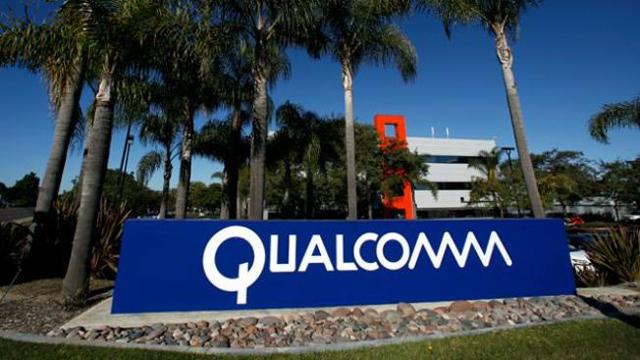 Click to enlarge
Qualcomm Inc. (NASDAQ: QCOM) reported a thunderous set of third-quarter results today, and they comprehensively beat both the consensus estimates as well as the company's own guidance.
Take a look at what the company suggested in Q2 for Q3, and the actual beat.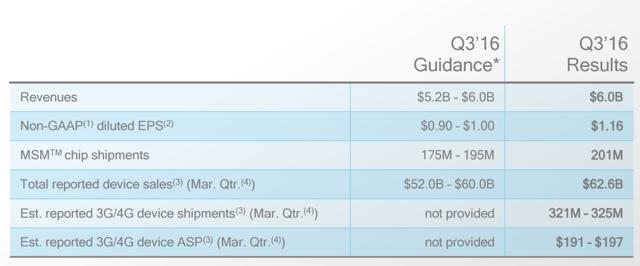 Click to enlarge
Source: Executive Presentation
The company reported a non-GAAP EPS of $1.16, much higher than the previously guided $0.90-$1.00. The MSM chip shipments came in higher than the suggested range of 175M-195M.
Expect A Stronger Fourth Quarter
The company also has bolstered its outlook for the fourth quarter. As can be seen from the snapshot below, the revenue range has been shifted slightly higher to $5.4B-$6.2B, the EPS range has been revised upward to $1.05-$1.15, and MSM chip shipments guidance has been set at 195M-215M.

Click to enlarge
More Cost Savings in Q4
On the cost front, the company expects to save approx. 2-4 percent in combined R&D and SG&A expenses in Q4.

Click to enlarge
Growth In Licensees
According to the data reported by the licensees, there are now more 195 royalty-bearing single-mode OFDM/OFDMA licensees. This is better than the 180-plus reported in the previous quarter. The number of CDMA-based licensees has improved from 310+ to 320+ in this quarter.
Steve Mollenkopf, CEO of Qualcomm, said:
We delivered strong results this quarter, with EPS well ahead of our guidance based on meaningful progress with licensees in China. Our chipset business is also benefiting from a strong new product ramp across tiers, particularly with fast growing OEMs in China. We are executing well on our strategic priorities, and we remain confident that our focused investments in 5G and other advanced technologies will create a strong foundation for long-term earnings growth.
Free Cash Flow To Cross $6.5B?
For the nine months ended June 2016, the company has reported free cash flow of $4.93 billion, which is more than the $4.5 billion for FY15. At this rate, Qualcomm looks set to generate $6.5 billion in FCF in this year.
Capital Return To Shareholders
Qualcomm has returned $881 million to stockholders, including $781 million, or $0.53 per share, of cash dividends paid and $100 million through repurchases of 1.8 million shares of common stock.
Ready For A Big Breakout?
From the daily Qualcomm price chart below, it can be seen that the stock has been facing some resistance near $56 due to a "gap" - a technical pattern - formed in November last year. With the latest results, the stock is strongly expected to crush the bears and begin the next leg up.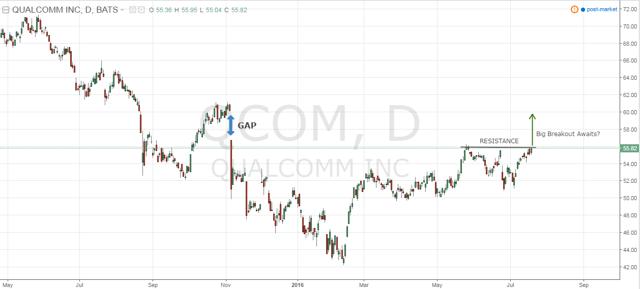 Click to enlarge
Source: TradingView
Conclusion
Qualcomm has indeed posted a fabulous set of numbers, and shorts will be seen scampering for covers tomorrow. Those who are long in the stock will benefit immensely from the next wave higher. A slew of analyst upgrades may also be on the way.
Disclosure: I am/we are long QCOM.
I wrote this article myself, and it expresses my own opinions. I am not receiving compensation for it (other than from Seeking Alpha). I have no business relationship with any company whose stock is mentioned in this article.